Analysis: Ireland's coastline communities need better infrastructure and more support to develop and support sustainable tourism
The recent good weather has once again highlighted the dearth of infrastructure to develop and support sustainable tourism along Ireland's coastlines. Every year, visitors and local communities highlight the paucity of designated parking, legal campsites, toilet facilities, water or showers, rubbish and dumping facilities, beach and dune access points, picnic areas, seating for visitors to appreciate the views and information on local heritage that is of cultural and historical importance.
These issues not only impact the visitor experience, but also continually cause resentment amongst local coastal communities who observe their land being damaged every year by trespassing visitors and campers. In many cases, visitors are simply ill-informed and do not recognise or understand the damage they are causing. In other cases, they do not care and there is a general lack of enforcement of local plans and county beach bye-laws due to limited garda resources and ambiguity in the responsibilities of the local authorities.
Who dune it? The Curracloe fire
On July 22, the Wexford Fire Service evacuated 800 people from Curracloe beach in Co Wexford as a fire engulfed the sand dunes. The investigation into the cause of the fire is ongoing, but speculation is that a disposable barbecue accidentally started it. The fire destroyed 13 acres of the 84 acre dune area and came within 300 metres of reaching the heavily forested 1,455 acre Raven Nature Reserve. Unfortunately, stories like this are not exclusive to Curracloe and the fire is emblematic of the legacy of human actions that are destabilising our already fragile dune systems.
We need your consent to load this rte-player contentWe use rte-player to manage extra content that can set cookies on your device and collect data about your activity. Please review their details and accept them to load the content.Manage Preferences
From RTÉ Radio One's Today With Miriam O'Callaghan Show, Jack Tim Murphy from the Surf Shack in Curracloe, Co Wexford talks about the fire which broke out on dunes at the beach
Historically, there is a pervasive attitude in Ireland that commonage - lands jointly owned by several individuals who have grazing rights - is public land and people feel it's within their rights to trespass on these lands without seeking permission. This creates conflict on the ground and we are quickly approaching a point in time where coastal communities will close off access to their land in order to reduce the damage from visitors and reduce their liability. The consequences of this ethos change could be catastrophic to the tourist sector.
Conversely, this forced exclusion approach will have a positive effect on the long term trend of degradation of ecosystem goods and services in coastal communities. Coastal dunes are an integral part of this ecosystem due to their location on the dynamic coastal fringe connecting the land and ocean.
The community vision and innovation are only matched by their determination to succeed and take back ownership of their coast.
Direct utilisation of coastal dunes and beaches form an important economic role in many rural coastal communities, rendering them key physical components in the socio-economic fabric. It is therefore fully within the rights of landowners to enforce exclusion until such time as appropriate facilities are provided for increasing visitor numbers.
Increasing capacity for coastal visitors
Ireland's Ancient East brand was developed to deliver a new experience for visitors to the east and south regions of Ireland. Costing in excess of €20 million, the aim is to grow visitors numbers in these regions by 600,000 (21 percent) by 2020. The Wild Atlantic Way was developed at a cost of €10 million with a further €100 million invested in capital funding and, if it attains similar growth, its nine counties can expect in excess of 1.1 million extra visitors.
We have to ask why no explicit plans are being developed to support the adaptive capacity of rural coastal communities to host these visitors. Adaptive capacity is not simply about having more resources, but also relies heavily on the willingness and capability of communities to convert these resources into effective adaptive action.
READ: Ireland's Ancient East, when east is now always east
Subsumed within our new National Adaptation Framework is the long term goal of "building capacity" and "increasing climate resilience" of our socio-ecological and economic systems. However, one of the limitations of the framework, which was developed as part of Irelands first climate change legislation Climate Action and Low Carbon Development Act 2015, is the lack of guidelines to identify and engage with the relevant stakeholders for whom the policy is supposedly designed to benefit, such as landowners, residents, business owners etc.
We are at a critical juncture in time for coastal management in Ireland. We need to be cognisant that building capacity of coastal communities to develop resilient responses to changing climatic conditions can only realistically be achieved using bottom-up approaches where the communities inform the decision makers of local solutions to local problems.
The story in the Maharees
Researchers in NUI Galway are working closely with a rural coastal community in the Maharees, Co Kerry to support their drive to build adaptive capacity. This is done by reducing the costs of natural (storm related erosion and flooding) and human (pedestrian paths and horse trails to access beach and related activities of parking, camping, unregulated access, dune scrambling, and fires) pressures that are adversely impacting the long term health of the dune ecosystems and the preservation of the tombolo structure.
The local community formed the Maharees Conservation Association (MCA) CLG in February 2016 to design and implement short and long-term coastal management solutions. They have since conducted over 200 coastal protection and conservation activities including beach cleans, dune vegetation planting, signage and access fencing, straw bales, dune fencing, cultural and heritage walks, meetings, fundraising events, media, and partnerships and outreach.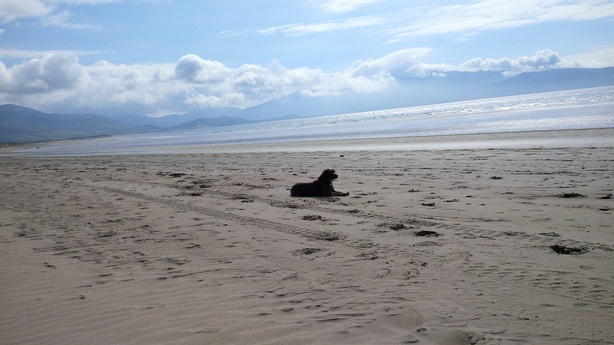 There are multiple reasons why this community has enjoyed success. The diverse leadership of their committee and local participation in their efforts has built trust and cohesion within the communities. They reached out to the critical stakeholders and developed very strong networks with key decision makers within the different management agencies (Kerry County Council, NPWS, OPW, EPA, the Heritage Council, An Taisce) and their local political representatives (TDs, councillors).
The community is working closely with staff in multiple third level institutes (NUI Galway, Institute of Technology Tralee, University of Limerick) to access key physical and social data to promote their culture and heritage and to design protection strategies. Consensus building with local landowner, residents, visitors and managers has been critical to the their ability to make impact locally and community engagement involved schoolchildren, farmers, business owners and residents and those visiting for tourism. The community vision and innovation are only matched by their determination to succeed and take back ownership of their coast.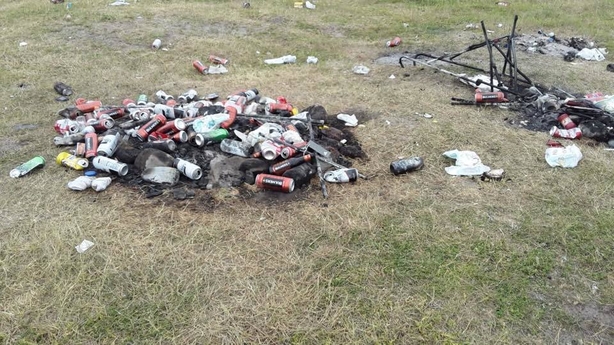 Despite the rapid progress over the past two and half years, the community still had ongoing battles with visitors this summer due to the lack of appropriate facilities in the area. However, on a more positive note, the gardaí have now become a key ally and prevented illegal camping in the Trench area of Maharees over the August bank holiday weekend for the first time in decades!
The gardaí can apply their right to impound property of illegal campers on private land without landowner permission who won't leave when asked by landowners. Previously, it was understood that the owners would have to go through the courts to obtain an order. This is a huge step in the right direction. Appropriate capacity building and resourcing can mitigate these recurring problems and ensure that the area grows new sustainable tourism opportunities for the benefit of all.
This piece is based upon Dr Eugene Farrell's research in NUI Galway Discipline of Geography & Ryan Institute. The research was funded by OPW and Kerry County Council and supported by the Maharees Conservation Association (MCA) CLG.
---
The views expressed here are those of the author and do not represent or reflect the views of RTÉ
---