Opinion: those who find rooting for their "old enemy" distasteful may cheer for their opponents, but this dilemma doesn't apply to all football people
"How can you lie there and think of England/When you don't even know who's in the team": Billy Bragg
In some ways, the England International soccer team are like the Mayo football team. Their most recent tangible success predates colour television and they have been seemingly cursed ever since. While Mayo have conspired to find all manner of ways to fall at the final hurdle, England have usually succumbed to the dreaded penalty shoot-out.
These have proven to be two of the most steadfast and even comforting narratives in sport on these islands, but such narratives are not written in stone and we must recognise and accept that they may eventually end. Just as Clare ended the silly talk of Biddy Early's curse in hurling, Ireland finally beat the All-Blacks in Rugby Union and the curse of the Bambino is a thing of the past, Mayo will surely someday lift the Sam Maguire trophy again.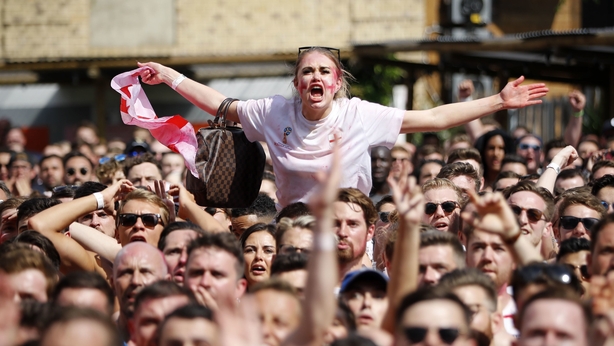 While the catalogues of agonising defeats and embarrassments mark all fans' experiences of their own team, they can also bring joy to supporters of other teams. Sometimes it can even seem that this schadenfreude is the dominant pleasure to be derived in sport. After all, 31 counties lose the All-Ireland every year and 31 countries will return from Russia without the trophy. For Irish fans, there has no doubt been the solace of our neighbour's defeats in when faced with our own.
But now that England are in the last four of the World Cup for only the third time in their history and first time in 28 years, we are faced with the reality that England could win this year which means, as the song goes, "football's coming home". That England have already successfully hurdled one penalty shootout in this tournament only adds to the sense that this could be their year.
Furthermore, the narrative around the current England team is important. Where previous teams were marked by their fair share of bad press, this team have successfully presented a happy, young and fun team to the world only exacerbating the dilemma for the Irish fan.
From RTÉ Second Captains Saturday, Ken Early discusses the issue of Irish fans supporting England
This is uniformly not a dilemma felt by Irish players, managers, fans and journalists with deep connections to English soccer. For it is they are inclined to look most favourably on English soccer. They will not let any jingoistic "Little Englander" celebrations colour their appreciation of the game. For example, no Irish Manchester United fan does not want to see Jesse Lingard and Marcus Rashford shine. No Irish Liverpool fan cannot help but marvel at the possibility that Jordan Henderson could be lifting the World Cup trophy aloft in Moscow on Sunday.
The lazy default option for those who find rooting for their "old enemy" distasteful is to cheer for their opponents, especially if the opponents are underdogs. This year, the candidates are a curious bunch from an Irish perspective. We might like to see something of ourselves in plucky Croatia, but we may find that this is not necessarily reciprocated, as Martin O' Neill recently discovered. While a repeat encounter with Belgium in the final will undoubtedly be needlessly framed as a proxy Brexit battle , Irish soccer fans will instead be more likely to be informed by recent controversial defeats at the end of flying Belgium boots. Of course, no team can compete with France for recent on the field wrongs done to Ireland.
From RTÉ's FIFA World Cup Extras, Liam Brady predicts that Croatia will beat England
In any case, the apparent dilemma for the Irish soccer fan is not so much a question of who to support from the remaining teams, but rather how to accept an English victory if and when it comes. For the sophisticated football fan, the dilemma is less informed by politics and colonial history but rather issues of style, fair play and the history of the game itself.
Crucially, the history of the game in Ireland is interwoven with its relationship to British soccer, from the invention of the penalty kick in Armagh in 1890 to the steady pull of players and fans alike to Britain. While some Irish fans may have begrudge English international soccer success, the interrelated connections between Irish and English soccer, including Harry Kane's Connemara roots, mean that the Irish soccer fan has a perhaps unparalleled intimacy with and fondness for England.
From RTÉ's FIFA World Cup Extras, Eamon Dunphy on why England's progression is a good story
In any case, international soccer relations with the "old enemy" have for the most part been cordial, the major exception being the Lansdowne Road riot of 1995 . In fact, games against England have been major milestones in the recognition of Irish soccer both at home and abroad. Ireland, after all, were the first "foreign" team to beat England on home soil in 1949 and famously beat England in Euro '88. Yet despite Ireland's decent record against England in soccer (undefeated in the last seven encounters), this is an asymmetric and weak soccer rivalry. This is not to deny that there is enjoyment of seeing others fail in agonising ways and extending silly curses even further.
While watching England may always be an Irish dilemma, it is not a dilemma for football people. Potential English success may cause some mixed emotions, but this will be for those that "don't even know who's in the team" rather than the real football fans.
---
The views expressed here are those of the author and do not represent or reflect the views of RTÉ
---