Analysis: the American writer's work may have occupied the middle ground, but his literature often illuminated the corners of consciousness too
Irish Times book reviewer Eileen Battersby wrote about John Updike in appreciative terms a number of times.  In particular, she admired his "powerful historical awareness" rendered in "opulent prose". She also noted his great American novelist status as "the civilised WASP." Her characterisation of Updike is in keeping with the way many other readers, writers, critics, and observers saw him. He was a kind of field guide to American society. And he was, indeed, a white Anglo-Saxon protestant whose vantage point had limitations. 
Either despite or because of his smooth acceptability into the arena of American literary heavyweights, he became the sort of story teller against whose depictions we check our own realities. Something often said about him, and which he also said about himself, was that he was interested in the middle. He wanted to become a professional writer because he wanted his ideas to join "the printed material that hung above the middle-browed middle class in the middle of the last century like a vast cloud gently raining ink."
Over the course of his 50 year career, he published an enormous number of essays, poems, volumes of each, short stories, novels, general articles, memoirs, reviews and even a children's book. It was impossible for other writers not to reckon with his influence, much to the irritation of the ambitiously literary David Foster Wallace, who lamented that Updike seemed never to have had even one unpublished thought.
What Updike seemed to offer most reassuringly was a willingness to ascribe meaning to existence
Updike died in 2009, and his legacy will gradually be measured. If he were alive, perhaps he would measure it himself. I say that tongue in cheek, but the fact of the matter is that Updike's work did serve as a barometer in many respects, including as a barometer of contemporary human experience. When I wrote my doctoral dissertation in the 1990s, I used his Rabbit novels, which centre on a struggling nuclear family living in Pennsylvania, as "an abiding point of comparison" against which to consider other forms of family depicted by writers who were not as preoccupied with middles and who had, in various ways, been relegated to the margins.
As financially rewarding writing success came early in life, Updike never experienced literary marginality. But he did suffer from an array of insecurities, one being his self-consciousness about his psoriasis, and another being his nagging anxiety about death. Mortality was a constant theme in his work, and one of its biggest draws for readers. His prose was opulent and he could also phrase the mundane into the profound. In her 2013 book The Pink Ribbon Path (Columba Press), Irish writer, academic, and lawyer Mary Ussher (a.k.a. Mary Redmond, now deceased) incorporated lines from Updike's poem "Fever":
I have brought back a good message from
the land of 102 (degrees):
God exists.
… it is a truth long known
that some secrets are hidden from health.
It is relatable moments like these that drew millions of readers to his work
To find comfort in sickness is a very good find. Harry 'Rabbit' Angstrom, questing, obese, and self-sabotaging, dies literally of a broken heart, but not before his author grants him a degree of serenity.  Empathy was a quality that permeated Updike's renderings of human suffering, and in one memorable poem, animal suffering too.  In "Dog's Death" he writes of the family pet dying in his lap on the drive to the veterinarian: 
Back home, we found that in the night her frame,
Drawing near to dissolution, had endured the shame
Of diarrhoea and had dragged across the floor
To a newspaper carelessly left there.  Good dog.
It is relatable moments like these, the ordinary experiences of the sick bed, the love for a family pet, and the wondering over the possibility of an afterlife that drew millions of readers to his work, even as he drew criticism for his limiting representations of women and, sometimes, for his tendency to overwrite the obvious.
We need your consent to load this YouTube contentWe use YouTube to manage extra content that can set cookies on your device and collect data about your activity. Please review their details and accept them to load the content.Manage Preferences
John Updike's selections for BBC Radio 4's Desert Island Discs
What he seemed to offer most reassuringly, though, was a willingness to ascribe meaning to existence, to assert being over nothingness. His fiction is full of the indignities, heartbreaks, and losses of everyday life, but not in ways that suggest a void. 
In his contribution to National Public Radio's "This I Believe" series in 2005, Updike said: "cosmically, I seem to be of two minds. The power of materialist science to explain everything from the behaviour of the galaxies to that of molecules, atoms, and their sub-microscopic components seems to be inarguable and the principal glory of the modern mind.
"On the other hand, the reality of subjective sensations, desires, and may we even say illusions composes the basic substance of our existence, and religion alone, in its many forms, attempts to address, organise, and placate these. I believe, then, that religious faith will continue to be an essential part of being human, as it has been for me."
Updike certainly occupied the middle, but his writing often illuminated the corners of consciousness too
Katie Roiphe tells us in her book The Violet Hour:  Great Writers at the End (2016) how Updike transformed his own dying into his new "fresh subject." At first, he was shocked to learn that his lung cancer was terminal, but then he began composing verse from his hospital bed about, indeed, his hospital bed. Roiphe says it was her own determination to confront death as an inevitability that made her look to Updike. She too saw him as a kind of field guide.
Like many other readers of John Updike's work over the years, I have experienced a disturbing uncertainty as to whether some of his fiction stages female objectification for critique or merely replicates it. As the #MeToo movement has demonstrated, those who are central can have alarming blind spots. Updike certainly occupied the middle, but his writing often illuminated the corners of consciousness too.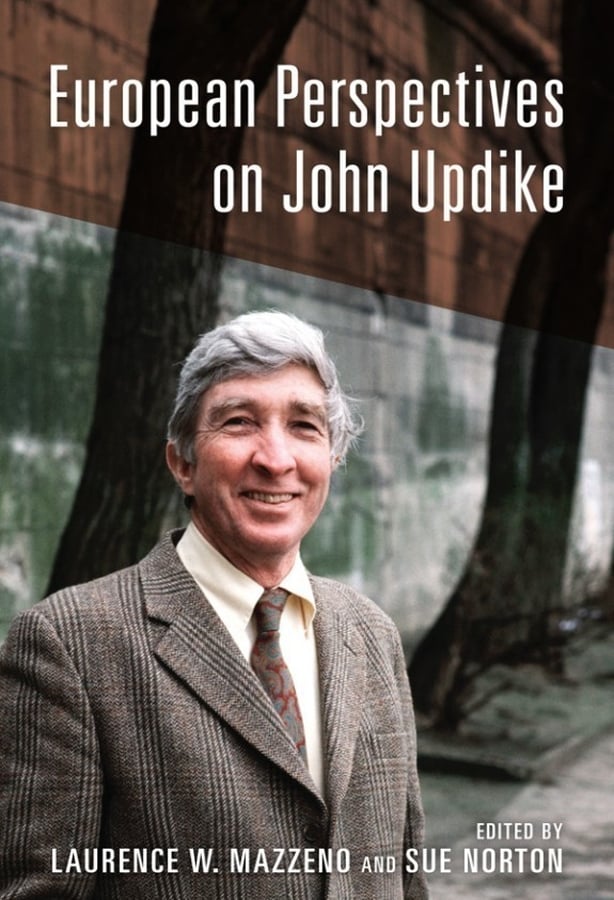 European Perspectives on John Updike, co-edited by Sue Norton and Laurence W. Mazzeno, will be published by Camden House, an imprint of Boydell & Brewer, this spring.