Opinion: is it possible to fly around the world without costing the earth?
By Eamonn Mulholland and Paul Deane, UCC
If the recent cold snap has got you thinking about getting away on a sun holiday, you might find yourself on one of the 26,000 flights passing over European airspace each day. It is an incredible amount of traffic and one that's set to grow.
Flying continues to take off. Since the 1970s, there has been a doubling of global air traffic almost every 15 years. Here in Ireland, the Dublin to London route is one of the world's busiest with over four million passengers last year. Across Europe, we love to fly. Take a look at the image below. The picture might look a little busy, but it charts the total number of passengers flying from one European country to another. For example, you might be surprised to see that the busiest route is from the UK to Spain (UK-ES), mainly bringing sun lovers on holiday getaways.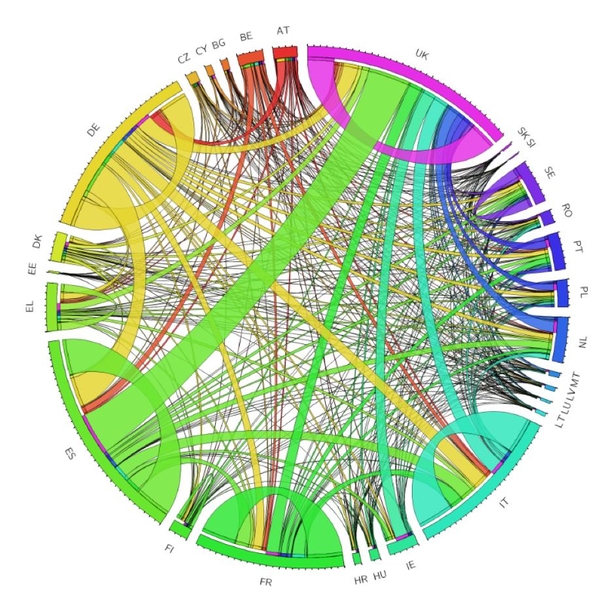 Of course, all this flying comes at an environmental cost. If you were to fly to the Big Apple from Dublin and back again, the flights would mean you're responsible for emitting nearly one ton of CO2 into the atmosphere (by comparison, the average driver in Ireland emits about two tons of CO2 every year). Greenhouse gas emissions from international aviation are responsible for about 2 percent of global emissions, but the potential for future growth of these emission is worrying. So what can be done?
Starting with engines and design, the industry has already delivered on impressive improvements in terms of carrying efficiency, and the fuel required by an aircraft to travel 100km has almost halved since 1970. Today, a full (the word "full" is important here) single aisle aircraft has to burn about three litres of fuel to carry one passenger 100km compared to five litres per 100km for a new car - of course, the more people in the car, the better the economy.
The new Dreamliner from Boeing is an incredible feat of engineering and is one of the most fuel efficient long-haul aircraft. Starting this month, it will operate a direct service from London to Perth taking just 17 hours and will use 20 percent less fuel than other traditional aircraft. 
You can only imagine the fear passengers might feel of their flight running out of  electric battery over the Atlantic
But don't expect the shape of aircraft to change radically in the near future, as challenges arise associated with changes in manufacturing and how passengers might perceive the risks with a move away from conventional aircrafts. 
The idea of electric propulsion has begun to be played around with. But if you might have a fear of your electric car running out of battery on your way to work on the M50, then you can only imagine the fear passengers might feel of their flight running out of battery over the Atlantic! There needs to be a really big breakthrough with battery technology before the idea of electric planes become commercial. 
Until then, aircraft fuel can also be improved by blending with biofuels. These are liquid fuels made from crops and wastes and can be mixed with regular fuel. Already more than 2,000 flights have already taken place worldwide with blended biofuels. When grown in a sustainable manner, biofuels can help reduce emissions because they replace the use of fossil fuel. However, the big challenge for these fuels is their high cost as they are at least double the price of regular fuel.
We need your consent to load this rte-player contentWe use rte-player to manage extra content that can set cookies on your device and collect data about your activity. Please review their details and accept them to load the content.Manage Preferences
From RTÉ Archives, a RTÉ News report from July 2007 by Ailbhe Conneely about the launch of the new "greener" Dreamliner
Because emissions from aircraft are difficult to reduce, the aviation industry is also looking at potential to reduce emissions outside of the industry through a process known as "offsetting". This means paying to reduce emissions elsewhere in the economy to count against their emissions. For example, airlines may begin to finance projects which plant trees to take CO2 out of the atmosphere or by increasing renewable electricity generation, such as investing in wind turbines. 
In the short term, the aviation industry has set a number of very ambitious environmental goals including a limit on aviation emissions from 2020 meaning offsetting emissions may have a big role to play in meeting these targets.
So if you do decide to take that sun holiday to Spain or shopping trip to New York, there are a couple of things you can do to reduce your environmental impact.  Most airlines offer you the chance to make a contribution to a carbon offsetting program or biofuels program. There are also lots of carbon calculators online to help you understand your carbon impact and the International Council on Clean Transport helps compare airlines in fuel efficiency for transatlantic routes here.  And while it is not always sunny here, more and more Irish people are choosing to avoid the hassle of airport travel and choosing to holiday at home. When you look at some of the amazing images from the Wild Atlantic way, it is easy to see why.
Eamonn Mulholland is a PhD Researcher at the Energy Policy and Modelling Group, Environmental Research Institute, UCC. Dr Paul Deane is a research fellow at MaREI, the Environmental Research Institute at UCC
---
The views expressed here are those of the author and do not represent or reflect the views of RTÉ
---