Brainstorm St Patrick's Day: there were parades, demonstrations and festivities galore around the country a century ago
1918 was a seminal year in Irish, European and global history. St Patrick's Day fell on a Sunday but celebrations for the fourth national holiday since the outbreak of the First World War were muted by the world-wide calamity. It was nonetheless a glorious spring day in Ireland with sunshine and a refreshing breeze.
Although the Irish press was subject to government censorship under the Defence of the Realm Act (DORA), a clear countrywide picture of the day emerges from regional and national newspapers. Newspaper advertisements and accounts of festivities and ceremonies around the country highlighted their two-fold significance – the religious and the national – both interdependent aspects of life a century ago.
The day was observed with the usual religious fervour as large numbers reportedly attended morning services and evening devotions in honour of Ireland's national apostle. The Irish language featured in Protestant as well as Catholic churches; sermons were preached, hymns were sung and the Rosary recited as Gaeilge. (Evening Herald, 13 March 1918; Freeman's Journal, 18 March 1918; Killarney Echo and South Kerry Chronicle, 23 March 1918).
Volunteers from Eyries marched to Castletownbere to join the St Patrick's Day parade there, providing cover for an arms raid back at the local R.I.C. barracks
Parades of bands with banners marched to and from services up and down the country playing "national airs". Some were brass bands and others were fife-and-drum bands. while some represented local temperance movements and others working men's clubs. In many places, the bands processed with members of Cumann na mBan and the Irish Volunteers (Kerry News, 18 March 1918) With arrests and court-martialling of civilians under DORA legislation, and worries that military conscription would be soon imposed, assemblies, drills, manoeuvres, and parades publicly demonstrated nationalist resistance and strength.
Witness statements given decades later to the Bureau of Military History (1913–21) by former volunteers detailed local tensions with the Royal Irish Constabulary (R.I.C.). Frank Henderson, for example, recollected that the R.I.C. in North County Dublin were out "in greater force than usual" in the run-up to St Patrick's Day 1918 and "it looked for a while as though force would be used on both sides." Christopher O'Connell recounted how volunteers from Eyries openly marched five miles to Castletownbere in Co Cork to join the St Patrick's Day parade there, providing cover for an arms raid back at the local R.I.C. barracks. This activity was played down by press censorship, abridged to notices of abandoned meetings and reports of arrests.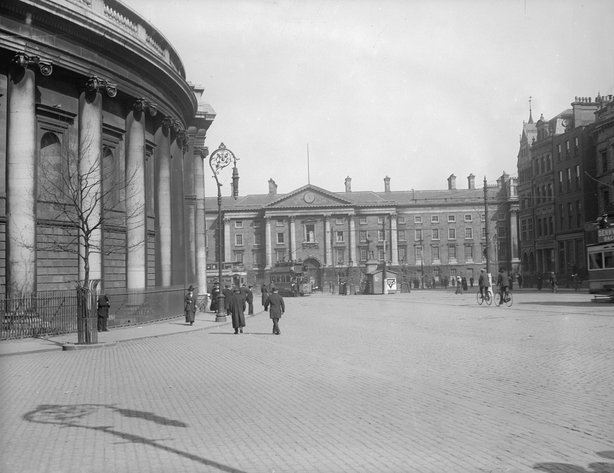 St Patrick's Day had been an official public holiday for only 15 years by 1918. Pauline Mooney's research has shown how this was driven by the Gaelic League (Conradh na Gaeilge), founded in 1893 as a non-political, non-sectarian organisation for the promotion of the Irish language and Gaelic culture. The national holiday then gave the League an annual opportunity to make a special appeal "to all to give their personal and financial support to the cause of Ireland's language" (Sligo Champion, 16 March 1918). Church gate collections were held in places like Kenmare (Irish Examiner, 20 March 1918).
As Mike Cronin and Daryl Adair have pointed out in their history of St Patrick's Day, League branches around the country organised a range of social events on the day itself, sharing platforms with other nationalist organisations. In Cloone, Co Leitrim, for instance, the League worked with Sinn Féin to host "one of the largest public demonstrations ever witnessed" in the county: a meeting and aeridheacht (open air entertainment) attended by about 5,000 (Leitrim Observer, 23 March 1918).
In Nenagh, Co Tipperary, they combined with the Gaelic Athletic Association and the Irish Volunteers to animate the town after mass with a hurling exhibition, concert and céilidh. "Gaelic salutations could be heard everywhere; needless to say, the shamrock was worn by all; and in a great number of instances tri-colour badges or buttons were noticeable" (Nenagh Guardian, 23 March 1918).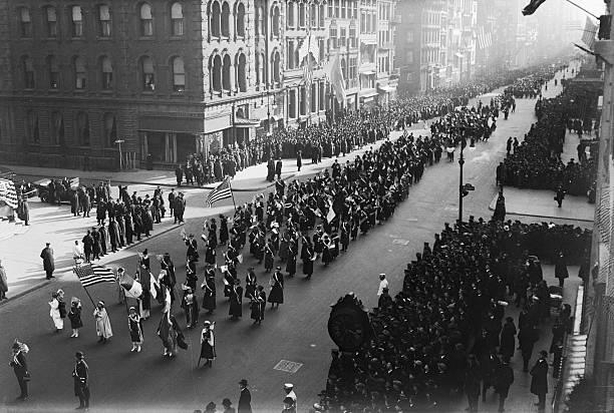 Tricolour badges were associated with Sinn Féin, the rising force in Irish politics from 1917, promoting full independence as opposed to home rule (Kilkenny People, 16 March 1918). After a large St Patrick's Day muster of Sinn Féin clubs in Co Donegal, the Derry Journal predicted that "before long, Sinn Féin will be the policy adopted by every true Nationalist" (March 20 1918).
For now though, many people sported an enamelled button badge of the late leader of the Irish Parliamentary (Home Rule) Party, John Redmond, who died on 6 March. This "handsome but inexpensive Nationalist badge" was issued just in time for St Patrick's Day and was "certain to be popular at all Nationalist demonstrations (Freeman's Journal, 15 March 1918). A "monster Home Rule demonstration" was also held at Kingscourt, Co Cavan (Anglo-Celt, 16 March 1918) and was addressed by John Dillon, Redmond's replacement as leader of the declining party.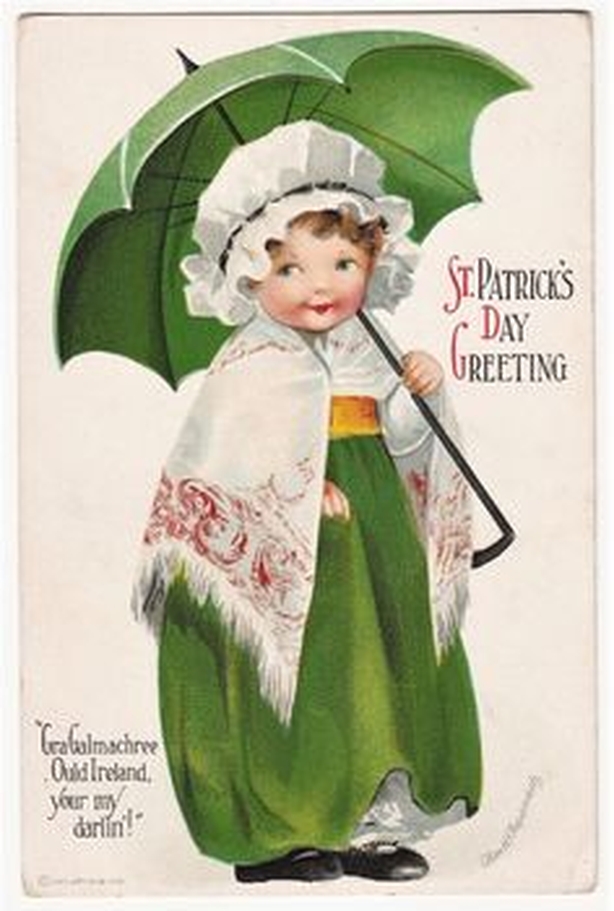 Because March 17th fell on Sunday, the bank holiday was observed on the Monday. Postal and telegraph services were disrupted, and the stock exchange and banks were closed, although it was reportedly business as usual at the offices of some establishments in Belfast (Belfast Newsletter, 19 March 1918). There were no major civic celebrations in Dublin and the city was deemed unusually quiet despite "hundreds of soldiers, home from the trenches on short leave, bent on spending the day 'on the old sod'" (Irish Times, 18 March 1918)
In keeping with a St Patrick's Day custom observed by the British monarchy since 1901, the Irish Guards assembled to receive medals for distinguished service and a gift of shamrock from Queen Alexandra. 531 men of the regiment had been killed during the previous year; 1,381 were wounded, sick or missing (Weekly Irish Times, 23 March 1918). With the end of the war, the enfranchisement of (some) women, and Sinn Féin's political dominance after the 1918 general election, St Patrick's Day 1919 would continue to be a celebration of the religious and the national – but in a country much changed.
---
The views expressed here are those of the author and do not represent or reflect the views of RTÉ
---