Brainstorm St Patrick's Day: schools play a crucial role in shaping national identity so what happens when the state outsources education to private institutions?
Every March, hundreds of St Patrick's Day parades take place across the country. A central place in those celebrations is afforded to schools. Dressed up and waving Irish flags, children are ecstatic to be the centre of attention, parents are beaming with pride and chocolate and crisps are literally falling from the sky.
In that very moment, a random spectator is asked by an RTÉ reporter to explain what does it mean to be Irish. It's great timing for such a question, as these parades are indeed an important ritual in the process of nation making. They construct the feeling of community and give a sense of shared values to the participants.
The power of national identity, which is reproduced in such moments, is in presenting national values and sets of behaviour as natural, while they were invented in complex web of historical social, political and cultural factors. The negotiation of these values is a dynamic and complex process. How does it happen? Why are certain values promoted among society members and others rejected?
We need your consent to load this rte-player contentWe use rte-player to manage extra content that can set cookies on your device and collect data about your activity. Please review their details and accept them to load the content.Manage Preferences
RTÉ News report on Dublin's St Patrick's Day parade in 1979
A central role in this process is played by schools – that is why they also occupy central roles in the parades. Schools transmit ideas about culturally specific norms, about acceptable and inacceptable forms of behaviour. From the perspective of the state, schools are crucial instruments in shaping future citizens and integrating individuals into a society.
In Ireland just like in other parts of Europe schools are state funded. Yet unlike in the other parts of the continent they are predominantly privately owned. We tend to associate the term "private" with fee paying schools. But due to historical reasons, almost every Irish primary school is private. It is owned by a patron body, meaning that the state is outsourcing the task of education to private institutions.
The largest proportion of ownership (more than 90 percent) lays in the hands of the Catholic Church. While the state decides the basic curriculum, patrons decide the morals and values that are propagated at schools. This setting has strong implications for the ways in which our society works, for the ways in which we define "social" and "anti-social" behaviours, and how we envision society as a whole.
Today, most parents still opt for Catholic schools, but this does not mean that people prefer a Catholic education
The power of schools in contributing to those processes is at best visible in the ways in which parents select schools for their children. Across Europe, parents are choosing schools based on their academic merits or pedagogical approaches (Montessori vs. Waldorf, schools emphasising sports vs. those supporting STEM etc). In Ireland, the priority is instead attending a local school or, for those who do not identify with Catholicism, choosing a school with the relevant ethos. The criteria prioritised in such choices suggest that fostering a sense of community and the ability to express one's own beliefs, are most pertinent in Ireland amongst all the different possible values that people held in high regard.
Community
Today, most parents still opt for Catholic schools. But this does not mean that people prefer a Catholic education. My conversations with parents, alongside the discussions that I held in the classroom with students of Maynooth University, suggest that people choose specific schools not because they are Catholic, but because they have an appeal of locale, i.e. "local" schools. But local means more than mere geographical proximity. It also carries out a certain sentimental value, a cosy feeling of being part of a community, a comfort and safety of being included in local social networks.
In this environment, in a society which prioritises community over other identifications (for instance related to class, or profession), the choice of not sending a child to a local school becomes a particularly difficult one: it risks exclusion, it becomes an act of defiance, of "having notions".
Consequently, those who are not comfortable with sending their child to a Catholic school are not simply opting out of religion, but in a way, are opting out of community. The same applies to decisions concerned with resigning from religious education and events such as First Holy Communion. For parents who were brought up as Catholic but who do not identify with this religion, their decision making process is not motivated by religious beliefs, but social consequences: the fear of being left out, the fear of social exclusion, of being the Other. All these mechanisms emphasise communities as central to social life. Importantly, these communities are very strongly rooted in place, which is not, however, localised in any random space, but is still very much associated with parish and the church.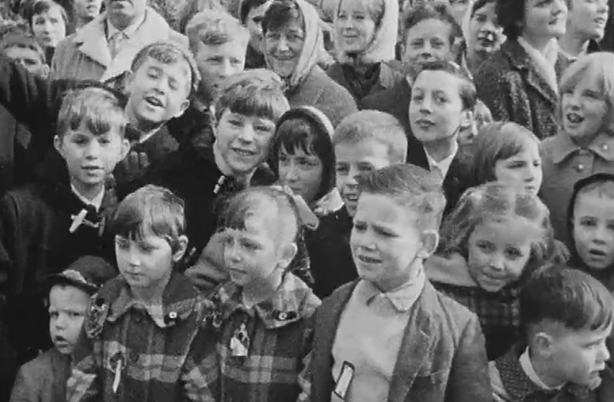 This continues reproducing the link between identity and religion, but it also limits the possibility for change. People are social animals so when social exclusion is at stake, they will hardly ever voluntarily risk it. That is why so many people, in spite of their lack of sympathy for the Catholic Church, continue sending their children to Catholic schools.
Ethos
As noted earlier, all schools around the world are reproducing some form of ideology. Usually, it is state ideology, actively fostering nationalism. In Ireland, the state does not seem to be interested in this domain, leaving ideological upbringing to patrons' discretion. In practice, it means that the responsibility to integrate children into society is a prerogative of the Catholic Church.
In spite of this enormous power of the Catholic Church to influence the shape of Irish society, the discussion about schools and religion seems to be preoccupied with rituals only: baptism barrier, prayers in the classrooms, religious education, First Holy Communion etc. These are important things, but these are not the only elements through which religion manifests and shapes social life. Religion is much more than a ritual: it is a world view. It promotes certain values and behaviours and impacts every domain of life. It is omnipresent, and that is why it is so difficult to notice.
Children learn to be sensitive to social problems, but they also learn that the solution to those issues is charity, rather than social or political action
What is the first thing that children must learn in school? In Ireland, just like in other places, children start education in the same way: they learn their A-B-Cs. But social education varies greatly across the world. One of the first things that Irish children learn at schools is to stand in a line while putting their fingers on their lips. Through this special technique of the body, children are internalising a very important message: to respect authority, not to speak without permission. The choice to promote this sort of behaviour is arbitrary, but not incidental. It strongly reflects a very hierarchical and authoritative world vision present in the Catholic Church.
Another example which illustrates how religious ideas permeate into schools and our social fabric is on display in the way in which social inequalities are discussed at schools. For instance, teachers at many schools discuss the issue of homelessness with children. Significantly, from a wide range of possibilities in which those issues can be addressed, the preferred model is that of charitable collection. Children learn to be sensitive to social problems, but they also learn that the solution to those issues is charity, rather than social or political action. Such approach gives the impression that problems such as homelessness can be solved by NGOs and charity runs, rather than through structural and political changes. This model of organising social action is not universal but is deeply Catholic.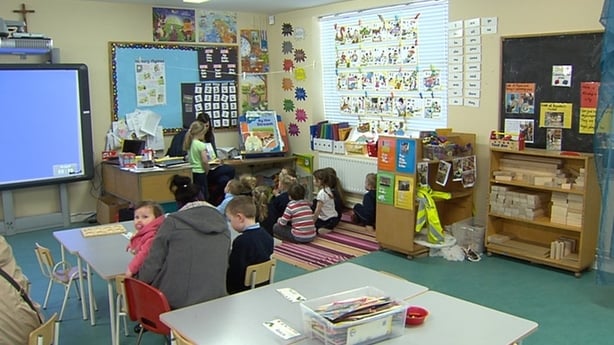 It is through such pedagogical techniques as the finger on the lips or the charity run rather than rituals that the future shape of Irish society is decided. It is through them that our ideas about social activism, social norms and social relations are shaped. From the day that the enrolment process begins, we are socialised to strive to become members of a community and to fear being left out.
We quickly learn that we have to follow the norm in order not to risk social exclusion. Today, even though the churches are half-empty, what constitutes a norm is still decided by Catholic patrons. The question is how to forget the "finger on your lips" rule and start talking about the world which makes space for more diversity and for more inclusive communities.
---
The views expressed here are those of the author and do not represent or reflect the views of RTÉ
---