Report: a new programme exploring ways to improve how diabetes services are delivered to young adults is doing so with the help of young adults themselves
Dealing with Type 1 diabetes (T1D) requires an intensive self-management routine. This is especially challenging in times of transition, especially for young adults, when diabetes is one of many demands on time, effort and headspace.
Since 2014, the multi-disciplinary D1 Now team at the School of Medicine, NUI Galway have been working to develop a new intervention to reimagine diabetes care for young adults. The team are exploring ways to improve how diabetes services are delivered to young adults with Type 1 diabetes with the help of young adults themselves.
Unfortunately, existing evidence shows a lack of high-quality, well-designed actions aimed at improving health outcomes for young adults with Type 1 diabetes. To address this issue, D1 Now aims to develop an intervention which includes young adults and other key stakeholders at all stages of the development process.
The team made a commitment to ensuring that young adults are at the centre of discussion around their care and shaping the way forward.
This type of research activity is sometimes referred to as Public and Patient Involvement (PPI). It is crucial for healthcare initiatives to recognise the expert knowledge of people living with the condition and to incorporate it into research. PPI is officially defined by INVOLVE (a leader in UK PPI research) as "research being carried out 'with' or 'by' members of the public rather than 'to', 'about' or 'for' them."
With the formation of the D1 Now Young Adult Panel (YAP) the team made a commitment to PPI and ensuring that young adults are at the centre of discussion around their care and shaping the way forward. As a direct result of this, a meaningful dialogue has opened up between healthcare providers and young adults within the research team. Their involvement has led to a better understanding of what needs to be achieved in order to improve health service delivery in terms of responding to the specific needs of young adults as he panel have been active members in co-designing the action.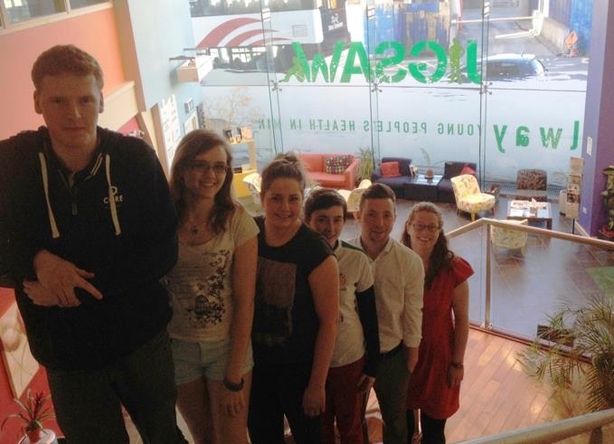 Currently, three areas have been identified as important for self-management: (a) the young adult's introduction to the adult diabetes services, (b) attendance at clinic appointments and informal contact between appointments and (c) building relationships between young adults and service providers.
Some factors were identified to help improve these areas. A key worker was required to introduce the young adult to the diabetes service, act as an advocate and conduct a needs and priorities assessment. An online Young Adult Service Portal would facilitate stronger connections between staff and young adults, while an agenda setting tool would allow collaborative decision making and goal setting to optimise diabetes management. These components will make up our D1 Now intervention and how these take shape will be based on feedback over the coming months from young adults, researchers and healthcare professionals.
RTÉ News report from Will Goodbody on how scientists at NUI Galway are conducting clinical trials with a new 'smart vest' to try to establish whether diabetes can have a damaging effect on the heart.
The young adults are instrumental within this feedback process. Research materials such as participant information sheets have been developed to ensure any material used by the D1 Now team is created with young adults and not just "for" young adults. The YAP have also reviewed research findings to create plain language statements so that the team's work is framed in the most appropriate way for young adults and anyone who may wish to engage with the research. The panel have also helped develop the study website to enhance engagement between young adults and their diabetes healthcare providers.
Through engaging with the YAP, the D1 Now team wanted to push the boundaries of the regular engagement with patients and have tried to adapt existing formats to problem solve problems. An example of this is the Strength in Numbers Conference held in NUIG which sought to bring together expert knowledge from the diabetes community and exchange knowledge and experiences among stakeholders to inform and guide the development of the D1 Now intervention.
Moving forward, we want to extend our young adult panel to the east coast. If young adults between 18 and 25 years old with T1D are interested in having a say and changing care for their peers, please get in touch. An information evening for young adults will be held at the Psychological Society of Ireland office in Dublin on February 27.
The D1 Now team are funded through the Health Research Board's Definitive Interventions and Feasibility Awards grant.
---
The views expressed here are those of the author and do not represent or reflect the views of RTÉ
---