Opinion: the idea behind Ireland's Ancient East is hugely commendable, but there are serious problems with the concept in both form and content
Since its launch in 2014, the Wild Atlantic Way has been enormously successful so it is easy to see why Fáilte Ireland was keen to introduce a new branded tourist offering to lure visitors to and through Ireland. However, Ireland's Ancient East lacks the coherent offering of the Wild Atlantic Way. If Ireland's Ancient East as a concept meandered south from the Cooley Peninsula in Co. Louth to Hook Head in Co. Wexford then the designation would make sense.
But it doesn't. Instead, it travels as far west as Cork city and Dowra, Co. Cavan and intersects with the Wild Atlantic Way at three points. In Fáilte Ireland's reimagining of Irish geography, east is east and west is west, except when it is both, while the poor midlands appear to have been entirely obliterated.
The idea behind Ireland's Ancient East is to increase visitor awareness of sites that are off the beaten track and encourage longer stays in areas that have been traditionally overlooked as destinations. Raising awareness of some fascinating, if largely unknown sites, such as St Peter's Tin Church in Co. Monaghan and Loftus Hall in Co. Wexford, is an excellent idea and crucially brings much-needed money into the local economy.
However, there are serious problems with Ireland's Ancient East both in form and content. While the signage for the Wild Atlantic Way is discreet yet distinctive, the same cannot be said of Ireland's Ancient East. When a visitor reaches an Ireland's Ancient East site, they are greeted by a large, rather gaudy, double-sided sign. The chief purpose of the sign is not to shed light on the site itself, but to highlight 10 other sites in the vicinity. There is a photo of each site, a short description and an estimate of how long it will take to get there. On the reverse there is a map indicating where the sites are located.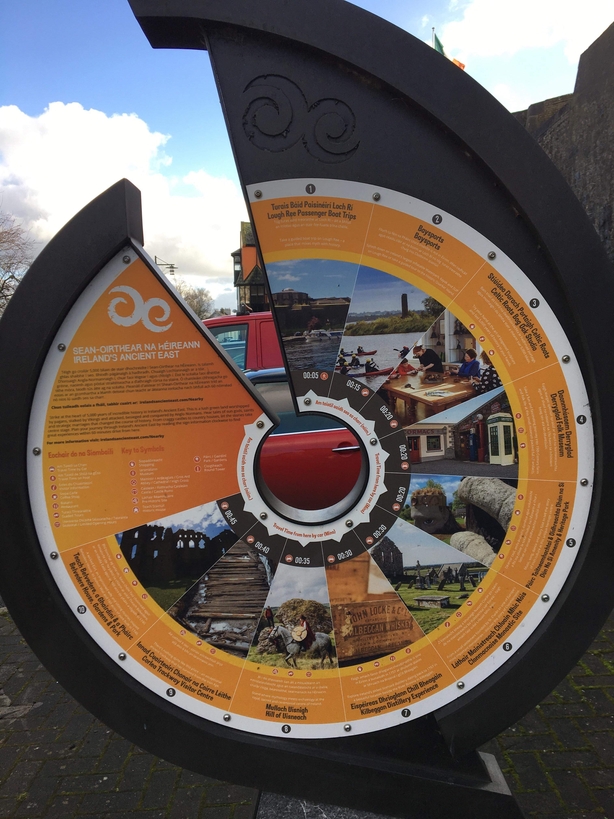 Yet nowhere do these signs tell the visitor where they actually are. "You are here" proclaims the map, but where "here" might be is not explained. If a visitor happened to stumble across a sign at an unstaffed site, they would have to go to the next location to find out where they had been. Since each sign is bespoke (the map is different for every site), there is no reason why a paragraph about the site couldn't be included. It's a missed opportunity.
Storytelling is key to the Ireland's Ancient East brand. While the Wild Atlantic Way, is primarily focussed on the landscape, the Ireland's Ancient East website attempts to link the disparate collection of sites under a range of "signature stories" including "Castles and Conquests", "High Kings and Heroes" and "Sacred Ireland". This, in itself, is not a bad thing, but it's worrying to read in Fáilte Ireland's Toolkit for Storytelling Interpretation that "storytelling interpretation does not look or sound like a history book. Think of it as a novel, even a graphic novel".
The implication is clear: all history books are dull and the past needs a light dusting of fiction to make it palatable. This focus on simplifying the past into bite-sized chunks of easily digestible narrative is both disappointing and surprising, especially when you consider the target market for Ireland's Ancient East is the "culturally curious". According to Fáilte Ireland, these tourists are over forty years of age, "independent active sightseers", travel as a couple or individuals who want "an authentic experience" and "love to discover history".
There's a real danger that Ireland's Ancient East will reinforce stereotypical ideas of Ireland as a nation of spontaneous storytellers
The culturally curious may "love to discover history", but sifting truth from fiction may present a challenge when the Toolkit for Business suggests that the visitor approach a site guide and "ask them to tell you a story and let it begin Fadó Fadó…". There's a real danger that Ireland's Ancient East will reinforce stereotypical ideas of Ireland as a nation of spontaneous storytellers, sitting around an open fire clutching a glass of whiskey while traditional airs waft in through the open window, while the target market sits cross-legged and open-mouthed at the seanchaí's feet.
Branding is key to Ireland's Ancient East's success, but entertainment is prioritised over education in trying to connect diverse sites though such broad themes. It should be possible to combine entertainment with accuracy, authenticity and education. Providing layers of information is vital, particularly as the target market is intelligent, well-educated and interested. They will demand substance behind the costumes and detail behind the glossy exteriors.
We need your consent to load this rte-player contentWe use rte-player to manage extra content that can set cookies on your device and collect data about your activity. Please review their details and accept them to load the content.Manage Preferences
From RTÉ Radio One's Marian Finucane Show, Gillian O'Brien talks about dark tourism
There are undoubtedly good things about Ireland's Ancient East. It takes tourists off the beaten track, promotes accessibility at sites and encourages multi-sensory interpretation and provides employment in the heritage and tourist industries. This is all to be welcomed. The problem is not the idea, but the execution of it.
One of the major issues with Ireland's Ancient East is that it the concept is too broad. It is in danger of being perceived as a nebulous marketing exercise designed to encompass everything that couldn't be shoehorned into the Wild Atlantic Way.
It may be that this has become apparent to those behind Ireland's Ancient East for there is talk of two new areas to be branded and marketed. These are the midlands, perhaps the "Magnificent Midlands", which would take in an area south from Cavan to Kildare and west from Westmeath to East Galway, and the Viking Coast in the south-east of the country. If these areas are developed, then perhaps Ireland's Ancient East might undergo a rebranding and become simply Ancient Ireland, which would at least appease those horrified by its somewhat blasé attitude to geography.
Dr Gillian O'Brien is a Reader in Modern Irish History at Liverpool John Moores University She is a former Irish Research Council awardee.
---
The views expressed here are those of the author and do not represent or reflect the views of RTÉ
---