Opinion: an assessment of the career of the late Liam Cosgrave, who was Taoiseach from 1973 to 1977 and led Fine Gael from 1965 to 1977
Like father, like son. W. T. and Liam Cosgrave were the only father-and-son pair to serve as heads of the Irish government. Speaking at Ardnacrusha in 2012, 83 years after being present when the power station was opened by his father, Liam's praise for his father's Cumann na nGaedhael government reflected some of his own priorities and concerns as a politician. 
As leader of Fine Gael from 1965 to 1977 and as Taoiseach of a Fine Gael-Labour coalition government from 1973 to 1977, Liam, like his father, showed a determination to use all the powers at his disposal to counter violence from what he perceived as subversive elements on the island. Equally, a commitment to Catholic values was shared by both father and son, while they were also heads of government during times of transition for Ireland. Where W. T. was faced with civil war and oversaw the first decade of Irish independence, Liam was Taoiseach at the height of the Troubles and at a time of economic hardship. 
We need your consent to load this rte-player contentWe use rte-player to manage extra content that can set cookies on your device and collect data about your activity. Please review their details and accept them to load the content.Manage Preferences

Having first been elected to what was the 11th Dáil in 1943, the one and only term when he was in the Dáil alongside his father, Liam quickly rose through the ranks of Fine Gael. Parliamentary secretary to the Taoiseach, John A. Costello during the first Inter-party government (1948 to 1951), he was appointed Minister for External Affairs during the second Inter-party Government from 1954 to 1957. In the latter position, it fell to him to oversee Ireland's accession to the United Nations and to outline Irish policy at that body. 
When he took over leadership of Fine Gael in 1965, his support for the Just Society policy was somewhat surprising, but was also a reflection of his ability to marry the more liberal and traditionalist wings of the party. As someone born into politics, he was able to retain the support of both factions within the party while at the same time maintain his independence of mind. This independence was reflected in his opposition to his own government's contraception legislation in 1974 and, at the risk of losing the party leadership, his support two years earlier for the then Fianna Fáil government's security measures. 
Cosgrave's determination not to repeat the mistakes of his predecessors was reflected in the way in which Fine Gael conducted its business. His own and his party's greater professionalism meant that it bore little or no relation to the somewhat 'amateurish' methods prevalent in the 1950s. Less instrumental in the new policies Fine Gael adopted, he was, nevertheless, critical to the party's greater appeal.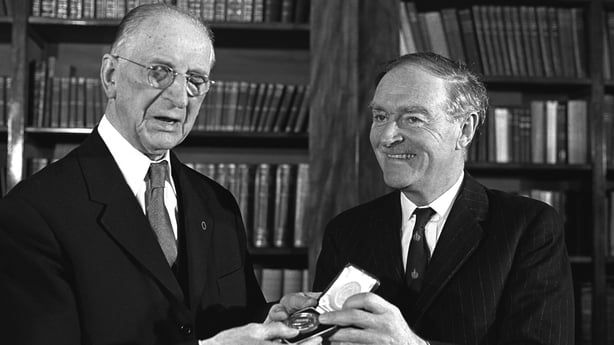 Notably, this increased attractiveness resulted in the formation of a Fine Gael-led government, the first time in 16 years an alternative to Fianna Fail achieved power. The existence of the coalition government owed as much to Cosgrave's political skills as to Fianna Fáil's near implosion with the arms trial and the consequent deep divisions within that party. His chairmanship of the government was effective and was widely praised. As Taoiseach, he helped to bring about the short-lived power-sharing agreement at Sunningdale in Northern Ireland and successfully oversaw the early years of Irish membership of the European Economic Community. 
More problematic was the rigorous nature of the state's security response to the Troubles and the criticism in 1976 of President Cearbhall Ó Dálaigh by the Minister of Defence, Paddy Donegan, after Ó Dálaigh had referred the Emergency Powers Bill to the Supreme Court. By failing to demand the resignation of the minister, Cosgrave damaged his standing by demonstrating political instincts more akin to those of a party leader than a statesman. 
The other major difficulty for his government was the economic problems which had partly been caused by the oil crisis and the resulting austerity measures. These measures made Cosgrave's Government a target for Frank Hall's satirical Pictorial Weekly TV show. Despite the government also being responsible for the introduction of a wealth tax, subsequently abolished by Fianna Fáil, and a number of welfare measures, they were decisively defeated by Fianna Fáil at the subsequent general election in 1977. Following electoral defeat, Cosgrave resigned as leader of Fine Gael. He thus accepted responsibility for unnecessarily calling an early general election while also paving the way for Garret FitzGerald, his successor as Fine Gael leader.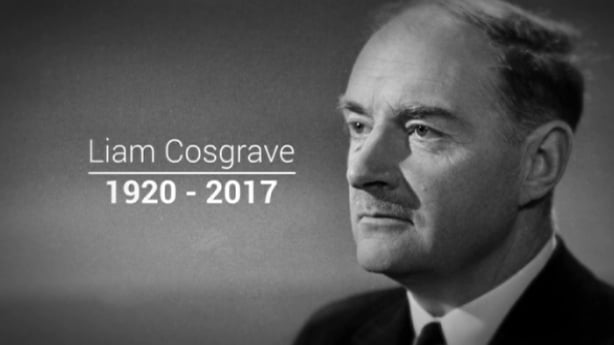 Liam Cosgrave's public persona was serious, that of a man doing his duty for his country. Faced by threats from subversive elements, he was steadfast in his response. His defence of the institutions of state did not, however, stretch to include the Presidency, at least when that office was filled by an individual with Fianna Fáil sympathies. The contrast with Garret FitzGerald who, as Taoiseach, maintained good relations with President Patrick Hillery highlights the limited nature of Cosgrave's vision for Ireland. 
Central to Cosgrave's outlook was a successful Fine Gael Party which co-existed with his antipathy towards Fianna Fáil. The transition between the party he took over in 1965 and the one from which he resigned the leadership in 1977, as well as the contrast between his united Fine Gael party and the deeply divided Fianna Fáil, highlights Cosgrave's professionalism and competency at a difficult time. 
Principled in his loyalty to his party, his conservative values and his convictions on law and order, were about as far as his vision extended. He was not particularly interested in the Just Society policy and his instincts were cautious. But what he did, he did well. In providing a stable government and an alternative to Fianna Fáil as well as ensuring his more liberally-minded successor Garret FitzGerald had a united Fine Gael, Cosgrave did his party and the state some service. The bridge Liam Cosgrave provided between different eras was perhaps his greatest legacy.
---
The views expressed here are those of the author and do not represent or reflect the views of RTÉ
---