Opinion: the attempts by the Madrid authorities to prevent millions of Catalans from voting peacefully in yesterday's referendum marks a red line in Spanish-Catalan relations
I'd been told to expect nothing big in the small village of Cornellà del Terri, where I spent the last few days. In the countryside about 10 miles from Girona in northern Catalonia, the locals were vigilant but good-humoured as we gathered at 7.30am yesterday outside the polling station in the town hall.
The annual Fira de l'All (Garlic Festival) opened earlier than usual to provide food for the voters and one person joked that people's garlic breaths would be enough to scare off the Guardia Civil. The town's young mayor was on hand advising voters to remain calm and not to respond to provocations or insults from potential opponents of the referendum. To applause, he also announced that the ballot would be based on a cens universal, a system whereby all registered voters could cast their votes at any polling station in Catalonia.
So far, so good: a long queue of voters slowly moved forward into the building, occasionally breaking into applause for the elderly or infirm, some in wheelchairs, as they were led up the ramp. At about 9.45am, rumours started circulating that the Catalan President Carles Puigdemont would be coming to Cornellà after the Guardia Civil thwarted his attempts to vote in another nearby town. A few minutes later, the crowd erupted in chants of "President, President" as Puigdemont was escorted through the crowd to the door of polling station. We couldn't believe our eyes as little Cornellà was suddenly thrust into the spotlight and excited locals starting sending videos of Puigdemont to Catalan television TV3.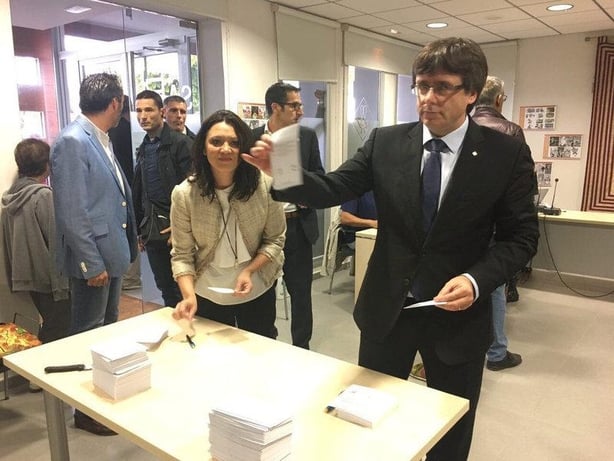 But the presence of our star performer would have repercussions later in the day. By 1pm, rumours were circulating of a Guardia Civil raid, apparently as an act of revenge in order to confiscate the ballot box containing Puigdemont's vote. The polling station closed for three hours and re-opened at 4pm, only to close again for the day an hour later due to more security concerns. Although Cornellà gained unexpected notoriety in the eyes of the Spanish authorities, similar worries about security were undoubtedly repeated throughout Catalonia as rumours of crackdowns circulated on Twitter. As the appalling pictures of Guardia Civil brutality filtered through from Barcelona and other cities, mayors and public officials across Catalonia urged voters to remain peaceful and not be intimidated.
We need your consent to load this rte-player contentWe use rte-player to manage extra content that can set cookies on your device and collect data about your activity. Please review their details and accept them to load the content.Manage Preferences

The roots of the Catalan problem are deep and stem from a growing sense of alienation from Madrid over issues such as finance, the law and language and identity. These are linked to the ruling of the Constitutional Court in 2010 that large parts of the Catalan Statute of Autonomy were unconstitutional. Spain has repeatedly refused to discuss the question of independence, despite more than 20 formal attempts by the Catalan government. A slim majority of the Catalan parliament is in favour of independence and opinion polls in recent months indicated that up to half of the population supported that view but more significantly, a large majority of about 80 percent favoured holding a referendum.
"The key problem that constitutes the conflict between Catalonia and Spain is what we call the fiscal balance, i.e. the difference between taxes paid and services rendered", says Joan Pujolar, professor of sociolinguistics at the Universitat Oberta de Catalunya.
"The Spanish government, in an alliance with a partisan judiciary and Constitutional Court, undertook a project of centralisation to render Catalan autonomy lame by slow attrition and various Catalan laws have been suspended and withdrawn by the Constitutional Court since 2012. Despite Catalan's official status, language has also been an issue and the judicial system is determined to preserve the use of Spanish at all costs. Real linguistic abuses are widely carried out against Catalan by policemen, doctors, judges and civil servants."
What will happen in the next few days is anyone's guess but it will be serious. In scenes reminiscent of the Franco years, the brutal repression of efforts by millions of Catalans to vote peacefully marks a red line in Spanish-Catalan relations. There is no going back: at its heart the Catalan crisis has emerged because very many Catalans, probably now a majority, no longer feel that the Spanish state is legitimate. When enough citizens no longer consider themselves loyal to a state, when they believe that it does not have their interests at heart and that it consistently fails to respect their language and identity, the future of that state is in question.
Spanish Prime Minister Mariano Rajoy has stubbornly treated Catalonia as a legal problem and has repeatedly invoked the law to justify his response, an incredible approach given the entirely disproportionate and violent crackdown on peaceful voters. What Rajoy seems incapable of understanding is that Catalonia is a political problem requiring a political solution. It seems too late now to achieve that without some sort of external intervention but, with a small number of exceptions such as Scotland, the silence from across Europe has been deafening so far.
---
The views expressed here are those of the author and do not represent or reflect the views of RTÉ
---