Ireland's Fittest Family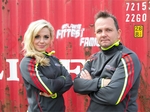 Series three will see 12 of the fittest, fastest and strongest families in the country put everything on the line to be the last family standing at the end of our gruelling competition.
This year the courses are rougher, and the competition is tougher than ever before. We've got two new coaches to join our line-up of sporting heroes. Munster rugby legend Alan Quinlan and Cork Camogie champion Anna Geary join veteran coach Davy Fitz and last year's newbie Jason Sherlock.
Episodes
Series 3, Episode 2
Episode 2 features Jason Sherlock and Alan Quinlan. Six more families take on Hanging Tough over the Irish sea in Dun Laoghaire - The Gills, The Farrens, The Kearneys, The Thompsons, The Wlydes, The Naylors. After two families have been eliminated, Jason and Alan pick their teams from the final 4.
Series 3, Episode 3
In Episode 3, we're stuck in the mud in Killary as the four coaches go up against each other for the first time. Davy's Behans, Jason's Farrens from Derry, Alan's Naylors and Anna's Daverns. Three families will go through to the semi-final. Stormy conditions and a weather warning in the West mean the eliminator has to be postponed.