Ireland's Fittest Family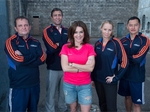 RTÉ One, Sundays, 6.30pm

Sunday Sep 21st sees the return of last years break out hit entertainment series "Ireland's Fittest Family". Kicking off a seven week run at 6.30pm on RTE 1 the series will once again pit twelve sports obsessed families against each. Through a series of intense and extreme physical challenges they will battle it out for the €15k prize and the title of "Ireland's Fittest Family 2014".
From Spike Island to Killary, Lough Key to Kilruddery in Wicklow our twelve families will again face mud, heights, hills, water, tunnels, towers, hay, logs, sandbags, jumps and this year a fire engine...that they've to pull along a road, as you do.
Again our families will be joined by four big name sports star to coach them through the process. This year sees the return of Claire bainisteoir Davy Fitzgerald and Olympic medal winning boxer Kenneth Egan alongside our two newbies, World Champion Hurdler Derval O'Rourke and Dublin footballing legend Jason Sherlock. These coaches don't like losing so sparks fly as they compete to get their families to the podium. Across seven weeks of glorious battles that test the families to their core and see the coaches do whatever it takes for them to taste victory we get to see some extraordinary families dig deep over some incredably difficult challenges.
Presented by Mairead Farrell, Ireland's Fittest Family is produced by Animo TV and Kite Entertainment for RTE Entertainment.
Episodes
Series 2, episode 1
Coming from Spike Island prison in Cobh, Co. Cork episode one sees the first two of our four qualifying rounds where each coache's three families comepete for the two places on their team. First up it'll be the turn of our newbie coaches as Derval and Jason put their families through two gruelling events, Hard Labour and Prison Break. Four families will go through, two will go home.
Series 2 Episode 2

Still in Spike Island, episode two sees our two returning coaches, Davy Fitz and Kenneth Egan put their families through the qualifying rounds of Hard Labour and Prison Break. With a competitive dynamic that goes beyond the norm these two are hell bent on beating each other, will Davy get under Kenneth's skin as the mind games between these two go up a notch? Or will Kenneth have Davy running scared when he sees the strength of his families? All will be revealed.

Series 2, Programme 3
It all goes a bit bog-tastic this week as our four coaches bring their families to Killary's world famous Turf Warrior course. It's a case of mud, sweat and tears as our eight families face the gruelling bog-jog, the terrifying Jacobs Ladder and the near impossible eliminator race. With our two losing families ending their quest here we could also be losing a coach as Davy Fitz, Kenneth Egan, Derval O'Rourke and Jason Sherlock battle it out for the six qualifying positions.
Series 2, Programme 4
Freezing water, ten foot walls, swamps, ramps and hay all come together in Killruddery's infamous Hell & Back course to test the first three of our quarter final families, the Hurleys, Kearneys and Mulhares. Tensions rise amongst the coaches as the referee makes a crucial call with Jason Sherlock showing us that nice guys can bite too.
Series 2, Programme 5
It's the second quarter final from Kilruddery's Hell & Back as the second group of three quarter-finalist families go head-to-head for the final two places in this year's semi final.