Ireland's Fittest Family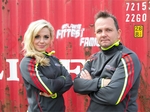 Series three will see 12 of the fittest, fastest and strongest families in the country put everything on the line to be the last family standing at the end of our gruelling competition.
This year the courses are rougher, and the competition is tougher than ever before. We've got two new coaches to join our line-up of sporting heroes. Munster rugby legend Alan Quinlan and Cork Camogie champion Anna Geary join veteran coach Davy Fitz and last year's newbie Jason Sherlock.