OKLAHOMA CITY DEVASTATED BY MASSIVE TORNADO
21 May 2013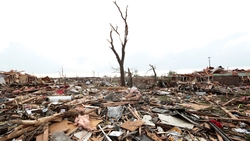 One of the worst tornados ever seen in the United States has left 24 people dead and many injured in Oklahoma.
Emergency workers are searching for survivors in a suburb called Moore which was devastated by the winds of up to 200mph.
Many buildings were destroyed including some schools where lessons were taking place.
President Barack Obama has declared a major disaster area in Oklahoma.
He said: "The people of Moore should know that their country will remain on the ground, beside them, for as long as it takes."
Tornados like that don't happen in Ireland, but if you're upset by what happened in Oklahoma, make sure to talk to an adult you trust.

BIODIVERSITY WEEK 2013
21 May 2013

This is National Biodiversity Week.
Biodiversity is the variety of all living things on earth and how they connect with each other.
Biodiversity is nature's way of providing essential things like food and clean air. No matter where you live, you can find some.
As part of the celebrations, pupils in Balbriggan in Dublin have been learning about marine life, from members of the Irish Seal Sanctuary.
Check out what they learned by clicking the link above to today's programme.
You can find out about the events that are taking place by visiting: www.ien.ie/bw13/events
AIRPORT GRASS CUT TO HELP FARMERS IN FODDER CRISIS
21 May 2013

The grass around Dublin Airport was cut early this morning to help farmers whose animals are starving because of the shortage of fodder in parts of the country.
The grass around the runways is usually kept quite long to keep birds away but is cut every three years.
This year, 220 acres of grass will be cut and given to struggling farmers for free.
Farmers can bring their own trailer to the airport, where it will then be taken in, filled and returned to them.