The Rolling Wave Sunday 10 August 2014
The Gloaming have given us copies of their new album The Gloaming 2 for prizes in the Rolling Wave quiz.
The question: there is a famous song with Gloaming in the title – what is it? Hint: you'll have to go back over 100 years and check out Scotland to get the answer.
If you think you have the answer, you can send it to us in any one of three ways:
by post to The Rolling Wave, RTÉ Radio One, Dublin 4 or email to therollingwave@rte.ie
or on Twitter @TheRollingWave
Answers in a few weeks after the broadcast of our recording of The Gloaming's sell-out Dublin concert in March which you can hear on The Rolling Wave of 29th May and 5th June
About The Show
Named after a famous traditional Irish tune, The Rolling Wave is a sharp ear and a close eye on the world of traditional and folk music in Ireland.
Sunday, 10.00pm on RTÉ Radio 1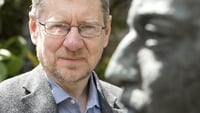 Competition
Congratulations to Declan Conneely, Moycullen and Geraldine Greene, Ennis - winners of copies of Charlie Piggott and Gerry Harrington's CD "The New Road".
The answer is: Dé Dannan.
Thanks for all the entries and the next quiz is for copies of the new CD "Our Dear Dark Mountain with the Sky over it" which we discussed with Seán McErlaine on the Rolling Wave of 26th/27th July last.
The question: From what Ulster counties does the music on the "Dear Dark Mountain" CD come? Plenty of clues in the programme with Seán and you can listen back to it all on this page.
Answers by post to The Rolling Wave, Music Programmes, RTÉ Radio, Dublin 4. Email to therollingwave@rte.ie or on Twitter @TheRollingWave