About The Show
Named after a famous traditional Irish tune, The Rolling Wave is a sharp ear and a close eye on the world of traditional and folk music in Ireland.
Sunday, 10.00pm on RTÉ Radio 1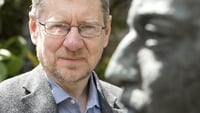 Competition
The answer to our Rolling Wave quiz is: Eric Bogle. We had a bumper response and the two winners of copies of the Friel Sisters new CD are: Jim Nash of Kilworth in Co. Cork and Gavin Black of Lurgan, Co Armagh. Congratulations to both.
Our new quiz is for copies of the new CD from The Gloaming, kindly donated by the band. The question: can you name any two members of the Gloaming?
Answers to therollingwave@rte.ie or by post to The Rolling Wave, RTÉ Radio, Dublin 4.