About The Show
Named after a famous traditional Irish tune, The Rolling Wave is a sharp ear and a close eye on the world of traditional and folk music in Ireland.
Sunday, 10.00pm on RTÉ Radio 1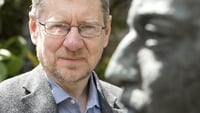 Competition
We have a new competition for the start of summer on The Rolling Wave. The prizes are copies of The New Road CD by Charlie Piggott and Gerry Harrington.
The question is: Charlie Piggott was a member of a celebrated traditional group in the1970s - can you name it?

Answers by post to The Rolling Wave, Music Programmes, RTÉ Radio, Dublin 4. Email to therollingwave@rte.ie or on Twitter @TheRollingWave
And we continue on RTÉ Lyric FM every Monday night at 1900.