About The Show
Named after a famous traditional Irish tune, The Rolling Wave is a sharp ear and a close eye on the world of traditional and folk music in Ireland.
Sunday, 10.00pm on RTÉ Radio 1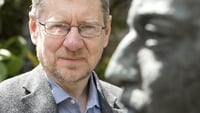 Competition
Congratulations to Andrew Scannell in London and Séamus Ó Gráda both of whom won copies of the CD Cold Old Fire from the group Lynched. The quiz answer: Biddy Mulligan came from the Coombe! There'll be a new Rolling Wave quiz in May and here's an important notice:
The Rolling Wave is off the air on RTÉ Radio One for the month of April but will be back in May. And we continue on RTÉ Lyric FM every Monday night at 1900.