About The Show
Named after a famous traditional Irish tune, The Rolling Wave is a sharp ear and a close eye on the world of traditional and folk music in Ireland.
Sunday, 10.00pm on RTÉ Radio 1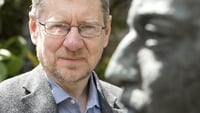 Competition
Congratulations to Katie O'Driscoll of Passage West and Pat Dalton of Glasnevin who each got the correct answer to our question about what Willie Clancy's main instrument was. And of course it was the uilleann pipes. The prize - now on its way to both winners - is a copy of Louise Mulcahy's new CD "Tuning the Road"

Our new Rolling Wave quiz is for the new booklet and double CD of complete recordings by the famous Irish-American flute player John McKenna: "The Buck from the Mountain".

Prizes of 2 copies have been given to us by the John McKenna Society and the question:

What county in Ireland was John McKenna from?

Answers to: The Rolling Wave, RTÉ Radio, Dublin 4 or therollingwave@rte.ie or on Twitter to @TheRollingWave
Results in a few week's time.