About The Show
Named after a famous traditional Irish tune, The Rolling Wave is a sharp ear and a close eye on the world of traditional and folk music in Ireland.
Sunday, 10.00pm on RTÉ Radio 1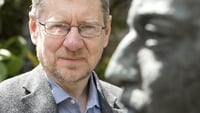 Competition
Here's the result of our Rolling Wave quiz: The answer is that Tony Mac Mahon comes from Co. Clare and congratulations to Catherine Hallinan, Tallaght and Kathleen Mahon, Ranelagh - both in Dubliin. The prize a copy of the new CD by Tony Mac Mahon and Steve Cooney - "Live in Spiddal".
Our new quiz is for copies of the new recording of Sliabh Luachra music by Aoife Ní Chaoimh and Paudie O' Connor - "Didn't She Dance and Dance".
The question: "Where is Sliabh Luachra?"
Entries judged on the most geographically accurate and/or most imaginative response!
Answers to therollingwave@rte.ie or The Rolling Wave, RTÉ Radio One, Dublin 4 or @TheRollingWave - Results in January