Mooney Goes Wild, Sunday December 4th 2016
***MOONEY GOES WILD WINS ROSE D'OR AWARD!!***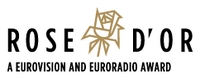 The prestigious annual Rose D'Or Awards (now in their 55th year) honour the very best of international radio, TV and online entertainment programmes, and the awards ceremony took place last night (Tuesday, September 13th 2016). Over 400 programmes from more than 130 broadcasters and production companies in 33 different countries were submitted for this year's Rose d'Or awards. For the first time, a new competition category, 'Radio Event Of The Year' was created. We entered European Dawn Chorus in this category, and we're absolutely delighted to let you know that ... drumroll... WE WON!!! We're absolutely thrilled to pieces, and a massive thanks to all our EBU and BirdLife International partners, we couldn't have done it without you! Click here to read more about the 2016 Rose D'Or awards (in which legendary funnyman John Cleese picked up the Lifetime Achievement award), and click here to relive - and re-listen to - all the beautiful Dawn Chorus birdsong from right across Europe.
***STOP PRESS*** Dawn Chorus Picks Up Another Award!
We're thrilled to let you know that on Friday, October 7th, the Dawn Chorus won the Innovation Award at the PPI Radio Awards in Kilkenny!
***To visit The Mooney Show website, click here!***
Facebook: www.facebook.com/rtenature
Twitter: @naturerte
Wildlife Christmas Gifts Recommendations
It's just three weeks to go until Christmas Day – have you decided what 'all you want for Christmas' is? Well if you'd like to give – or receive! – a gift to someone who's wild about nature, then gather round and take note, because we have four special elves, called Eanna ni Lamhna, Richard Collins, Niall Hatch and Sinéad Renshaw, here with their recommendations. And this year, we've decided to impose a €30 cap per person! Here are our suggestions for some fab Christmas pressies for someone who loves wildlife...
Richard's Suggestions:
1) Ladybird Tower, €15
Provides hibernation chambers for ladybirds. Stand it in a flower border, for added interest. Available from BirdWatch Ireland - http://shop.birdwatchireland.ie/birdwatchireland/product_info.php?products_id=1130.
2) Little Book of Garden Bird Songs, €15.50
Listen to the songs and calls of our best-loved garden birds, easily accessed at the touch of 12 simple sound buttons. The book features a wealth of facts as well as photographs and high-quality bird sounds. For more information, visit http://shop.birdwatchireland.ie/birdwatchireland/product_info.php?products_id=1189.
Eanna's Suggestions:
1) Climb A Tree At Airfield, €4 / €6.40 / €8
The best give you can give is your time and attention - children in particular enjoy this. A recent Irish study has shown that 40% of Irish children have never climbed a tree. So this can be your present this Christmas – take a child near you to climb a tree. You don't have to climb yourself but watch and encourage. It is great for children for all sorts of reasons. Airfield in Dundrum in Dublin positively encourages children to climb their trees – particularly the two big ones on their front lawn which are begging to be climbed. In fact if you go there between now and the end of January and say that you heard about on Mooney Goes Wild they will give you up to 20% reduction on the entry fees which is usually €5 for a child, €8 for a senior and €10 for an adult. This reduction applies to annual membership too during this period. There are lots of big trees all around the country that are climbable too so you can go on an adventure with your chosen child to find and climb a tree. You are limited only by your imagination - or lack of it! For more information about Airfield Estate, visit www.airfield.ie.
2) Wildlife Calendar - €7.99
Do you always remember who gave you what present six months later, or whether you even liked it? Well the best gift I got last year was a wildlife calendar with superb wildlife pictures – relative to the month. Since Dec 1st, I am enjoying the picture of my Christmas robin. So for anyone that has access to a wall in their house which is near to where they eat breakfast, a wildlife calendar is a must. There are all sorts to choose from – bird ones from BirdWatch Ireland and the RSPB – you don't have to be a member to buy one from their websites. It doesn't even have to be a bird one or even Irish wildlife. A recent visit to Easons revealed a whole section on wildlife calendar – ones on Penguins, Tigers, wildflower gardens. And you would be hard pressed to spend a tenner on one. But your recipient will learn loads about wildlife all year and will think warmly of you each month when a new picture is revealed.
The blogger whom Derek spoke about in his chat with Eanna is Lenore Skenazy; her website is www.freerangekids.com.
Niall's Suggestions:
1) CD: Birds By Ear - €12
If you've ever wondered which birds you hear singing in your garden or when out on a walk, this double CD featuring 80 common species offers the perfect solution. Listen to it a few times and you will soon become expert at identifying those mystery songsters. Includes: Robin, Blackbird, Goldfinch, Blue Tit, Chaffinch, Wren. Price €12.00. Full details are available at http://shop.birdwatchireland.ie/birdwatchireland/product_info.php?cPath=42_45&products_id=1061.
2) Book: Tweet Of The Day - €13
Based on BBC Radio 4's award winning series, this utterly absorbing 440 page book takes you month by month through the year, and the changing lives of our favourite birds: from Peregrine Falcons swapping sea-cliffs for skyscrapers to Swifts spending almost their entire lives on the wing; from charms of Goldfinches to murmurations of Starlings; from Ptarmigans thriving in the snow of the Scottish Highlands to the bright green parakeets thronging London's parks, this book is packed full of extraordinary insights and memorable facts. Price €13.00. Full details are available at http://shop.birdwatchireland.ie/birdwatchireland/product_info.php?products_id=1231.
3) National Biodiversity Data Centre's Irish wildlife identification swatches - €7
Wonderfully compact and concise, this range of handy identification guides covers several different groups of Irish insects and plants. They will fit easily in almost any pocket, making it very easy to use them when out and about to identify all of our butterfly, bumblebee, dragonfly, shield bug, ladybird and native tree species. Written and designed entirely from an Irish perspective, they are a perfect gift for any nature lover. Price €7.00 each. Full details are available at http://shop.birdwatchireland.ie/birdwatchireland/product_info.php?products_id=881.
And a special mention must go to a special gift: BirdWatch Ireland membership - it's perfect for nature-lovers of all ages, is ideal for absolute beginners, and of course also helps to fund BirdWatch Ireland's vital conservation work.
Members receive a special welcome pack, a set of bird identification charts, four issues of their print magazine Wings throughout the year (plus their Bird Detectives kids' magazine for family and junior members) and a special free gift, as well access to hundreds of free walks, talks and outings all over Ireland and to our network of 20 nature reserves across Ireland.
BirdWatch Ireland membership runs for 12 months and costs €40 for individuals, €50 for families and just €25 for children, students and senior citizens. For more information, please visit http://shop.birdwatchireland.ie/birdwatchireland/product_info.php?cPath=32&products_id=787.
Sinéad's Suggestions:
1) Bird Bingo - €21.70 from Book Depository (with free shipping to Ireland)
Who doesn't love a board game at Christmas time? This one can be played by up to twelve players, so a handy one to get out if you've got a large group around, and you can learn to identify all kinds of common and unusual birds! Suitable from approx. age three upwards. Made by Lawrence King Publishing. You can play the game with up to 12 people, and the difficulty level of the game can be changed to suit different groups such as children, adults, beginners and bird experts. First, a player is nominated to be the caller (you can take it in turns for subsequent games). The caller takes the large board and the bag of bird tokens and all other players take a bingo card each. The caller selects a token from the bag and calls the bird's name out to the other players. If a player has the bird on their card they can cover it with a red counter. Before selecting the next bird, the caller should place each token on the board as a record of what has been called. The aim of the game is for players to mark all the birds on their cards. When your card is complete, shout 'BINGO!' Once the caller has checked that all the birds on the player's card have been called out, this player is declared the winner. Another aim might be to complete a horizontal or vertical line on the Bingo card, or for the caller to identify the bird to players by describing it, or by calling its Latin name. To find Bird Bingo on Book Depository, visit http://www.bookdepository.com/Bird-Bingo-Christine-Berrie/9781856699174?ref=grid-view. For more information about Bird Bingo, visit www.laurenceking.com/en/bird-bingo.
2) Book: Nature's Hidden Adventures, by Shane Casey - €8
Shane is the Biodiversity Officer with Dublin City Council, and this is his second book of nature stories for children (Nature's Secret Adventures was published in 2013). This book contains three stories: The Tale Of Two Hedgehogs, Senan's Story, and The Life Of Bombus Reilly. It also includes a short fact-file about hedgehogs, swifts, and bumblebees. The age recommendation is from age 6 upwards, but I think younger listeners would be just as captivated if a parent read the stories to them. It's beautifully illustrated by Vincent Killowry. What's especially wonderful (apart from the fact that it's Irish-made, by an Irish author and teaches young children about the wildlife around them without them even realising) is that it's written especially for dyslexic children. Five simple techniques are used to make the books more accessible for dyslexic readers:
i) A special font called OpenDyslexic font is used. This is currently free to download at http://dyslexicfonts.com
ii) The typical black text on a white background is avoided. Instead, dark blue text on a cream background is used
iii) Single spacing is used after all punctuation marks
iv) Shane avoids beginning the first word of a new sentence on the previous line
v) The text is aligned to the left of the page (and not 'justified')
For more information or to purchase the book, visit www.shanecaseybooks.ie/natures-hidden-adventures.
Hedgerows: It is an offence to 'cut, grub, burn or otherwise destroy hedgerows on uncultivated land during the nesting season from 1 March to 31 August, subject to certain exceptions'. For more information, click here.
UPDATE: February 29th 2016 - Press Release From BirdWatch Ireland:
Putting the record straight: Dates for burning and hedge-cutting have NOT changed
BirdWatch Ireland, Ireland's largest conservation charity, is very concerned about misinformation that is currently circulating regarding the dates within which the burning of vegetation and cutting of hedges is permitted. It would like to remind landowners that all burning and cutting must cease on 29th February this year and that burning and cutting remains prohibited from 1st March to 31st August.
Despite attempts by the Minister for Arts, Heritage and the Gaeltacht, Heather Humphreys T.D., to change the laws regulating these dates by introducing the Heritage Bill 2016 earlier this year, it is important to note that the proposed date changes were ultimately NOT made. This is because the bill failed to pass through both houses of the Oireachtas before the recent dissolution of the Dáil in advance of the general election.
The laws in place governing the dates for hedge-cutting and upland burning therefore remain unchanged. The period within which cutting and burning is prohibited are set down in Section 40 of the Wildlife Act 1976 (as amended in 2000), which states that:
(a) It shall be an offence for a person to cut, grub, burn or otherwise destroy, during the period beginning on the 1st day of March and ending on the 31st day of August in any year, any vegetation growing on any land not then cultivated.
(b) It shall be an offence for a person to cut, grub, burn or otherwise destroy any vegetation growing in any hedge or ditch during the period mentioned in paragraph (a) of this subsection (above).
The existing law provides exemptions for road safety and other circumstances and should be read carefully to ensure compliance.
Section 40 of the Wildlife Act exists to protect nesting birds. Many of our upland bird species are in decline and are in danger of extinction in Ireland; amongst them is the Curlew, which has declined by 80%. Many birds which nest in hedgerows into August are also in serious decline, including the endangered Yellowhammer. The changes to the cutting and burning dates which had been proposed in the now-defunct Heritage Bill 2016 would have caused serious impacts to these birds. A petition launched by BirdWatch Ireland in conjunction with several other national conservation organisations to stop these changes attracted more than 16,200 signatures and rising.
BirdWatch Ireland would also like to advise members of the public that if they see hedges being cut or fires in the uplands on or after 1st March, such activity could be illegal. In such cases, we would encourage people to contact the National Parks and Wildlife Service (www.npws.ie) to report such activity.
BirdWatch Ireland warmly welcomes the demise of the Heritage Bill 2016 and sincerely hopes that any future administration will consider the importance of Ireland's natural heritage and will not attempt to reintroduce such a flawed and damaging piece of legislation.
To contact your local wildlife ranger, click here for contact details. To read the Wildlife (Amendment) Act 2000, click here.
IMPORTANT NOTICE
Please DO NOT send any live, dead or skeletal remains of any creature whatsoever to Mooney Goes Wild.
If you find an injured animal or bird, please contact the National Parks & Wildlife Service on 1890 20 20 21, or BirdWatch Ireland, on 01 281-9878, or visit www.irishwildlifematters.ie