One City One Book
On this week's programme we look at Dublin: -mapping the city in poetry.
This year's "One City One Book" is the anthology of poetry "If Ever you Go", from the Patrick Kavanagh poem "If Ever You Go To Dublin Town."
This anthology of poetry edited by poets Pat Boran and Gerry Smyth is a kind of alternative literary map of our capital city and its hinterland.
We asked poets to read their poetry and we invited the editors - along with Dublin City Council's librarian and Director of the Unesco City of Literature office – Jane Algar – to join us in studio to discuss the book and hear poetry.
From Frank McGuinness to Eiléan Ní Chuilleanáin and MacDara Woods, Moya Cannon and Theo Dorgan – and David Herlihy reading some poets as well – we listen to the poetry of the city and preview the new anthology.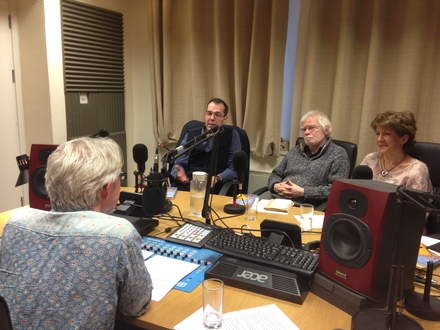 In studio with Vincent Woods are (l-r): Pat Boran, poet and co-editor, Gerry Smyth, poet and co-editor, and Jane Algar, of Dublin City Libraries.