The RTÉ soccer panel believe that England are building nicely for the World Cup, but Brazil could be the team to beat this summer.
Gareth Southgate's young squad will look to battle it out with Belgium for top spot in Group G, with the presence of Panama and Tunisia raising expectation of at least making it to the knockout stages.
Unusually for the Three Lions, they have arrived in Russia somewhat under the radar, and Ronnie Whelan can see a closer-knit squad making their mark on the big stage.
"I have seen something with this England squad that I haven't seen in squads before, and it's something we had with Ireland in the 80s and 90s; they seem to be very, very close together," he said at the launch of RTÉ's 2018 FIFA World Cup coverage across television, radio, online and mobile.
"I have looked back at old England squads and listened to Steven Gerrard, Frank Lampard and Rio Ferdinand talk about how they wouldn't sit together, not wanting to speak to each other.
"I think this England team have that camaraderie and I think they will do alright. They will get through the group and you don't know what could happen then. I fancy them to get to a semi-final."
Richie Sadlier however doesn't share the same optimism on England's chances.
"They are a very inexperienced squad. Their first-choice goalkeeper has only three caps. It would surprise me greatly if they went beyond the quarter-finals."
Didi Hamann and Damien Duff both shared their memories of the 2002 World Cup, where Germany reached the final against Brazil, while Ireland, after a dramatic 1-1 draw with the Germans, exited the competition in the second round after a penalty shoot-out defeat to Spain.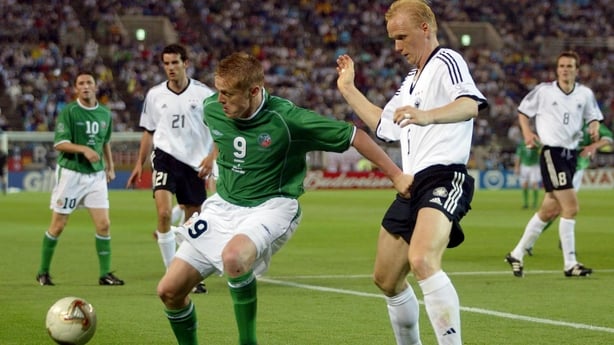 The former Chelsea and Blackburn star says it was the highlight of his decorated career.
"No disrespect to Germany, but I felt coming off the pitch thinking we dominated them for large periods. When they got to the final, it was a bit of a shock. From our point of view, it wasn't one of the great Spain teams. It was a 'what if?' kind of moment that we could have gone further."
Fellow pundit Eamon Dunphy believes Ireland missed out on the chance of winning what was a below-par tournament that year through the absence of Roy Keane, but Duff says you could easily make a case for and against that line of thinking.
"You could argue that, along with Didi, Roy was the best midfielder in the world at the time. He was a massive influence in the dressing room, it was another 'what if?' moment."
"He could have driven us to a final, but on the other hand, other players that played well, might not have played as well if Roy was barking down their neck for 90 minutes"
"Looking at it from another point of view, Roy dominates dressing rooms. People were in fear of him. Not me, or Robbie, he looked after us and we were fearless, but even at Man United, people were in fear of him.
"I think in a way, when he left, it let lads breathe. We will never know. He could have driven us to a final, but on the other hand, other players that played well, might not have played as well if Roy was barking down their neck for 90 minutes."
Hamann admits there are a lot of question marks surrounding his fellow countrymen and reigning champions – "I don't want to sound pessimistic, but I'd be surprised if Germany win it again" – and says he is tipping Brazil to win a sixth World Cup.
Of the same opinion is Eamon Dunphy, while Sadlier is tentatively tipping a European country to triumph.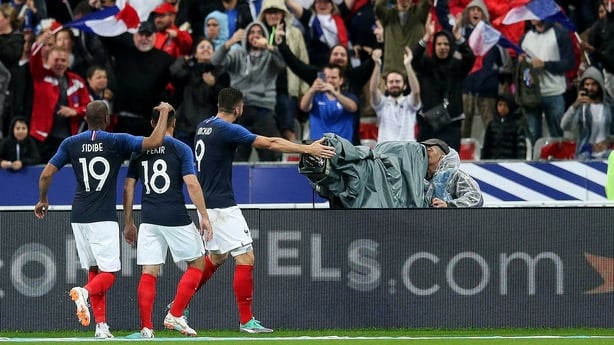 "I think France will do really well. You look at them individually, the options the manager has. If he can keep them all gelled, I think they could go very, very far and win it."
Duff is also backing another South American side to emerge victorious, and is hoping that sentiment leads the way for Leo Messi and the one piece of silverware he is yet to get his hands on.
"There is still a lot of quality in the Argentinean team [aside from Messi]. Aguero is there, Higuain had a good season with Juventus and there is quality throughout the team.
"When you compare them to the French and Brazilian squads, they are not as strong, but I'm a dreamer, I live on emotion and I just want Messi to do it."
RTÉ will provide live coverage of all 64 games across RTÉ2, RTÉ News Now and the RTÉ Player. Over 180 hours of television coverage will be broadcast on RTÉ2 including 56 live games from Russia with eight end of group games streamed live on RTÉ Player and RTÉ News Now.