Over the last couple of years, Mary Kate Lynch has been a defensive lynchpin for a Meath side that have won the last two All-Ireland titles.
So it was something of a change of scenery to find herself venturing forward deep into opposition territory against Donegal early in the Lidl National League campaign.
The full-back was about 25 metres out and decided to have a crack at the posts. The shot did not vault the crossbar, instead dipping beneath it, lobbing goalkeeper Aoife McColgan and hitting the back of the net for a rare goal and in what, crucially, proved to be Meath's only win in this year's league.
"I got asked an awful lot, did I actually mean that shot. Look, I didn't exactly mean the goal," admitted at the announcement of AIG's extension as Insurance Partner to the LGFA for a new five-year term.
"You know what, our management would always say if we ever get an opportunity to go forward, go forward, I said that day I might as well keep going and took the shot. I got lucky in the end that it dropped short."
But last summer in the All-Ireland semi-final against the same opponents, there was a moment when being out of position on the field ended up with her sustaining an injury that could have threatened her hopes of playing in the final.
"Thirty seconds from the end of the All-Ireland semi-final, I'd an awful collision," she recalled.
"I suppose I was out of position when it happened and I was actually scrambling back to full-back from the midfield and half-back area, and I went to tackle and Niamh Hegarty went to dummy me and come back in, and her head went straight into my lip. The only thing that really saved me now was my gum shield.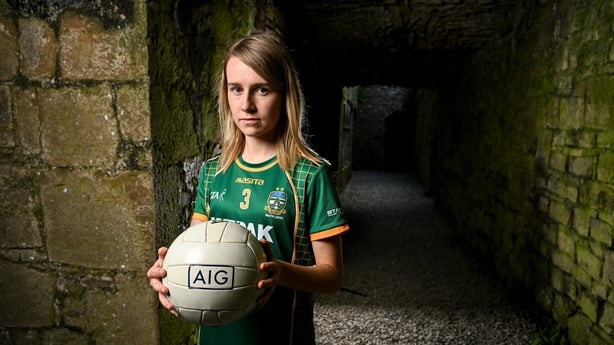 "If I didn't have my gum shield on my two front teeth, bottom teeth and the whole lot would have probably been gone. The importance of the gumshield; ever since that I will never not wear it because it definitely saved me from dislocating my jaw as well as breaking my teeth."
While she was fortunate that her teeth and jaw were not damaged, her teeth did come through her bottom lip causing a painful injury that required stitches to be applied in Croke Park.
"No anaesthetic, no nothing," Lynch added.
"Just put the stitches in on the outside, and then the inside would heal itself. Then I suppose it was panic stations in terms of how long it was going to take to heal, and I think it was only a two-week gap until the All-Ireland final and I was going 'Oh god, how is this going to work?'
"But thankfully the mouth healed so quickly. It was a struggle to eat stuff for a couple of days. But I got the stitches on the Sunday and got them out on the Friday and was back in full contact training the following Sunday. I got back about a week before the All-Ireland, so I was very lucky."
It meant she was on the pitch for the second All-Ireland final win in a row but the one medal missing off Lynch's CV is a Leinster title.
Sunday against rivals Dublin offers an opportunity to try and scratch that itch and it would also mark a first trophy for new manager Davy Nelson who has succeeded Eamonn Murray, the figurehead who guided Meath to those back-to-back All-Ireland triumphs.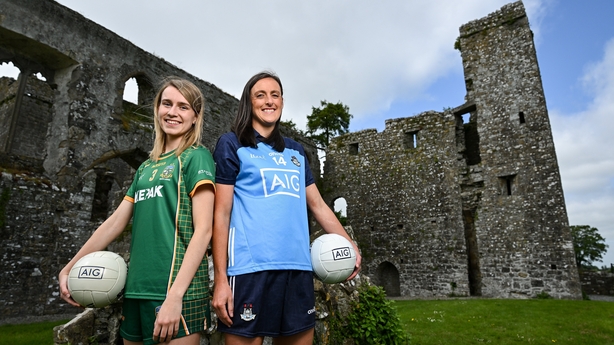 What has Nelson - who has a keen interest in theatre - brought to the centre stage of inter-county management?
"He might be a bit more formal in a way with that kind of thing. Davy is very good with us. He's quite similar to Eamonn," said Lynch.
"[He's] very family oriented, very concerned about the players. He is quite involved with all the coaching. It's just taking that time for him to get used to us and us [to] them.
"That's what changes when change happens. It does take that time unfortunately. Hopefully we are getting there and hopefully we can see that now come Sunday."
The aforementioned league win over Donegal back in January was "not pretty" according to Nelson's immediate post-match assessment but he had added that Meath weren't going to be "anywhere near what they're going to be come May".
Now that May is ticking into June and with the test of Sunday's provincial final as a launchpad into the start of their All-Ireland championship defence, Lynch feels Meath will be in much better shape.
"I think fitness has definitely gone up in the last couple of weeks and we'll definitely hopefully see that on Sunday as well and hopefully we can maintain the level of fitness and stuff going into the championship. It just takes that time. Looking forward to it now."
Watch highlights of the weekend's football and hurling championship action on The Saturday Game and The Sunday Game, 9.30pm on RTÉ2 and RTÉ Player
---
Watch a hurling double-header, Dublin v Galway and Limerick v Cork, from 1.30pm on Sunday on RTÉ2 and RTÉ Player, follow a live blog on the RTÉ News app or RTÉ.ie/Sport or listen to live radio updates on Sunday Sport on RTÉ Radio 1