Dublin manager Mick Bohan has embraced a new era of talent flooding the ranks as the Dubs kicked off 2023 with a solid win over reigning Lidl NFL Division 1 champions Meath.
Once again, Dublin and Meath served up the mouth-watering tie from the opening weekend of the season and this time the home side secured a brilliant 1-11 to 0-08 victory at DCU St Clare's.
The experience of captain Carla Rowe, who scored their goal, and Hannah Tyrrell laid the foundations either side of half-time. Dublin took a 1-05 to 0-03 lead into the break and while Stacey Grimes brought Meath back into contention, Bohan could call on his bench for reinforcements.
Chloe Darby, Kerri Owens and Shannon Richardson scored crucial points. And although the Dublin boss recognises it is still only week one, it bodes well for the 2021 winners.
"We probably have a lot more change than we've ever had with this group and that's the nature of it. A lot of our older soldiers have given serious service. It's time to move on," said Bohan.
"New kids on the block. While they've loads to learn, they brought an energy and they worked hard. That's where we're at.
"I wouldn't be taking a whole heap out of it at the same time, a win gives momentum to a group and energy. If you're 18, 19 years of age and you start off with a hang up about a county, it can start eating into you."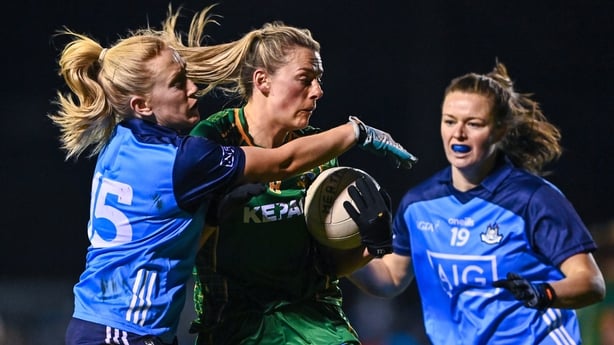 It wasn't the ideal start to Davy Nelson's reign as Meath manager but he knows there is much more to come from the League and Championship holders.
"I thought the scoreline possibly flattered Dublin a little bit. We'd three pretty good goal chances and didn't take any of them. That's a huge swing when you're talking about that." said Nelson.
"You look at the scoreboard at the end, there was six in it. The last couple of minutes they tagged on a couple as they would. Overall, I'd be very happy with a lot of aspects of what we did."
Galway were the other winners on Saturday, as they claimed a 0-11 to 0-06 win at home to Donegal in Tuam Stadium.
Maghnus Breathnach and Fiona Wynne's side were too strong in the rain, with Kate Slevin scoring the last five points of the game before they turned their attentions to next week.
"Everyone puts a big emphasis on the league there and it's great to get off to a good start but we have a lot of work to do before Dublin," said Breathnach.
"Dublin are going to bring a lot of ferocity and experience. It's going to be a great game for us."