Four weeks on from a delivering a successive TG4 All-Ireland senior success for Meath, Eamonn Murray decided it was time for him to step down as manager.
On reflection it perhaps wasn't a surprise, given his frustration about the departures of Vikki Wall and Orlagh Lally to Aussie Rules and changes to his backroom team.
But what a legacy Murray has left behind him: two All-Ireland senior titles; All-Ireland intermediate success, a Leinster intermediate win and league victories in Divisions 1, 2 and 3.
On his reasons for leaving now, the Boardsmill clubman told RTÉ's Sunday Sport: "I've been thinking about it since the final whistle went [after the All-Ireland final]. With people coming and going, and management going, you'll have to get new coaches in and they'll want to do this differently.
"I'll probably be standing in their way. The best things was a clean break and leave the next management team get on with it. They may want to change things small bit, but I hope they won't.
LISTEN TO FULL INTERVIEW
We need your consent to load this SoundCloud contentWe use SoundCloud to manage extra content that can set cookies on your device and collect data about your activity. Please review their details and accept them to load the content.Manage Preferences
"It's never easy to go no matter how good a team are or how bad a team are. I made the decision at home with my wife and four girls. We talked that this was the right time. It's not the end; hopefully there'll be a kick left in me in a few years time."
It took some persuading from those involved in Meath to get Murray to take the senior job, this after the county suffered a humiliating 7-22 to 0-3 defeat to Cork in the 2015 championship.
In outlining how reluctant he was to take the senior post, Murray said: "I was at that game against Cork; it broke my heart. I never thought I'd be any help to them, I wanted to stick with underage.
"It was a massive decision. I was very happy coaching the underage and then seeing them at senior in a few years. I took great pride in that. I had great fun at underage and I thought the fun would be gone at senior but I kept the fun at senior."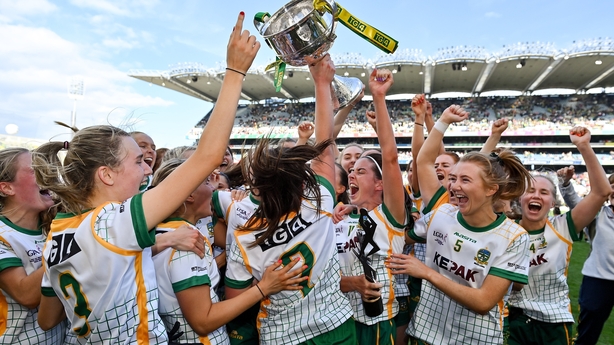 Having fun was key to the Meath success story under Murray's tutelage.
"Fun is everything. In training the fun they would have is amazing; the laughter in the dressing room and the laughter heading home. And then back at training they would ask to do more. We would practice drills over and over again.
"I think the whole country love what we do; it's pure football, there's nothing bad in it. I hope other teams will take inspiration from it."
His final in year in charge saw Murray also add another league title to his CV - the precursor to that back-to-back All-Ireland. The latter was well earned. It had to be, says the former boss, after being told they won a "soft Covid All-Ireland".
"We went through the league not really playing very well and won it [against Donegal in the final] which was a big bonus. I would rate Galway [whom Meath beat in the All-Ireland quarter-final] as the most talented team in the country, great talent at underage.
"They put 1-11 on is that day, biggest score we've conceded in a long, long time. It took a brilliant score from Emma [Duggan] to win that game. Donegal [in the All-Ireland semi-final] was another tough game, again Emma stepped up when Vicky [Wall] was sin-binned to score the last three points of the game.
And in the All-Ireland final [against Kerry] our defensive work was amazing - Emma Troy and Niamh O'Sullivan stepped up that day. To concede 1-02 in the first few minutes was no panic for us.
"We practice for being seven points down, we practice for two points up."
Very much the Meath way under Eamonn Murray.