On Sunday last, the Kerry men ended a famine of sorts when winning back Sam Maguire after a gap of eight years. The wait is a lot longer for their female counterparts as it's 29 years since the Kingdom last got their hands on the Brendan Martin Cup.
Kerry were All-Ireland champions in the years from 1982 to 1990, a nine-in-row that no other county has yet matched. Not even the all-conquering Cork in the period from 2005 to 2016. A win for Dublin in 2010 interrupted that sequence.
On Sunday next at Croke Park (throw-in 4pm), a Kerry side, under the direction of joint-managers Darragh Long and Declan Quill are back in a TG4 SFC final for the first time in in ten years. Facing them are the defending champions Meath, who last year stunned the Dubs to claim a maiden title. The Royals won a Division 2 league title en route to claiming the big prize, building on the momentum of being All-Ireland intermediate champions in 2020.
Kerry, in many respects, have a similar momentum ahead of Sunday's showdown. Last April they accounted for Armagh in Division 2 final, and then topped their section in the group phase before getting past Armagh and Mayo in the All-Ireland series. And now they have one more hurdle to jump in that series.
Kerry captain Anna Galvin is looking forward to the battle with the Royals.
"I think it's going to be a cracking game on Sunday and I really hope it delivers on that," she told RTÉ Sport.
"It's always good for Ladies football when the big days, the finals, are the ones that are talked about."
The Kingdom have been free-scoring of late, with 13 goals scored in their last four games. Meath will present a formidable challenge in terms of finding net but Galvin says she and her colleagues will stick to the process that has served them well so far.
"You have to pay the opposition due course. We'll be looking at Meath to see how we can break them down but a huge focus will be on ourselves and what we've been doing well. It's about trying to build on that and address anything we didn't do well enough against Mayo (in the semi-final) by making those improvements. We'll play our own game.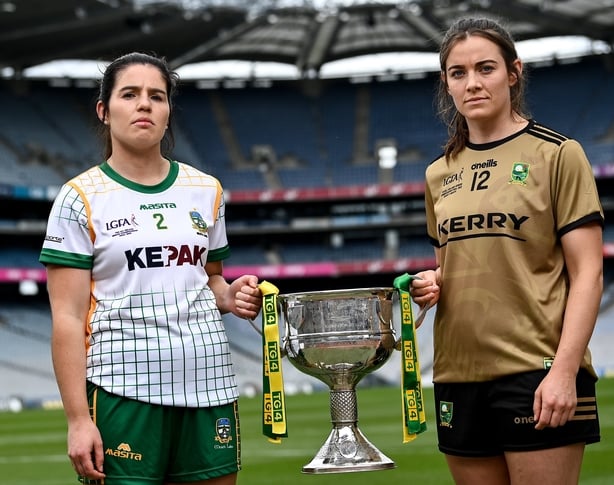 "In previous years we have bent to the opposition a bit too much and it's been the detriment of us. This year we've been sticking to our guns and our attacking play. It's been paying dividends so we'll keep going."
It's just over a year since Meath were too good for Kerry in that tier two final. Galvin freely admits that the big match day experience in Croker was a bit too much to handle on the day.
"We didn't play and didn't perform that day but credit to Meath they were absolutely phenomenal. We hadn't played in Croke Park for a long time. Meath had the experience of the intermediate final. They knew what to expect, we were a little overwhelmed by the occasion and the unfamiliarity of Croke Park for us.
"It's a different Kerry team now. We're now in a more stable, solid footing after getting back to Croker a few times since. It's one less thing you have to contend with and think about. As a result, more focus can be kept on our own performance."
As we know Kerry are a football-mad county, but Gavin says the pressure to deliver is coming more from within the camp. At the start of the year the goal was to reach an All-Ireland final, to follow the path that Meath successfully blazed last year.
"I don't think there's a huge amount of expectation, or a huge amount of pressure being put on us," the Kingdom skipper revealed.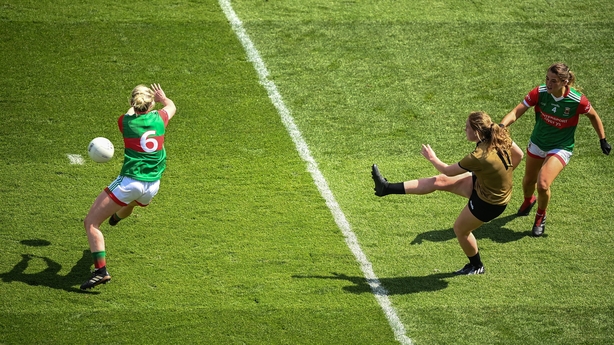 "These days are to be enjoyed. We're here to do a job and we will be looking to win it, to get up the steps of that Hogan Stand. A lot of the pressure is coming from ourselves to deliver the performance we know we can.
"For so long we played Dublin and Cork at the height of their powers and it was heartbreaking. It was fantastic to see Meath go on and come out as champions last year, fantastic for Ladies football and there was so much talk about Ladies football afterwards.
"Teams ebb and flow. Cork flowed for a long time, so too did Dublin. Change was coming down the line but Meath were phenomenal catalysts for it last year. It was exciting to have different people at the top table.
"We have been following a similar route in ways in that we've been building and taking it game by game. It's something that we laid out at the start of the year - the final was where we wanted to be."
Follow the All-Ireland LGFA final day, including a live blog of the final, Meath v Kerry, on Sunday at 4pm on the RTÉ News app and on rte.ie/sport, plus live radio commentary on RTÉ Radio 1.
Listen to the RTÉ GAA Podcast at Apple Podcasts, Soundcloud, Spotify, or wherever you get your podcasts.