Munster were crowned unlikely URC champions in Cape Town on Saturday evening.
Unlikely, not because they weren't full value for their win, more so because of the route they took to winning the league.
From a transitional period of bedding in a new gameplan with new coaches and a poor league position, to transforming their attacking structures and winning against the league's toughest opponents in a succession of away matches.
This means more than a league win to a lot of Munster people. It brings new hope of success for the younger crop, the likes of Gavin Coombes, John Hodnett, Jack Crowley and others.
It's also deserved recognition for Peter O'Mahony, Stephen Archer, Conor Murray and Keith Earls. Players that have been a long time on the road and never opted out. Guys that had a chance to experience something different but stayed in the hope of continuing their Irish and Munster careers because of what it means to them.
Maybe some will say it's only a league win and means nothing compared to a European success. I can't agree with that sentiment. This is a much more challenging league to win with the addition of the South African franchises, the extra travel and added challengers for a title.
The league is different from Munster's last victory in 2011. It's also different from the league that any of the other Irish provinces last won. No, it's not a European Cup, but it's a huge win for Munster and it's one of the major steps back to where the club believes it should be, at the top of club rugby.
We need your consent to load this comcast-player contentWe use comcast-player to manage extra content that can set cookies on your device and collect data about your activity. Please review their details and accept them to load the content.Manage PreferencesMunster fans turned out in force to welcome home their heroes
The last time Munster won the league, Earls was a try scorer, Murray started at scrum-half and Archer was a replacement.
A lot has happened in the 12 years in between. Disappointment and tough times for Munster on and off the field. Semi-final loss after another and a barren trophy cabinet.
There's great belief in the Munster group, as well as from the supporters outside the group, but nothing could ever kick on without that all-important league win to drag Munster out of their trophyless era.
The spine of their team is now made up of players on the start of what could be a much more successful run than the current senior players have unfortunately experienced.
The coaches that have driven change are also nearer the start of long and successful careers. Denis Leamy and Mike Prendergast have both experienced success with the club as players and have added greatly to what got Munster over the line in South Africa in the last couple of weeks.
Munster now have a mean defence that they can trust to win turnovers at crucial times. They shut the gate on numerous occasions out wide against the Stormers with Shane Daly and Mike Haley shutting down the attack and forcing turnovers. They closed out the game with a defensive maul that they trusted enough not to give away a penalty.
Their attack has thrown more passes than their previous two seasons by quite a long way. Munster have averaged 176 passes per game this season, compared with 137 last season and 120 the season before. That is evident by how Munster played in their last two knockout games, a semi-final and a final.
Normally, the gameplan gets changed and when the pressure comes on, players revert to type and don't have the confidence to see things through.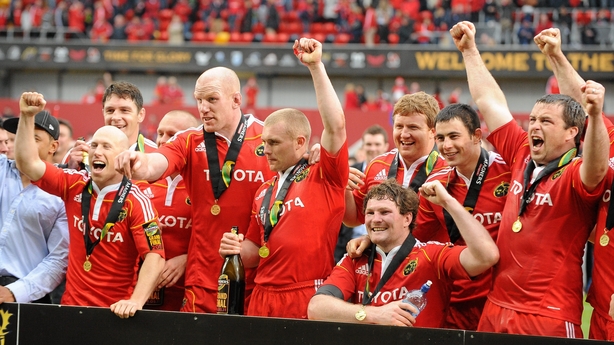 Munster notably threw more offloads and took more chances in their semi-final away against Leinster and last weekend, when they needed to find a score to win the game, both forwards and backs looked comfortable throwing offloads and passes to get Hodnett over the line.
It's the type of win that is grounded in real progression. Progression that gives Munster people the belief that there could well be more success on the way.
Having played with some of these players, and admiring the next crop coming through, there's very little chance of putting my biases aside. Having also written them off from winning any silverware this season, I'm glad that I was one of the many that got it horribly wrong.
I'm not sure if anyone called Munster's win, but somewhere this coaching team and senior players got their messaging right and shaped the group into a winning environment again.
The guy that will fall into the background of the celebrations, in his own quiet way of enjoying the well-deserved moment, is Keith Earls.
Earlsie was never one for the limelight, and still isn't. Having a public presence is now more part of the territory than it was when he was one of the youngest Lions players to go on a tour. He was a star from the start of his career and never got carried away with himself.
Along the way to becoming a senior player, I had one of those realisation moments involving Keith Earls. I was covering full-back from a defensive midfield scrum, which meant it was my job to cover last man on the opposition side and Keith Earls was the winger facing me.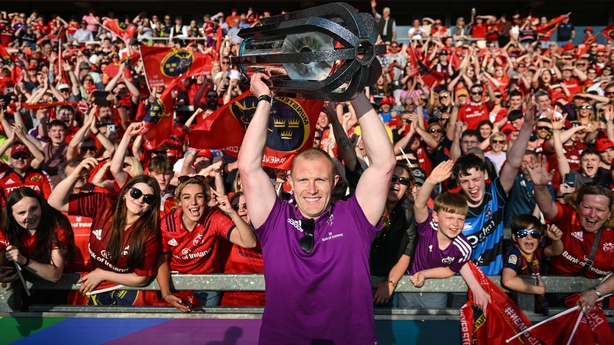 I got on my bike early to close the ground, knowing the pace that Earls has. It was non-contact so I put out two hands to get a touch on the elusive winger when he stayed at full pace, stepped back inside and brushed my hands aside.
Of course, the tackle was 'made' and the starting team recycled to get into their attacking flow. I was left bewildered at the pace in which Keith was able to change direction. That's when I realised that there are many steps that you need to take to become a senior player, and a couple more if you're going to get up to speed with the likes of Keith and the other internationals.
It would be easy for Earlsie to get carried away with his own hype but he spends so much of his time making sure others are comfortable in the system and understand the objective. I have no doubt that despite being behind Calvin Nash in selection recently, he's challenging the younger player to become better and to drive the standards even higher.
Guys like Murray and Earls have reached a level in this game that make them standout stars. Murray was the best scrum-half in the world for a long time and one of Ireland's most recognisable players.
Munster's senior players won't get enough credit for how they've mentored the younger players along, but the blend of youth and experience has really brought the club on to achieve this success. I'm sure the young players have challenged their senior leaders as well, in a way that has forced everyone to improve their standards.
Graham Rowntree is now a successful head coach and has found a way to bring this dormant giant back to winning ways. Hopefully it's the start of something even bigger for Munster.