Whether it was a promise to the Munster supporters, or a warning to everybody else, Graham Rowntree's message was clear.
"It will only get better lads, I promise you that."
The Munster head coach had the final word on a night of celebration at Thomond Park, a perfect evening where 10,000 red jerseys risked getting red faces on a beautiful summer's night in Limerick.
Having arrived home from South Africa on Monday afternoon following their 19-14 Grand Final win against the Stormers, the Munster squad and management had a few hours to celebrate with friends and family before bringing the BKT United Rugby Championship trophy to Thomond Park.
As they walked out onto the pitch to a huge ovation, 'Zombie' by The Cranberries blared out across the stadium, the song having joined 'The Fields of Athenry' and 'Stand Up and Fight' as a de-facto Munster anthem. After losing five from their first seven games to start this season, it's fair to say they came back from the dead to win this season.
"This won't sink in for a long time, they won't realise it," Rowntree added, speaking to the crowd from the centre of the pitch.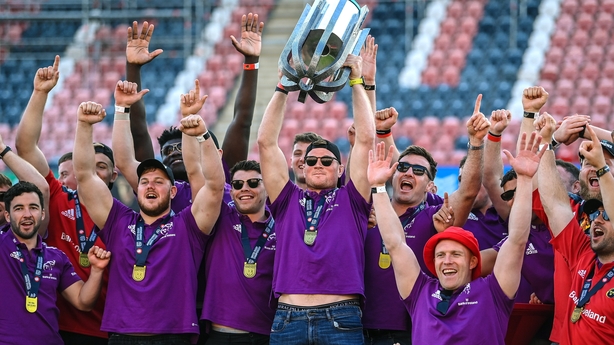 "There is no other team that has done this, six games away from home. And no one will ever do it again. But we will find a hard way to do it next time.
"And what that gives you as a player is the belief, you become bulletproof. And you go and play teams and they are scared of you. I mean, we should have put them away by half-time on Saturday.
"This group will fight and I am just so proud of them.
"We are ready for this and this group of players are ready for this. It will only get better lads, I promise you that. This will only get better."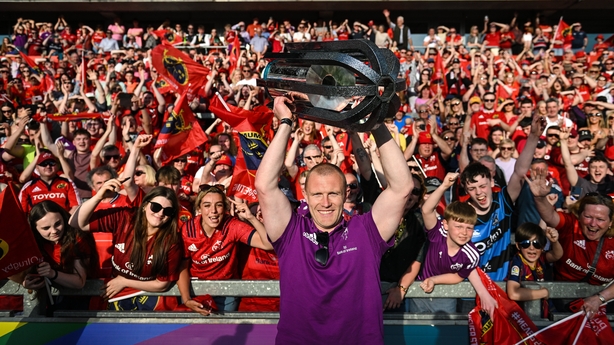 Keith Earls (above) got one of the loudest cheers of the night, called up to the podium to chat to his former teammate Barry Murphy, who was emcee on the night.
The 35-year-old is expected to retire after the World Cup, with this URC title win a dream send-off for a player that grew up just a few hundred metres from Thomond Park, sneaking in over the gate on occasion to play ballboy for his heroes.
"Ya, it's the best feeling ever," Earls said.
"There's no better feeling than winning with Munster. It is incredible.
"I know ROG [Ronan O'Gara] has had his success over the past week. I remember ROG calling me 'Scobie'. It is a dream come through.
"Getting over the wall here after school every day, kicking the ball around and then getting to lift the trophy here with the lads in front of a few thousand, it's great, magic," he added.
Earls is one of just four of the current squad who were involved when the province last tasted success with the Celtic League in 2011.
And he says that long wait will make this success all the sweeter.
"Ya, it has been a long time, it has been 12 years. It is a privilege to share the pitch with them.
"Look, it's a dream come true. I grew up 500 metres from here over the wall into Ballynanty and into Moyross.
"I don't really care about the medals and the trophy, it's all about the province of Munster. We are delighted to it for them. It's been a long time."