Considering they struggled to even field a team at times this season, a selection headache of the good kind has come at just the right moment for Munster.
Heading into a crucial junction of the season, there's a three-way fight for the number 10 jersey, and each of the contenders are making a strong case to wear it.
Joey Carbery has the credit in the bank, and Jack Crowley's exceptional recent form saw the 22-year-old win two Ireland caps this month. All the while, Ben Healy has been impressing back at the province, with his best performance of the season in the 28-14 win against a South African Select XV.
Given the province's injury situation, as well as the Emerging Ireland tour earlier this year, we're yet to really see who gets the nod between the trio this season, but with a run of big Interpro and Champions Cup games coming in the next couple of months, it creates a fascinating selection dilemma for Graham Rowntree and his coaches, particularly with Carbery and Crowley being in the international picture.
Attack coach Mike Prendergast was giving little away when asked to assess how their out-half depth chart is looking.
"You look at the performances of the three 10s over the last couple of weeks, Jack [Crowley] being a new cap looked very assured in his games against Fiji and Australia, and has been performing well," he said.
"He's a confident lad that really connects players around him.
"Then obviously you look at Joey [Carbery] and the performance against Fiji, I thought he performed very well up to his injury before he came off.
"The two boys have been in really good form, and if you look at Ben's performance against South Africa, he was very commanding in terms of his decision making, his kicking.
"It's a good position to be in, we'll see how it evolves and unfolds over the next couple of weeks, but it's certainly very positive going forward and we need to manage it as best we can."
In the short-term it's likely the province opt for an out-half by committee approach, with timeshare of starts between Carbery, Crowley [both pictured below] and Healy.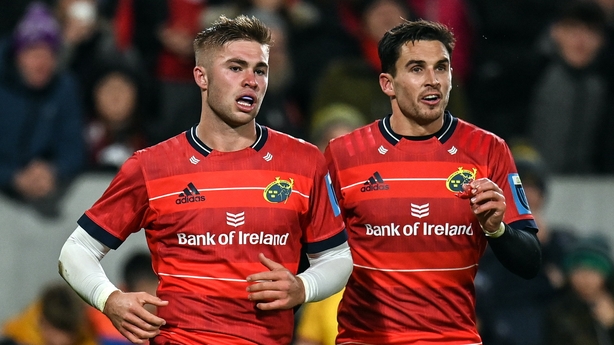 And Prendergast believes that heavy competition can only make them better and better.
"I think it'll push the bar. You know you're under pressure when you've not one, but two guys sitting in behind you. With competitive players, it brings the best out of them.
"We'll see how it goes over the next couple of weeks. We've seen Jack playing in a different position with Joey, and Ben is adaptable as well.
"In terms of how we want to go forward, it's something we'll need to manage, but for me it's having those layers of competition which will drive performance even higher again with them individually."
The international break has also seen Munster welcome some key players back to full fitness, in particular one of their summer signings Antoine Frisch.
The Irish-qualified French-native made one substitute appearance before heading to South Africa with Emerging Ireland, and having picked up an injury on that tour he was unable to feature in any of the remaining URC games in October.
However, the centre (below) made a huge impression in the win against the South African tourists at Páirc Uí Chaoimh two weeks ago.
"He's a very accomplished footballer, very comfortable with ball in hand," Prendergast said of the 26-year-old.
"He has a good variation to his game, a bit of French flair as well which helps. Good footwork.
"For us, he's a big part of what we're trying to do. He's a good decision-maker with the skill level that allows him to be that good decision-maker as well.
"All the backs inside him, especially the No 10s, talk about what a good communicator he is, that's hugely important in terms of having a good frame-work.
"Antoine, along with the other centres like Rory Scannell who has stepped up in the last couple of weeks and played well, it's just building that depth and competition."
Keith Earls and Jean Kleyn are set to return from injury for the visit of Connacht on Saturday, but Andrew Conway remains "week-to-week" with the knee injury that has sidelined him since March, Prendergast adding that they're hopeful of seeing him return by the new year.
The recent win in Cork has lifted the atmosphere around the province, after what had been a difficult start under the new management ticket.
And while Prendergast says he believes their performances have significantly improved in recent games, he admits that they need to start matching those performances to results.
"Performance leads to results, and I think we had a good performance against South Africa.
"It's a one-off game and when you look at the table, I accept where we are absolutely. But we're going into a block, and we've Champions Cup within that, of 10 games, there's big league games and between us and sixth position I think, there's five or six points.
"So, with a couple of good performances, hopefully with wins out of that could push us up the table. So we're very, very conscious of that. We know we've had a slow start which has been spoken about but we have seen good steps forward over the last number of games, notably I suppose the last three or four games and we need to keep pushing that on and bringing those performances and getting those wins out of it."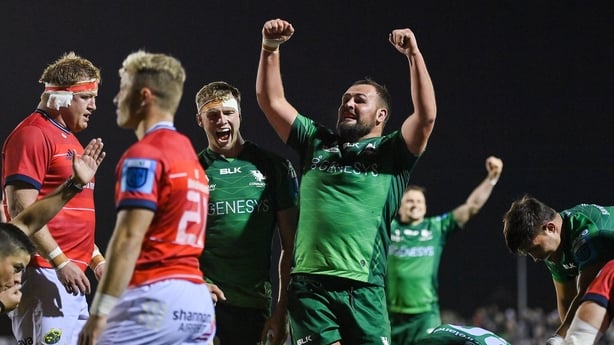 Saturday also provides Munster with the chance of some swift revenge on Connacht, who were 20-11 winners when the sides met back in October (above), the nine-point difference that night arguably flattering Munster.
And Prendergast says that defeat will still be fresh in their minds by 7.35pm on Saturday.
"Obviously they beat us up there, they were the better team on the night for sure and we know that they're probably in a better position as well.
"So it's going to be a huge game, it's another local derby and it's something that, again as I alluded to a couple of weeks ago, being at home, it's good to be at home and we've got to give the crowd something to cheer about and that probably does bring the best out of us.
"But they're a team in form and they've plenty of threats around the place."
Listen to live commentary of Munster v Connacht on RTÉ Radio 1 Extra from 7.30pm on Saturday.