After two frustrating weeks, getting a first win of the season was of huge importance to Munster, but the teething problems remain.
The win against Zebre Parma at Musgrave Park was never really in any doubt, and while it gets them off the mark in the BKT United Rugby Championship, an inability to secure a bonus-point could prove costly later in the season.
The visit of Zebre was more of a banana skin than in previous seasons, in equal part down to Munster's poor start, and the Italians' gunslinging defeats to Leinster and the Sharks.
"We have a really good league but we damage it with that type of a product"@docallaghan4 airs his frustrations about the on-field delays exemplified during Munster's win over Zebre #rterugby #MUNvZEB pic.twitter.com/1ERU2Nbp2e

— RTÉ Rugby (@RTErugby) October 1, 2022
They created plenty of problems for Munster, particularly in the opening half where multiple TMO checks and several injury stoppages contributed to a 57-minute marathon. However, their lineout was picked apart at ease by Munster, leading to hooker Giampietro Ribaldi being replaced at the break.
With games against Connacht, Bulls and Leinster to come in the next three weeks, there will need to be huge improvements across the board, particularly around discipline and handling, which have been a common thread in the first three rounds.
"It's like we got a little bit apprehensive"

Munster captain Peter O'Mahony sums up the #URC win over Zebre which saw the province pick up a first win of the season but miss out on a bonus point #rterugby #MUNvZEB pic.twitter.com/zZL4taS9OG

— RTÉ Rugby (@RTErugby) October 1, 2022
Of the positives, Peter O'Mahony and Tadhg Beirne looked much sharper than they were in last week's defeat to the Dragons, as did Craig Casey and youngsters Conor Phillips and Patrick Campbell, while their maul contributed to all three tries, two for Niall Scannell and one for Keynan Knox.
From leading 21-0 at the break, the scoreless second half will surely stick in the craw, having enjoyed plenty of possession and territory in the final quarter.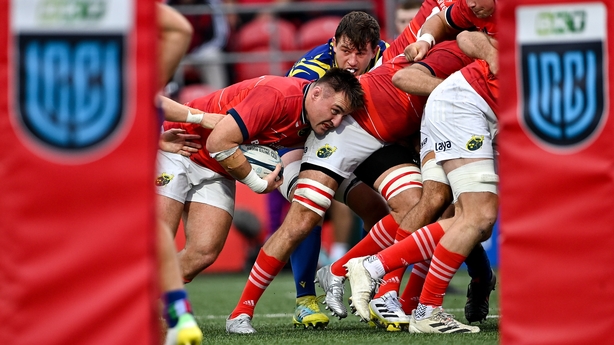 Munster threatened the line in the opening two minutes. Debutant Conor Phillips and academy wing Patrick Campbell both got their hands on the ball before they forced a lineout in the Zebre 22, but the chance came to nothing after Dave Kilcoyne was caught in possession to concede a penalty.
Another penalty followed moments later, before Beirne picked one back for the hosts on seven minutes, which led to the game's first try.
Ben Healy can take huge credit for the score. Having made a big turnover in defence earlier in the game, he drilled the penalty from halfway to within five metres of the line. And after setting up tight maul, it was Scannell who got the decisive grounding, even if it needed a lengthy TMO check to be awarded.
After a lengthy TMO review, Niall Scannell's try was awarded as Munster take an early lead over Zebre @rte2 @rteplayer #MUNvZEB #rterugby #URC

📱 Updates - https://t.co/tosdNmivbN
📺 Watch - https://t.co/mQ6SwzbNla pic.twitter.com/pWAQbsotS0

— RTÉ Rugby (@RTErugby) October 1, 2022
The Italians came close to an instant reply after captain Enrico Lucchin stepped around Healy to break into the 22, only for a knock-on two phases later seeing possession handed back to the hosts.
In recent weeks, Leinster and Ulster have shown that the value of a good maul, and here it was Munster's turn. Some good pressure on the box-kick from Fineen Wycherley saw Zebre go offside on the 17-minute mark, and after drilling their penalty to the corner, Munster again kept it tight at the lineout, bringing play towards the line, before big carries from Dan Goggin and Knox saw the latter power over to score.
Healy's second conversion made it 14-0, and went some distance to easing any tension that may have been in the Cork air as 6,485 watched on in Musgrave Park.
The Munster maul proved too powerful for Zebre as Keynan Knox touched down to make it 14-0 @RTE2 @RTEplayer #MUNvZEB #rterugby #URC

📱 Updates - https://t.co/tosdNmivbN
📺 Watch - https://t.co/mQ6SwzbNla pic.twitter.com/oCu8HQqy0o

— RTÉ Rugby (@RTErugby) October 1, 2022
They thought they were in for their third try shortly after, but this time the TMO decision went Zebre's way. A Beirne steal at the lineout led to a penalty which Craig Casey took quick, and after multiple phases on the visitors' line, Jack O'Donoghue forced his way over, but lost possession just before grounding the ball.
The reprieve was brief for Zebre. With the try ruled out, we came back for a Munster penalty, and there was little the Italians could do to stop the latest maul, Scannell touching down for his second of the day, which Healy converted to make it 21-0.
Shortly after Munster had a try overturned via the TMO, Niall Scannell got his second of the game as the province build a 21-0 lead against Zebre @RTE2 @RTEplayer #MUNvZEB #rterugby #URC

📱 Updates - https://t.co/tosdNmivbN
📺 Watch - https://t.co/mQ6SwzbNla pic.twitter.com/86qECcFpv8

— RTÉ Rugby (@RTErugby) October 1, 2022
As they did when behind by big margins in the first two rounds, Zebre continuously looked good with the ball in hand, even after losing both starting centres, Erich Cronje and Lucchin to injury.
And although they forced Munster into multiple penalties, their lineout was a mess, O'Mahony picking off four steals at the set-piece in his own 22 within the space of five minutes, as Munster plodded their way to the half-time break with a 21-point lead.
Munster's indisciplined play continued after the break, conceding their eighth penalty of the game, and on 44 minutes Zebre were rewarded with their opening try. Getting the ball wide to Jacopo Trulla, the winger chipped a kick over the top from just outside the 22, Healy misreading the bounce as it landed nicely for Lorenzo Pani to touch down.
Zebre have scored the first try of the second half against Munster via Lorenzo Pani @RTE2 @RTEplayer #MUNvZEB #rterugby #URC

📱 Updates - https://t.co/tosdNmivbN
📺 Watch - https://t.co/mQ6SwzbNla pic.twitter.com/Fl9OlSnYo7

— RTÉ Rugby (@RTErugby) October 1, 2022
Tiff Eden's conversion floated wide, keeping the score at 21-5, while the introduction of Jeremy Loughman, Conor Murray and Joey Carbery seemed to settle the Munster wobble.
They were still struggling to really fire in attack though, with the third quarter of the game littered with small, frustrating errors, including a lineout malfunction of their own.
As the final 10 minutes ticked along, the tension in Musgrave pricked up, as Zebre continued to frustrate the hosts in their search for a bonus-point try.
There was a moment to savour for 18-year-old Ruadhan Quinn, however, the Limerick back row introduced in the closing stages to become the province's youngest competitive debutant.
With five minutes remaining the groans were at their loudest though, O'Mahony spilling the ball out wide in a promising position.
It was to be the last chance of the bonus point. The win marks an improvement, but much more will be needed in the coming weeks.
---
Munster: Mike Haley; Conor Phillips, Malakai Fekitoa, Dan Goggin, Patrick Campbell; Ben Healy, Craig Casey; Dave Kilcoyne, Niall Scannell, Keynan Knox; Fineen Wycherley, Tadhg Beirne; Jack O'Donoghue, Peter O'Mahony (capt), Jack O'Sullivan
Replacements: Scott Buckley, Jeremy Loughman, Stephen Archer, Edwin Edogbo, Ruadhan Quinn, Conor Murray, Joey Carbery, Rory Scannell
Zebre Parma: Richard Kriel; Pierre Bruno, Erich Cronjé, Enrico Lucchin (capt), Jacopo Trulla; Tiff Eden, Alessandro Fusco; Juan Pitinari, Giampietro Ribaldi, Ion Neculai; Gabriele Venditti, Leonard Krumov; Davide Ruggeri, MJ Pelser, Taina Fox-Matamua
Replacements: Luca Bigi, Luca Rizzoli, Matteo Nocera, Joshua Furno, Iacopo Bianchi, Nicolò Casilio, Franco Smith Jr, Lorenzo Pani
Referee: AJ Jacobs (SARU)