When things were scrappy in the first half of Saturday's 36-10 Interpro win in Belfast it was Ulster's centre combination that always looked likely to make the first breakthrough.
On 27 minutes, it was that Stuart McCloskey and Luke Marshall combination that eventually broke the Connacht resolve, and from there Ulster never looked like losing.
For Marshall, his performance throughout the game felt like a statement. The 31-year-old centre's recent years have been blighted by injury, an 18-month layoff due to a knee issue seeing him play just four times in each of the last two seasons.
But with James Hume still unavailable due to the groin injury he sustained on Ireland's tour of New Zealand in the summer, the opportunity is there for Marshall to stake his claim on the 13 jersey he previously owned.
On top of his try, the 11-cap Ireland international made three incisive linebreaks during an otherwise dull first half, while his delicate, spinning offload laid on the bonus-point try in the second half for Stewart Moore.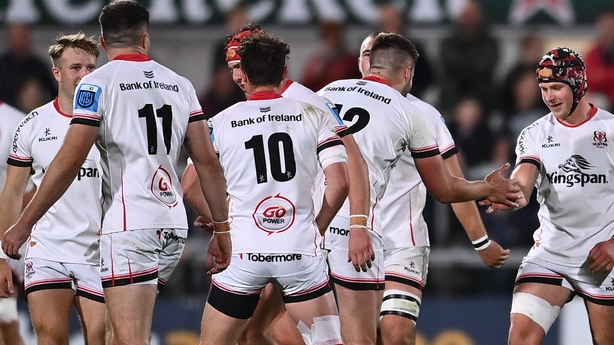 "I don't want to tempt fate," said Ulster head coach Dan McFarland, when asked about the importance of Marshall getting an injury-free run.
"Luke is the heartbeat of the team, so proud to wear the jersey and every minute you watch him out there you can see it; it is just oozing out of him. He always looks exhausted after about 30 minutes but it does not stop him from going and going.
"He is always on the move, he is physical, a great defender as well, he offers something slightly different from Stu [Stuart McCloskey]. He is a lovely foil for Stu. You have got his experience in there which is great for the young centres as well."
Whether it's Marshall or Hume in the 13 shirt, it's becoming apparent that the presence of McCloskey inside them will instantly create opportunities.
McCloskey's ability to occupy multiple defenders creates space elsewhere, and his offload to Marshall for the game's opening score proved he has the subtleties in his game to compliment the physicality.
Having been in such excellent form late last season it came as a shock to many when he was overlooked by Ireland coach Andy Farrell for the summer tour of New Zealand, although he did eventually join the party as an injury replacement for Hume.
And while he featured for the 'Ireland XV' in their non-Test outing against the Maori All Blacks (below), he's still waiting to add to his six Irish caps, the last of which came in July 2021.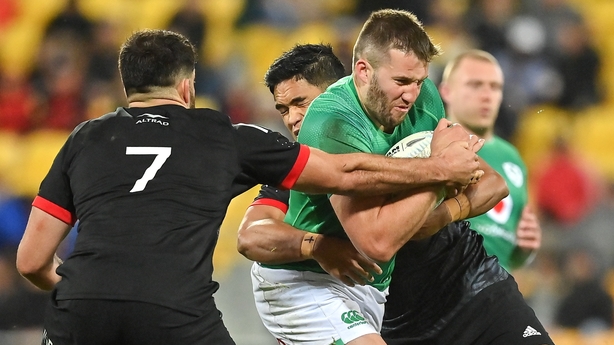 "It is an ongoing question, it is a debate and in another man's world, Stu plays every game for the last five years for Ireland," added McFarland.
"It depends what you want, he offers so much. But to say he should definitely be playing every week is also to take away from the competitive nature in that position.
"I mean you have got British and Irish Lions playing there so you could say he is unlucky that he is among a cohort of centres in Ireland that are playing at an unbelievable level. I would love to see Stu wearing an Ireland jersey and I think he has been brilliant. He offers different dimensions to other players.
"One of the problems in the past is he was probably labelled early on as just being a dumptruck up the middle of the pitch but he is ridiculously skilful. His ability to take the ball to the line and pull back those passes is one of the best around. I am sure if his name was called he would do a great job.
"He has made really good improvements, has made improvements on skills like that, on his defensive leadership, he is a really good defender. Stu is not massively vocal but he is a guy who goes about his business and is able to give confidence to other guys around him. Generally speaking, all the guys who play alongside him love doing so and why wouldn't you? 110kg. It is good to be there."
McCloskey and Marshall may have loosened the lid on the game in the opening half, but it was hooker Tom Stewart who popped it open, scoring the second and making the decisive break for the third try of the game.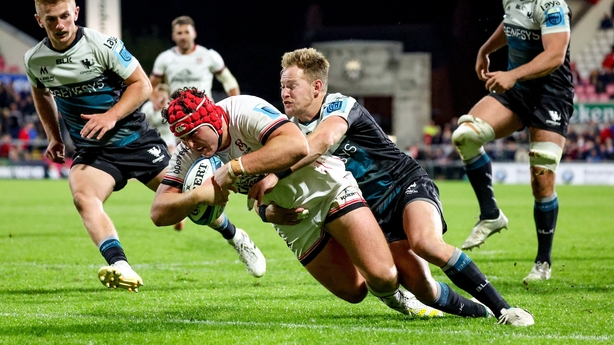 The 21-year-old's relentless energy saw him named the official Player of the Match on what his first Ulster start, capping off a week which saw him called into the Emerging Ireland squad for the upcoming tour of South Africa.
"He did brilliantly in pre-season, he is smart, he is tough, he is explosive," said McFarland of the former Ireland U20 hooker.
"If he carries on the way he is developing then he will become a really good player for us. He is not the finished article but he has got to keep going, got to keep developing physically and he has got to keep developing his skill set. His ceiling is obviously high."
Stewart's try, as well as his break for the line in the lead up to Nathan Doak's score, were near identical moments, as he sniped early from the back of a maul to take advantage of empty space around the fringes.
And the head coach said it was something they had picked up on in their homework last week.
"You analyse opposition in the week, mauls are complex things, it is not just a group of bodies going against each other and seeing who can push the hardest.
"It is incredibly detailed in staying up in the maul and how you do it; it is also detailed in how opposition defend it and this week Connacht decided to defend in multiple numbers in and if they do that then it means they are going to be weak somewhere else.
"That was something we potentially looked at. I got a bit nervous each time he broke out because I would have backed us to push them over anyway but he got to within inches of the line on one and he scored on the other, so ultimately it was the right decision."