Ulster head coach Dan McFarland says his side showed real composure to get their BTK United Rugby Championship campaign off to a winning start.
His side secured a bonus-point 36-10 win against Connacht in a scrappy Interpro in Belfast last night, battling through an error-strewn first quarter to comfortably see off the visitors.
"I thought we built gradually through the game," McFarland said.
Leading 14-3 at the break, the home side hit Connacht for 10 unanswered points early in the second half which ultimately killed off the game, with the head coach pleased with the professional nature of their win.
"We came out in the second-half and we were a bit more direct, a bit more physical.
"I thought it was important that we ground it out. I was pleased that we didn't lose our composure when we weren't executing. We were down there [the 22] quite a lot but repeatedly in that first 20 minutes we weren't getting points on the board.
"But we didn't lose our composure and I was pleased with that.
"I think we always felt if we could get down there and get our maul going we'd cause them problems and that's what happened.
"Obviously any time we get a win in an interpro we're happy and a bonus-point win is very pleasing. Connacht are a good team and you don't need me to tell you that they've caused us trouble in the past, particularly around the breakdown and their physicality off the line disrupting our attacking game."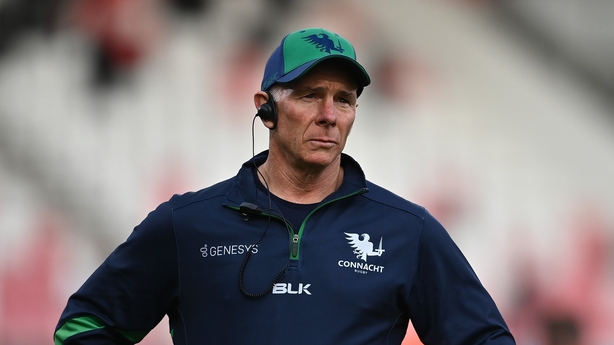 Connacht director of rugby Andy Friend lamented his team's poor discipline which saw them concede 10 penalties inside the first 50 minutes.
"We gave away five penalties in eight minutes and that's the game right there," the Australian said.
"They got two scores and we were trying to force things at that stage.
"I thought Ulster were more clinical than we were, without a doubt, and so when we gave them the opportunity, they took it. They deserved that victory and that scoreline. The frustrating things for us is we made it too easy for them."
Connacht depart for South Africa on Monday, with games against last year's finalists the Stormers and Bulls.
And Friend says their humbling in Belfast must sharpen the minds of his squad, as the head to the southern hemisphere.
"No better challenge for us because we have some pretty high desires of what we want to achieve this year. We want to make playoffs, we're going to have to fix it and fix it pretty quickly.
"You have to compliment Ulster but it wasn't us tonight. It's not where we know where we can get to.
"It's the opening game of the season, we want to put on a good performance, give ourselves confidence, but we sit here at the moment and we know we have work to do."