Ulster and Connacht will meet in the first all-Irish derby of the campaign on the opening day of the second United Rugby Championship season this September.
The fixtures have been released for the URC's second season under the new format following last year's successful debut, which saw the Stormers beat the Bulls in the Grand Final in Cape Town just over a month ago.
The all-South African final pairing belied a campaign which saw Irish provinces dominate for the most part - except when it mattered most, at trophy time.
And so, fresh off a contract extension, Ulster boss Dan McFarland will see his troops kick off their season by hosting Andy Friend's visitors at Kingspan Stadium.
On the same weekend, Leinster travel to Zebre while Munster are in Wales to take on Cardiff.
Week two throws another tricky away trip at Connacht - this time they head to Cape Town to take on defending champs, the Stormers. Ulster travel to Scralets and Munster are again in Wales to face the Dragons. Leinster, meanwhile, enjoy home advantage against Bennetton.
Week three throws up another Irish derby between Ulster and Leinster in Ravenhill, while Connacht make the South African trip to take on the Bulls.
Other derby dates for your calendar include week four, where Connacht and Munster clash before the former again host a neighbouring province the following week, this time they welcome Leinster to the Sportsgrounds.
We must wait until the third week of October for our first taste of the Leinster-Munster rivalry we all know and love - that arrives in game week six, with Leinster hosting.
It's Irish derbies galore from there until the new year, in fact. Weeks seven (Munster v Ulster), eight (Munter v Connacht) and nine (Leinster v Ulster) see the provinces renew acquaintances regularly either side of the break for the November internationals.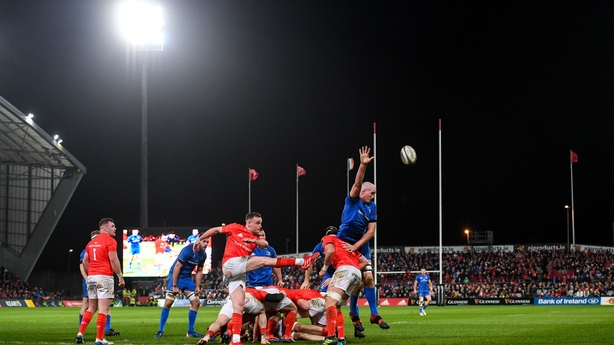 It will be a mercifully low-mileage Christmas for the four Irish squads and their fans, as it happens. No passports needed. Connacht host Ulster on Christmas weekend while Munster have home advantage over Leinster.
The following round, on New Year's weekend, Leinster are at home to Connacht and Ulster host Munster, in the last round of regular season games of the year.
Leinster and Munster will both be keen to wrap up a quarter-final berth ahead of time as their final fixtures of the 'regular' season are tricky away trips to South Africa.
Leo Cullen's side meet last year's beaten finalists, the Bulls, while Munster will need their biggest boat to take on the Sharks.
The URC will kick off on 16 September with the regular season coming to an end in Round 18 on 23 April.
The format will see all 16 teams ranked across a single table which will reward the top eight teams with their places in the Final Eight, followed by a Final Four to set the stage for the Grand Final.
Round 1
Friday Sept 16-Sunday Sept 18
Edinburgh Rugby v Dragons RFC
Ulster v Connacht
Benetton v Glasgow Warriors
Zebre Parma v Leinster
Scarlets v Ospreys
Cardiff Rugby v Munster
Cell C Sharks v DHL Stormers **Feb 3/4
Emirates Lions v Vodacom Bulls **Feb 3/4
Round 2
Friday Sept 23-Sunday Sept 25
Zebre Parma v Cell C Sharks
Glasgow Warriors v Cardiff Rugby
Leinster v Benetton
DHL Stormers v Connacht
Vodacom Bulls v Edinburgh Rugby
Scarlets v Ulster
Ospreys v Emirates Lions
Dragons RFC v Munster
Round 3
Friday Sept 30-Sunday Oct 2
Cardiff Rugby v Emirates Lions
Ulster v Leinster
Benetton v Scarlets
DHL Stormers v Edinburgh Rugby
Vodacom Bulls v Connacht
Ospreys v Glasgow Warriors
Munster v Zebre Parma
Dragons RFC v Cell C Sharks
Round 4
Friday Oct 7-Sunday Oct 9
Edinburgh Rugby v Emirates Lions
Zebre Parma v DHL Stormers
Glasgow Warriors v Vodacom Bulls
Connacht v Munster
Benetton v Dragons RFC
Scarlets v Cardiff Rugby
Leinster v Cell C Sharks
Ulster v Ospreys
Round 5
Friday Oct 14-Sunday Oct 16
Edinburgh Rugby v Benetton
Ospreys v DHL Stormers
Emirates Lions v Ulster
Cell C Sharks v Glasgow Warriors
Munster v Vodacom Bulls
Scarlets v Zebre Parma
Cardiff Rugby v Dragons RFC
Connacht v Leinster
Round 6
Friday Oct 21-Sunday Oct 23
Connacht v Scarlets
Benetton v Vodacom Bulls
Zebre Parma v Edinburgh Rugby
Emirates Lions v Glasgow Warriors
Cell C Sharks v Ulster
Dragons RFC v Ospreys
Cardiff Rugby v DHL Stormers
Leinster v Munster
Round 7
Friday Oct 28-Sunday Oct 30
Scarlets v Leinster
Glasgow Warriors v Benetton
Cardiff Rugby v Edinburgh Rugby
Dragons RFC v Zebre Parma
Munster v Ulster
Ospreys v Connacht
Vodacom Bulls v Cell C Sharks **Feb 10/11
Emirates Lions v DHL Stormers **Feb 10/11
Round 8
Friday Nov 25-Sunday Nov 27
Benetton v Edinburgh Rugby
Emirates Lions v Dragons RFC
Vodacom Bulls v Ospreys
Cell C Sharks v Cardiff Rugby
Munster v Connacht
DHL Stormers v Scarlets
Leinster v Glasgow Warriors
Ulster v Zebre Parma
Round 9
Friday Dec 2-Sunday Dec 4
Edinburgh Rugby v Munster
Zebre Parma v Glasgow Warriors
Cell C Sharks v Ospreys
DHL Stormers v Dragons RFC
Emirates Lions v Scarlets
Vodacom Bulls v Cardiff Rugby
Connacht v Benetton
Leinster v Ulster
Round 10
Friday Dec 23-Monday Dec 26
Glasgow Warriors v Edinburgh Rugby
Cell C Sharks v Emirates Lions
DHL Stormers v Vodacom Bulls
Benetton v Zebre Parma
Dragons RFC v Cardiff Rugby
Connacht v Ulster
Munster v Leinster
Ospreys v Scarlets
Round 11
Friday Dec 30-Sunday Jan 1
Edinburgh Rugby v Glasgow Warriors
Cell C Sharks v Vodacom Bulls
DHL Stormers v Emirates Lions
Zebre Parma v Benetton
Scarlets v Dragons RFC
Leinster v Connacht
Ulster v Munster
Cardiff Rugby v Ospreys
Round 12
Friday Jan 6-Sunday Jan 8
Dragons RFC v Vodacom Bulls
Glasgow Warriors v DHL Stormers
Benetton v Ulster
Connacht v Cell C Sharks
Cardiff Rugby v Scarlets
Munster v Emirates Lions
Ospreys v Leinster
Edinburgh Rugby v Zebre Parma
Round 13
Friday Jan 27-Sunday Jan 29
Ulster v DHL Stormers
Zebre Parma v Ospreys
Benetton v Munster
Dragons RFC v Glasgow Warriors
Connacht v Emirates Lions
Scarlets v Vodacom Bulls
Edinburgh Rugby v Cell C Sharks
Leinster v Cardiff Rugby
Round 14
Friday Feb 17-Sunday Feb 19
Glasgow Warriors v Ulster
Munster v Ospreys
Zebre Parma v Connacht
Scarlets v Edinburgh Rugby
Leinster v Dragons RFC
Cardiff Rugby v Benetton
Vodacom Bulls v DHL Stormers
Emirates Lions v Cell C Sharks
Round 15
Friday March 3-Sunday March 5
Munster v Scarlets
Glasgow Warriors v Zebre Parma
Cardiff Rugby v Ulster
Dragons RFC v Connacht
Edinburgh Rugby v Leinster
Ospreys v Benetton
Vodacom Bulls v Emirates Lions
DHL Stormers v Cell C Sharks
Round 16
Friday March 24-Sunday March 26
Benetton v Emirates Lions
Ulster v Vodacom Bulls
Scarlets v Cell C Sharks
Zebre Parma v Cardiff Rugby
Leinster v DHL Stormers
Ospreys v Dragons RFC
Connacht v Edinburgh Rugby
Munster v Glasgow Warriors
Round 17
Friday April 14-Sunday April 16
Cell C Sharks v Benetton
Connacht v Cardiff Rugby
Glasgow Warriors v Scarlets
Vodacom Bulls v Zebre Parma
Emirates Lions v Leinster
Edinburgh Rugby v Ospreys
DHL Stormers v Munster
Ulster v Dragons RFC
Round 18
Friday April 21-Sunday April 23
DHL Stormers v Benetton
Glasgow Warriors v Connacht
Emirates Lions v Zebre Parma
Vodacom Bulls v Leinster
Ospreys v Cardiff Rugby
Dragons RFC v Scarlets
Cell C Sharks v Munster
Ulster v Edinburgh Rugby