Expectation is the price of success, and it's universal across all codes.
On the same evening that Leinster were beaten by La Rochelle in the Champions Cup final, the Dublin footballers were wrapping up their 12th provincial title in a row. If you were a passive fan you'd barely even have noticed. Just another step on the road to the bigger prize.
While Leinster's dominance of the URC isn't quite at Dublin's Leinster Championship level, it's become clearer and clearer as the years go by that they're judged on the Champions Cup.
That doesn't mean they take the URC lightly, particularly when they get down to the business end of the season; 10 of this evening's starting line-up to take on the Bulls lined out in the final in Marseille 13 days ago, a number that would be even higher if not for injuries.
While Munster and Ulster fans would bite your ankle off for some silverware, the URC just doesn't seem to be grabbing the attention for Leinster fans, whose side are just two wins away from a fifth title in a row.
Last week just 9,346 fans watched on as Leinster shook off their Marseille hangover to hammer the Glasgow Warriors, with just over 10,000 expected for tonight's visit of the Bulls to the RDS, well short of the 18,500 capacity.
Given the cost of living crisis, you can't argue with anybody who has had to drop a rugby game down their list of priorities, but after 40,000 packed the Aviva Stadium for the Champions Cup semi-final with Toulouse, the sight of so many empty spaces at the RDS will be a frustrating one for those at Leinster Rugby HQ.
When the Bulls came to Dublin in September, 19,419 people watched on at the Aviva, with the prospect of seeing live sport still a novelty in Ireland as the gates slowly opened following 18-months of Covid-19 restrictions.
On that day (below), Leinster breezed past the Currie Cup champions, who looked lifeless in their early season games.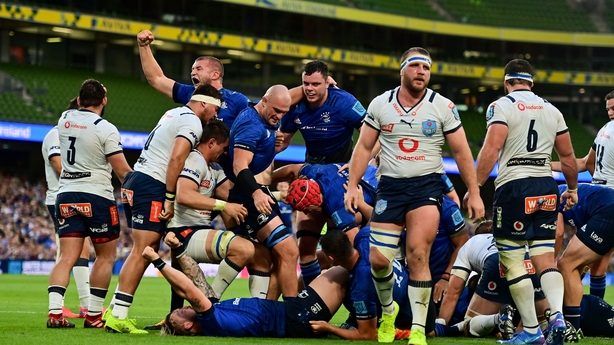 However, as the season has progressed the Pretoria side have grown in confidence and strength, and nine wins in their last 10 games have seen them charge their way to the last four.
"Well it would be fantastic if we were to start the game like we did that day," Cullen said, when asked if this evening's semi-final will be much different to the Round 1 meeting.
"There was a lot of - not trepidation - but there's that nervous energy in the group, isn't there? Because it's a new challenge. We'd seen the Bulls be pretty dominant in the Currie Cup. Our guys were seeing the footage of them because you weren't really too sure what the level would be. Again, they had to travel and had to deal with the celebrations, the fall-out from winning the competition.
"For our guys, they had nervous energy going into that game and put in a good performance that day. It's important we have that nervous energy. Not just be expecting that it's going to click into gear for us, we're going to have to make it happen. We're going to have to work hard and we're going to have to fight and scrap for everything we get out there.
"Again, hopefully we get a big crowd. It's a big occasion and this is something that fans get very excited by.
"They feed off the energy of the crowd. We saw during Covid the empty stadiums which was a bit of a drudge in comparison."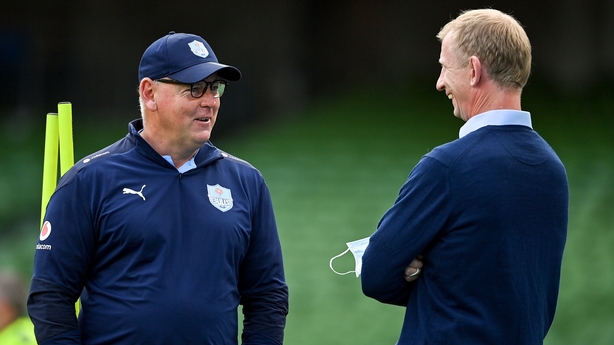 Cullen says he's not surprised that the three-time Super Rugby champions eventually adapted to northern hemisphere rugby.
After opening defeats in Ireland, they went on to win three of their four remaining away games in the northern hemisphere, and their 548 points and 70 tries scored are second only to the defending champions.
"Well there's the understanding of all their players because the group they've assembled has some very, very experienced players, the likes of Bismarck du Plessis on the bench, (Marcell) Coetzee, Morne Steyn on the bench as well," Cullen added.
"So those very, very experienced players have been around the block and then there's a fair chunk of young players that they've brought through this season. So for those young guys, some of them may not have been out of South Africa, so for them the experience of coming here up to the north on multiple occasions, getting used to moving away.
"Over time you become more familiar. Even talking to some of our younger guys, and the feedback from their experience in South Africa, it just becomes next daunting the next time you do it. It's like anything really, isn't it?
"It's a good test for our guys. But that's what we wanted. We want to stretch ourselves all the time. It's such a new challenge isn't it, playing a play-off game?
"Even the way the season is, you're into June now. It's a little bit unusual. But it's a fascinating dynamic and one we're hugely excited by.
"The big thing for us is our guys have got to deliver that energetic performance, but as I said, they've been well-managed. I think there's plenty of fuel in the tank of our guys.
"Sometimes you're worried are guys trying to feel fatigue, but there was so many gaps and breaks since the Six Nations, where they've been well-managed. Last week was sort of about dealing with the disappointment and this week is about carrying on the momentum really."
Listen to the RTÉ Rugby podcast on Apple Podcasts, Soundcloud, Spotify or wherever you get your podcasts.
Watch live coverage of Stormers v Ulster this Saturday from 1.30pm on RTÉ2 and RTÉ Player.
Follow Leinster v Bulls (Friday 7.35pm) and Stormers v Ulster via our live blogs on rte.ie/sport or on the RTÉ News app. Listen to live commentary of Leinster v Bulls on RTÉ Radio 1 Extra and updates from Stormers v Ulster on Saturday Sport on RTÉ Radio 1.