It's eight years since Chris Farrell took a leap of faith and swapped Belfast for the foot of the French Alps.
After failing to make the breakthrough with his native province, the Ulsterman linked up with Mike Prendergast and Bernard Jackman at Grenoble in the Top14, before returning to Ireland when courted by Munster three years later.
The centre was a relative unknown when he made the move to France, but within three years he was one of Irish rugby's hottest commodities.
Now in his fifth season at Munster, the 29-year-old is firmly settled in Limerick, and as he prepares for another Ulster return tonight in the quarter-finals of the United Rugby Championship, he admits he no longer feels that same affinity with his native province.
"Other than the fact that I had to get 16 tickets for my family the last time I went up there, I don't feel that I have a huge connection to the province, it's been so long and I went away so young," he said.
"I obviously loved Ulster growing up and they were the team I followed, but having moved away so young and it not working out up there with everything, I've lost a little bit of connection and that comes with having loved my time elsewhere.
"I absolutely loved my time in France and I just feel that Munster is a better fit for me an individual."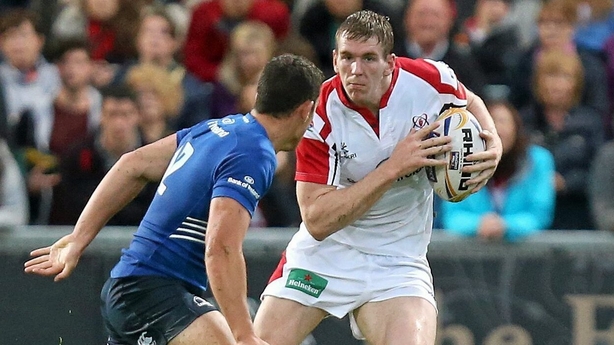 When he and Munster last visited Kingspan Stadium in April, Farrell was one of the standout players in his side's 24-17 victory, a first for them in Belfast since 2016, and a first for him as an away player at Ravenhill.
While he hasn't scored a try in his last 10 games, the Ireland international is one of Munster's in-form backline players of the last two months, with their game plan appearing to be utilising him more as a decoy and distributor rather than just playing to his obvious physical attributes.
It's individual form that has come at the right time, with an Irish summer tour to New Zealand looming, although Farrell has seemingly fallen down the queue when it comes to the national side, his last call-up being for September's mini-camp in Dublin.
While part of the reason for him slipping off Andy Farrell's radar can be attributed to the form of Ulster pair James Hume and Stuart McCloskey, or Ciarán Frawley at Leinster, he was also set back by an abdominal injury this season which kept him out until December.
But since returning at the start of the Champions Cup, he's been ever-present, playing all 20 games - 18 of which were starts.
It's going to be a completely different challenge where both of us are fighting on one front now and both our teams feel like we can compete in this competition to win it
He's probably an outside bet when it comes to selection for this summer's New Zealand tour, and he says it's not something he's overly concerned about, reiterating that his top priority is extending Munster's season by at least one more week.
"Obviously that takes priority, what we do as a team, trying to get to a semi-final and trying to do whatever I can to put the team in a better place," he added.
"But it's a collision and contact sport and of course I want to show my point of difference to others, and it is an opportunity, any time you get on the pitch against another province it's an opportunity to put your hand up.
"The other thing is that if the majority of us put our hand up individually and are assertive, if we dominate our opposite number or have some impacts in the game, that will put Munster in a better spot to win that game as well."
Munster find themselves travelling to Belfast for the quarter-final due to their defeat to Leinster at the Aviva Stadium in Round 18.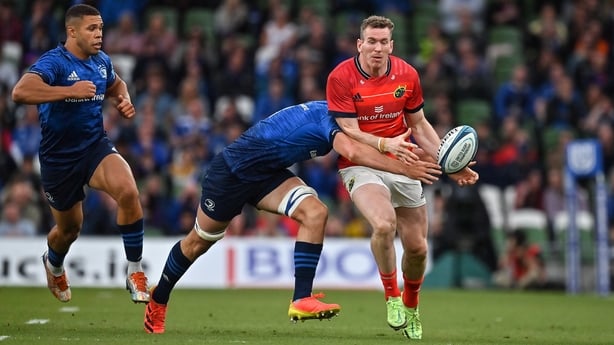 However, it could have been far worse for the province, who could have ended up away to the Bulls had they picked up a losing bonus point against Leinster two weeks weeks ago.
And although he admits they won't be placing too much stock on their win away to Ulster back in April, he does say the one thing they can take from that performance is confidence.
"Going up to Ulster, as we have shown over the last number of years, has been really difficult for us," he said.
"We won this year up there but before that I don't think we won since 2016 so that's a huge task. Going to South Africa would have been a huge task, but so is going to an Irish team to play a derby game.
"But we can take a bit of confidence in that we beat them in Belfast this year. I don't think that means a huge amount going into knockout rugby, so we won't take a huge amount from that.
"It's going to be a completely different challenge where both of us are fighting on one front now and both our teams feel like we can compete in this competition to win it.
"So it's going to be a huge, huge evening up there and one that we're not going to shy away from.
"Ulster are a pretty complete team, their lineout stands out, they score a lot of points off their lineout strikes. Their maul is dangerous, Rob Herring has scored against us on numerous occasions off the back of a maul, and I think they'll come for us there as they usually do.
"And off the back of that they've got really talented backs, young backs who have broke onto the European stage but also international level now and look really dangerous.
"They're a pretty complete package with a great kicking game as well. They've also conceded the second least amount of tries in terms of the URC this season, ahead of us in third, so they're a serious team and a lot to be reckoned with."
Listen to the RTÉ Rugby podcast on Apple Podcasts, Soundcloud, Spotify or wherever you get your podcasts.
Follow Ulster v Munster (7.35pm), Leinster v Glasgow (Saturday 3.15pm) via our live blogs on rte.ie/sport or on the RTÉ News app. Watch Leinster v Glasgow live on RTÉ One and RTÉ Player.
Listen to live commentary from Ulster v Munster on RTÉ Radio 1 Extra and updates from Leinster v Glasgow on Saturday Sport on RTÉ Radio 1.