Conor Murray says that the Munster team review following their URC loss to Leinster was the toughest of the season.
By any standards, the 2006 and 2008 Heineken Cup champions have had an unusual year.
Between a Covid-19 disrupted trip to South Africa, a slew of coaching and player departure announcements, a second season-ending injury for big-name signing RG Snyman, and a heartbreaking place-kicking shootout loss to Toulouse, Johann van Graan's side have been on a rollercoaster ride.
When a second-string Leinster team beat them 35-25 to deny Munster even the comfort of a home quarter-final, it felt like a new low.
Asked about the post-match meetings following their two last games, Murray admitted that the Leinster post-mortem was not pretty.
"[They were] very different," the Ireland scrum-half told RTÉ Sport.
"Against Toulouse, we really performed. Now there were areas of the game where we probably weren't happy with.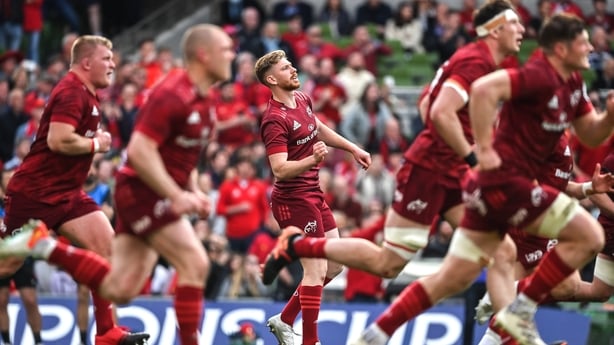 "We could have put a bit more of a score on it and not let it down to 24-14 up and conceded.
"The Toulouse one was emotionally a tough review but in terms of rugby it was probably a little bit easier because we did an awful lot right.
"The Leinster game last week was a tougher one from a rugby point of view where we just didn't play like we had been playing all year.
"It's one of the games that stands out. It was very unlike us, it was a game littered with mistakes in terms of turnovers and ultimately losing the physical batter.
"We lost the breakdown and found it very hard to get front-foot ball at times and that made things really difficult to get across the park so probably came back to were we up for it physically and emotionally and mentally, we were asking ourselves those questions.
"We had a really good review. It was probably the toughest review of the year. It was Munster-Leinster and we didn't show up.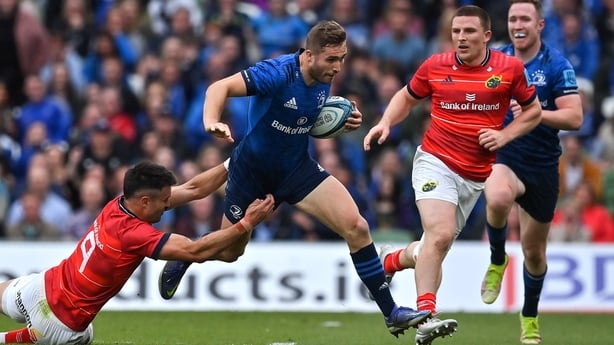 "We had to be much more honest with each other in the meeting room. It was important that we reviewed it really well and tried to iron out what went wrong in the prep, in the lead-up and on game day.
"We did it well and we were honest with each other. We've played an awful lot of good rugby this year and that game wasn't like us. Leinster were good, yeah, you can say their second side or whatever. We didn't really approach it like that.
"It was Munster-Leinster and we pretty much didn't show up. I know we got back in the lead at a certain point of the game but overall it wasn't good enough."
Senior coach Stephen Larkham, who is among three of the coaching team to depart at the end of the season, agreed that all was not right in the build-up to the match.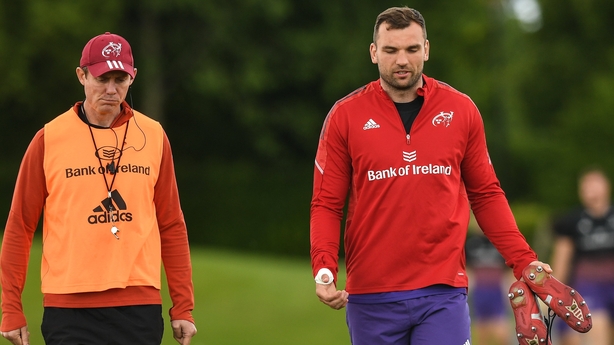 "The preparation for Leinster was okay, it wasn't perfect," said the Australian, who said that forward Tadhg Beirne (above, right) and back Andrew Conway both trained today and a decision on their involvement against Ulster on Friday (7.35pm) will be made later in the week.
"We had a few changes late in the week in selection, guys having to pull out with sickness.
"Whereas Toulouse, we had a really good run-in there and we played exceptionally well.
"Against Leinster, we just didn't play well. We didn't execute some of the stuff that we said we were going to execute.
"Our attention to detail wasn't there. Mentally, our preparation wasn't where it needed to be compared to previous weeks.
"We can't compare both equally. That Leinster performance is something that's certainly disappointing. We've moved on and we've potentially three games in front of us now.
"We've been in finals preparations now for the last three or four games so we kind of know what it's like and we're putting everything into the game this weekend."
Stephen Archer with the first try of the game as Munster take the lead in Belfast.

📺 Watch live on RTÉ2 and RTÉ Player: https://t.co/ppdfuAyEpa…

📻 Listen live on RTÉ Radio 1: https://t.co/7eKrwJNXCL

📱 Updates: https://t.co/hGCUzAQd7d pic.twitter.com/HHyG8zPb00

— RTÉ Rugby (@RTErugby) April 22, 2022
Munster beat Ulster in Ravenhill for the first time in five-and-half years when the teams met in the regular season last month.
That game came just a few days after Ulster had lost an epic two-legged last-16 European tie to Toulouse by a single point.
The Ulster players and supporters were understandably still processing the nature of the defeat and Dan McFarland said afterwards that it had taken its toll.
Murray is hopeful that Munster have moved on from their last two games.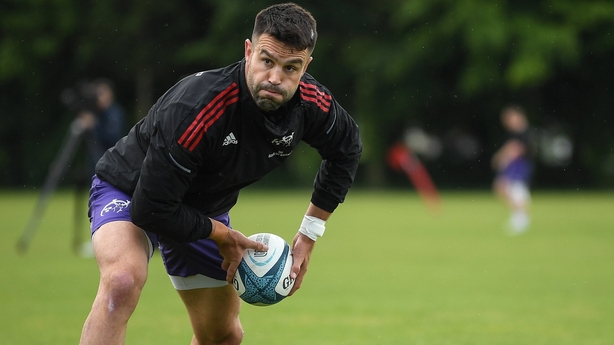 "If there is one positive about having to wait an extra week you get that chance to get the review out of your system and get back on the training field and start rolling the momentum again and creating a good atmosphere within the squad and having a good crack off it," said the 31-year-old.
"That's probably an excuse we can't use this Friday night because we've had that time to get over it and gee ourselves up.
"We are only human at the end of the day but I think we've had enough time to get through it and wipe the slate clean and prep for a quarter-final."
Meanwhile, the province also confirmed that Jean Kleyn and Neil Cronin have returned to training after overcoming respective neck and ankle injuries, while Alex Kendellen is following return to play protocols.
Follow Ulster v Munster (Friday 7.35pm), Leinster v Glasgow (Saturday 3.15pm) via our live blogs on rte.ie/sport or on the RTÉ News app. Watch Leinster v Glasgow live on RTÉ One and RTÉ Player. Highlights on Against the Head, Monday 8.30pm, RTÉ2 and RTÉ Player.
Listen to live commentary from Ulster v Munster on RTÉ Radio 1 Extra and updates from Leinster v Glasgow on Saturday Sport on RTÉ Radio 1.