Munster's Chris Farrell says the province have full belief they can bounce back from Saturday's disappointing defeat to Leinster, when they return to URC action against Ulster next week.
Johann van Graan's side face a daunting trip to Belfast in the quarter-final at Kingspan Stadium on Friday 3 June, having missed out on the chance to be at home through the playoffs due to their 35-25 defeat against Leinster, and sixth place finish in the table.
It was a result - and performance - that has drawn huge criticism, particularly with their opponents resting their entire first-choice team ahead of the Champions Cup final this week.
And Farrell says they are under no illusion that have a lot to improve on.
"We had a pretty honest assessment of how things went this morning as a group, and in our mini-groups. We had it out with each other about what we could have done better," he said.
"I wouldn't even necessarily say it was the second half, we weren't on it from the start. We were beat physically in certain areas, and we really disappointed with our breakdown. It's something we pride ourselves on. When we get that right we're hard to compete with both in attack and defence, in the breakdown and collision areas.
And the centre admits Munster were "bullied" by the defending champions.
"Honestly, we probably got bullied a little bit there in the first 10 minutes, and that set the tone for the rest of the game.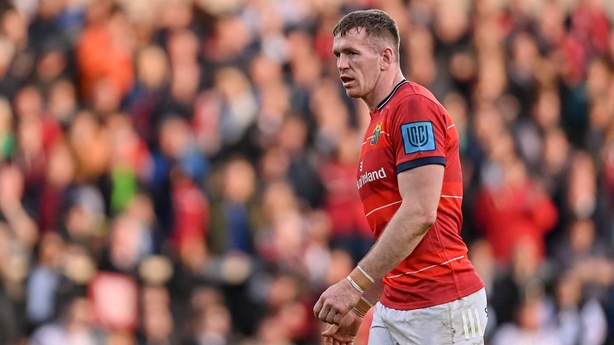 "There's a few other areas we're really disappointed with; we didn't exit well, we panicked a little bit. But we felt were really well prepared for it, we felt going into the game we had good knowledge of what to expect from that Leinster team, and we knew where they were dangerous.
"We thought we were well prepared, but we didn't act like that when the game came. It's something we're really disappointed with.
"From the conversations we had today, we've taken a lot out of it. I know it's difficult to say, it still feels a little bit raw to have lost like that, but we feel we've learned from it already and we can turn a corner going into this, put another couple of training days behind us and be in a better position that we are now," added Farrell, who has now played 20 consecutive games for Munster.
In spite of losing twice to Leinster in the last seven weeks - and each by more than a score - Farrell maintains the are not losing belief that they can get their hands on silverware, something which has evaded them for 11 years.
"I wouldn't say it dents our confidence because we know how difficult we can be to play against, when we're up around 100%, more clinical, when we're decisive with what we're doing and playing our gameplan without deviating when the pressure comes on.
"It's trying to understand why that happened at the weekend, that's the big thing for us. I don't think it'll have an implication on how we go against Ulster, and hopefully between now and then we can put a few things right.
"We've shown that we are capable of executing and being clinical at 100%. We created some opportunities but just didn't take them. We gave them easy ins, our backfield coverage at times wasn't great, our exits weren't great. We compounded errors, but I think we'll be able to fix those things pretty quickly".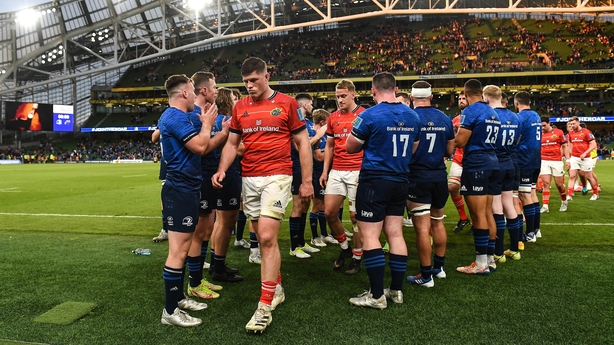 And with so much scrutiny on Munster's performances under departing head coach Johann van Graan this season, the 29-year-old says they will be looking inward for improvement, and ignoring the outside noise.
"I don't think we need to be listening to the noise that doesn't really matter to us as a group. We have enough of an understanding of how we performed at the weekend without reading into what other people have to say about it.
"Don't get me wrong, the changing room after that game at the weekend was really low, and we weren't knocked out of anything. The positive thing is we're still in this. It wasn't knockout rugby completely, we're in a quarter-final.
"Yes, we missed an opportunity to play at home in the quarter-final and missed opportunities to give departing players a send-off at Thomond Park, and give our fans a knockout game at Thomond Park which is so disappointing but we're still in this. We know that and we think we can compete."
The quarter-final against Ulster will fall just six weeks on from their last meeting at Kingspan Stadium, with Munster winning 24-17 last month.
On that occasion, Munster hit some of their best form of the season - particularly in the first half - while the hosts looked to be dealing with a hangover from their heartbreaking defeat to Toulouse six days previous.
Ulster were well off the pace that evening, and after Dan McFarland's side produced impressive wins against Edinburgh and the Sharks to close out the season and secure a home-quarter final, Farrell says their recent victory in Belfast is already irrelevant.
"That's why I say there's not a huge amount we can take from winning up there this year. It's going to be a completely different task.
"It's not a game we can compare to whet we did last time we were up there. It's a real hostile place to play. They'll want to right that wrong and I expect a reaction from them.
"Thy don't like being beat by Munster in Belfast. I don't think there's much we can take from that last win up there."