With such a bunched race for the home quarter-finals in the URC, this evening's bonus-point win for Munster against Cardiff could hardly have worked out better.
Not only did the 42-21 win see them leapfrog the Bulls and Stormers up to second place in the table - for the time being at least - it also allows them rest up for an extra day as attention now turns to the Champions Cup and Toulouse.
The French side host La Rochelle tomorrow in the Top 14, giving Van Graan's side a head start on both their domestic and European rivals.
"It's worked out really well for us the fact that we've the extra day," Van Graan said after the five-try win.
"We've played so many big games over the last few weeks that every extra rest day you can have we will use.
"We'll take the two days to recover and start a full week on Monday, what a week to look forward to."
While Munster eventually ran out comfortable winners, they were given a scare by Cardiff in the first half, with Dai Young's side leading 7-0 and 14-7 at stages in the opening half, and causing Munster's defence a lot of trouble in the opening 40.
But while there were holes in the Munster defence, their attacking game looked sharp again, with Ben Healy and Mike Haley both impressing.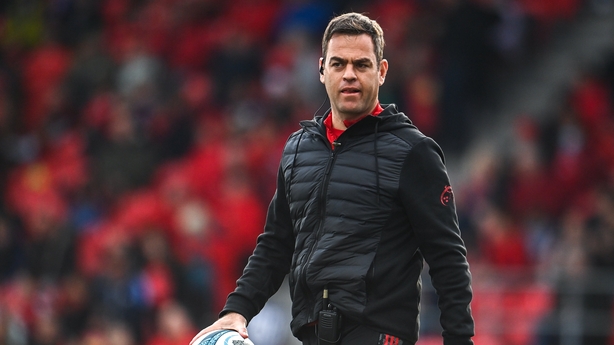 "I thought it was an excellent game of rugby, perfect conditions," Van Graan added.
"I spoke to Dai after, Cardiff put us under pressure and we responded well. It was a bit of ding-dong at the start of the game, and at half time we said our impact players needed to make a real difference and they did.
"Once we scored the fourth try there was some daylight. We needed to defend right to the end though. I'm really happy about the performance really happy with the five points, but there are some things to work on in terms of what some teams might do to us. But the real positive is we've qualified for a URC quarter final.
"We planned for the fact that they're a side who can score tries, and what would our reaction be. We went short off kickoffs twice, which is something we don't do often, and we won the ball back twice and went on to score a try and then a penalty.
"It was excellent by Cardiff, and excellent reaction from our side."
The one worry was the sight of Simon Zebo limping off in the second half, eight days out from that meeting with Toulouse at the Aviva.
The jovial wing was seen with an ice pack strapped to his knee after the game as he signed jerseys and took pictures with fans after the game, and while Van Graan said they didn't yet know the extent of the injury, his tone was optimistic.
"I haven't spoken to him, I haven't got the medical feedback yet.
"We'll go through our normal routine, but the fact he was walking is good. I'm sure we'll get the feedback soon," he added.