The last two seasons could have worked out a lot differently for Robert Baloucoune.
The Enniskillen flier, known to team-mates as 'The Cat', has been hit with multiple frustrating injuries in the last 18 months, but it hasn't stunted his progress.
Ireland head coach Andy Farrell is clearly a fan, giving the 24-year-old his first two international caps in 2021, while he's a consistent presence in the Ulster starting line-up when fit.
It helps that he has natural talent; a late convert to the game as a teenager, Baloucoune earned a surprise place in the Ulster academy before supplementing his rugby education with Ireland Sevens.
And he'll look to add to his Test cap collection in the coming weeks, having been included in the 37-man squad for the opening rounds of the Six Nations.
"It's always nice getting the opportunity to play, I suppose it's more exposure in that environment. It's been a bit tough with injuries, I've missed quite a few games," he said this week, before the final squad had been confirmed.
"It's similar to the last camp, I hadn't played too many games and was quite surprised to get selected, so I'm not sure what the story is this time. More exposure in the Six Nations would be great."
While there have been injury struggles in the last couple of seasons, his ability to find form quickly has been key; Having missed the start of this season with a groin issue, he was sharp enough on his return to earn a start for Ireland against Argentina in November (below).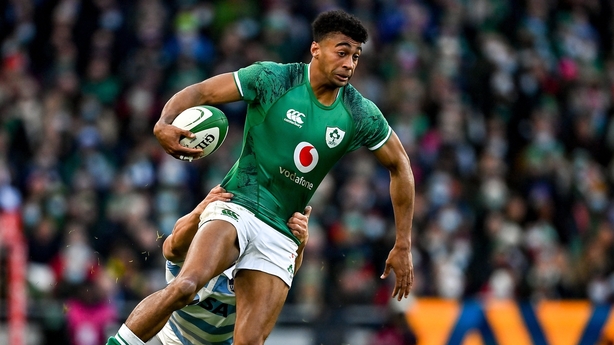 And after a painful shoulder injury against Clermont Auvergne at the start of this season's Heineken Champions Cup, he returned in style with a fine try in last weekend's 24-20 win against the Northampton Saints at Franklin's Gardens.
"All of the work you do in training, and our training is pretty much a competitive environment, it's pretty close to what we do in a game.
"I feel like I'm able to go back in pretty handily and just try and do my best and train my best as well whenever I am injured.
"It's nice getting back into the game, I look forward to it a lot more if I've been out for a while. It's actually picks me up a bit more and I'm looking forward to it whenever I get back in.
"Just getting my hands on the ball, getting into the game, taking that first contact and stuff having been out with my shoulder, it was quite nice. I was fine, I got back up.
"Getting a try, I suppose the whole team involvement, getting around the corner and beating the gainline was class. I had an opportunity in the corner and I took it. I haven't scored in a while, feels like ages, so it was nice to get that try," he adds.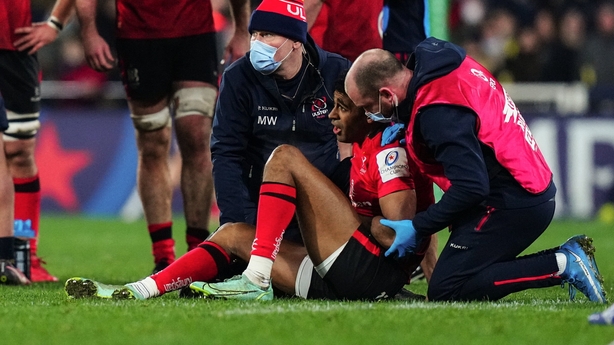 Missing out on game-time in the run-up to the Six Nations was far from ideal for a player still trying to consolidate a place in the squad. But the way events transpired, Baloucoune missed only two games rather than four, with Covid-19 postponements denying players across the country the chance to impress.
As it was, he didn't lose too much ground on his fellow wingers, and admits there was a part of him quite relieved to see some games get rescheduled.
"It does feel kind of selfish!" he laughs.
"Obviously, the boys have been training and want to get the game time, but it was a bit of a relief when games were being cancelled and I felt like I wasn't missing out. Especially with the way I got my injury, I was kind of annoyed with it and the way it happened.
"Nobody wants to see games being cancelled, but it felt like I missed out on less."
With James Lowe out injured for the opening rounds of the Six Nations, another strong performance this weekend against Clermont Auvergne could propel Baloucoune into the starting team for Ireland's opener against Wales on Saturday 5 February.
"It's also a good target and it's a good aim for us as a squad. It's hard to beat home advantage at Kingspan, the amount of pressure it takes off you, the support of home fans is class, it's unreal to play in."
Dan McFarland's side come into the game in perfect position; already qualified for the last 16, second place in Pool A, and knowing a win would guarantee home advantage for the second leg of that Round of 16 tie, as well as home advantage in a quarter-final should they advance
Their French opponents come to Belfast needing a win to guarantee their place in the knockout stages, but they've lost all four of their previous visits to Kingspan Stadium.
There may be very little risk for Ulster with qualification secured, but the rewards for going four out of four in the pool could be massive.
"I think it's huge," Baloucoune agrees.
"It's also a good target and it's a good aim for us as a squad. It's hard to beat home advantage at Kingspan, the amount of pressure it takes off you, the support of home fans is class, it's unreal to play in.
"We just have to focus on ourselves again, focus on getting the ball to the edge and in training this week, it'll be on how we perform. We know the threats of Clermont but we also know our threats in games recently.
"Definitely all to play for this weekend and I think Dan has made that pretty clear in training this week. It's a home game at Kingspan so we'll be raring to go. I haven't played here in a while so I'll be looking forward to it as much as I can and I reckon the rest of the boys will be exactly the same."
Listen to the RTÉ Rugby podcast on Apple Podcasts, Soundcloud, Spotify or wherever you get your podcasts.
Follow Bath v Leinster (Saturday, 1pm), Ulster v Clermont (Saturday, 5.30pm), Stade v Connacht (Sunday, 1pm) and Munster v Wasps (Sunday, 3.15pm) via our live blogs on rte.ie/sport or on the RTÉ News App, or listen to live radio coverage of Bath v Leinster on RTÉ Radio 1 Extra and RTÉ Radio 1.