We're used to seeing passion in Thomond Park and despite the poor weather conditions and a reduced capacity in the stands, Munster's players showed passion and desire to turn things around in the final quarter of their URC clash with Ulster.
They also showed a lot of relief after the final whistle.
Their spirited comeback with 14 men last Saturday night was a direct result of the pressure surrounding their environment in the last week and the players really showed up when it counted.
Of course, you can't win a game with 14 players for 65 minutes without some tactical advantages so credit is due there as well, particularly with young half-backs.
As a player, you know when the pressure is on.
You would try not to let the public perception break through the barrier into the dressing room but it's hard to keep the noise on the outside when there's uncertainty surrounding the coaching staff and further ambiguity in game plans.
Players are pretty good at ignoring social media these days, but family and friends can ask questions too and it doesn't take long to understand where the questions are coming from.
This pressure was seen by Johann Van Graan, too.
We need your consent to load this comcast-player contentWe use comcast-player to manage extra content that can set cookies on your device and collect data about your activity. Please review their details and accept them to load the content.Manage Preferences
He had an unnecessary bite back at the RTÉ interviewer during a pre-match chat, where there was nothing more suggested than Munster's poor performances in the last two matches.
They were poor performances - players, coaches, and supporters know that.
Van Graan abruptly reminded everyone that Munster had beaten Castres. Pressure can do that to you, and I can fully understand it, but I don't think Johann understood the question.
The question was about performances, not about match points or results.
Results dictate how many points you end up with at the end of a competition or in the pool stages of the Heineken Cup.
However, performances and form will decide whether you can overcome the most competitive, knock-out stages when everything is on the line.
And that is what Munster haven't done in over a decade now. They have fallen short in semi-finals and finals in the last decade, each one more heart-breaking than the last and causing deeper soul-searching for the older players.
That is why we're interested in their performances.
Provincial teams in Ireland don't struggle for league results.
They lose one here and there but they rarely go on a run of losses. This is due to squad depth and overall strength in their squads to cope with Welsh, Italian and Scottish opposition.
Results haven't been the issue in the last couple of years, it's been the performance when they get into the bigger matches.
However, the tide is beginning to turn and Irish teams are going to find it more difficult to cruise through the league campaign.
You can see the Welsh team's intent with big signings, getting their international stars back and making big overseas signings too, such as Vaea Fifita moving from Wasps to the Scarlets.
With the international window being separated from the URC, before rescheduling, it's going to play into the hands of teams with smaller squads and smaller budgets.
Of course, the international players can't play every round regardless, but their availability will increase and the size of squads in the likes of Leinster and Munster will have less of a bearing on the league throughout the year.
---
CHAMPIONS CUP FIXTURES AND RESULTS
---
Therefore, the pressure within Munster to string some performances together is still there.
They are facing Castres this weekend, who haven't lost since their poor showing in Thomond Park, which includes an impressive comeback against La Rochelle.
Performances matter, not just the result. Things will go against you in the pursuit of a victory, you can't always control how the opposition play or which refereeing decisions will go against you. What you can control is your own actions, how you set your platform and some consistency within your game plan.
Consistency within the game plan is what Munster are lacking, that bit of identity around how they play the game.
They're not quite the same team as what Rassie Erasmus left in the care of Van Graan, they're not an out-and-out pressure-applying, kicking team that spring into action once they force that turnover.
They do actually attempt to play more rugby out the pitch, but I'm not particularly sure what that is supposed to look like at times.
They're also lacking that finishing touch in the attacking zone.
The one where they're battering through the forwards and then make the decision to move the pass and score in the corner.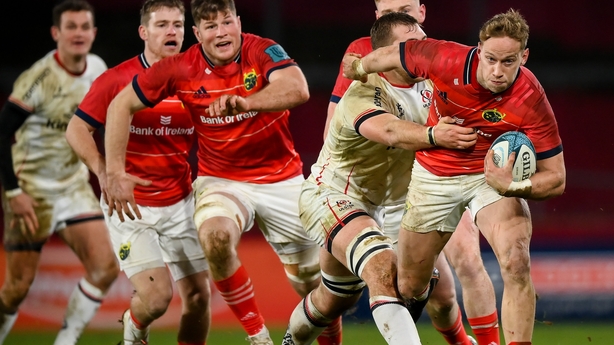 We see Leinster doing this all the time, and Jack Carty is pretty good at it in Connacht too, but Munster have been slow to pull that trigger and it has cost them. It cost them in Connacht and again in the first half against Ulster.
Luckily, Craig Casey has taken strides towards fixing that, Mike Haley touched down in the corner after a big left-handed pass from Casey.
A similar left-handed pass resulted in an intercept at the Sportsground. It shows improvements, however, they are some of the basics of the game that you need to win at the higher levels.
Some are saying that Munster will really only improve if Van Graan leaves his position in charge of the team.
That's nonsense in my eyes and shows a lack of understanding of the sport we are in.
That's Premier League soccer kind of rubbish where there's an abundance of money with completely different structures in place with ownership of clubs.
Coaches' contracts will be done through the IRFU and aren't solely down to the decision-makers at Munster. Irish rugby is controlled centrally through the union.
There are central contracts and then there are provincial contracts but they are still controlled through the union.
This is why clubs don't have free rein when signing overseas players, it has to go through David Nucifora to assess the development pathways etc. There needs to be permission.
Not only that, but it doesn't mean their shortfalls will be overcome immediately. It can take time to change an environment and the way a team plays the game.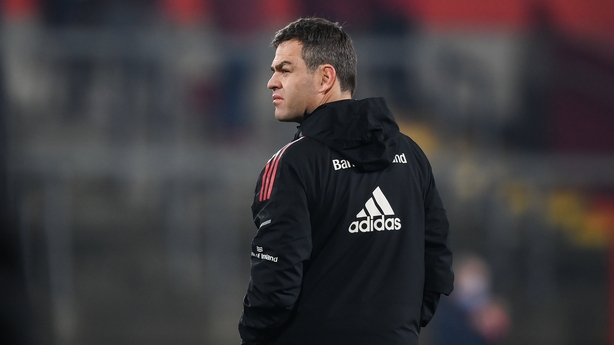 I understand the reason why these changes have been proposed, but it's not living in reality. Not in this sport currently, with the structures that are in place, and not with the financial implications of the decision either.
What might actually work is for other voices in the dressing room to become louder. Van Graan could allow his messages to come through players voices or Graham Rowntree.
That way it's still under his control but being communicated by someone that will still be there next season. I'm not saying he shouldn't coach, but he can control how much influence others have to keep his message strong within the group.
Otherwise, there could be an avalanche of player power with increasing pressure in the second half of the season.
It's been an interesting few weeks at Munster, and the next couple of European games will surely dictate a lot of their success this season. It all starts with the moment in front of their face, to paraphrase from the Joe Schmidt school of thought.
Castres away should provide a challenge and an opportunity to build on their win against Ulster.
Follow Castres v Munster (Friday, 8pm), Connacht v Leicester (Saturday, 3.15pm), Leinster v Montpellier (Sunday, 1pm) and Northampton v Ulster (Sunday, 3.15pm) via our live blogs on rte.ie/sport or on the RTÉ News App, or listen to live radio coverage of Castres v Munster and Connacht v Leicester on RTÉ Radio 1 Extra and RTÉ Radio 1.