Johann van Graan is no longer sufficiently emotionally invested in Munster, according to former Ireland scrum-half Peter Stringer.
The South African will depart the province at the end of season to take over at Bath.
The 41-year-old had indicated that he would remain at the club earlier last year before changing his mind and announcing his intention to leave in mid-December.
Stringer was speaking on RTÉ's URC Live following a pre-match pitchside interview with the head coach, who declined to answer a question about the decision to leave.
"How tough was the decision and what was the thinking behind that decision?" asked reporter Murray Kinsella.
"I've spoken to that before, I'm not going to answer that tonight. It's all about Ulster," said Van Graan.
That answer followed another exchange when he was asked about two disappointing performances in their recent games [a defeat to Connacht and a scrappy win over Castres] and replied: "Well, we just lost last week and the previous week we won before that, Murray, if you care to remember that."
The tone of his replies failed to impress Stringer, who played 230 times for the province and won two Heineken Cups.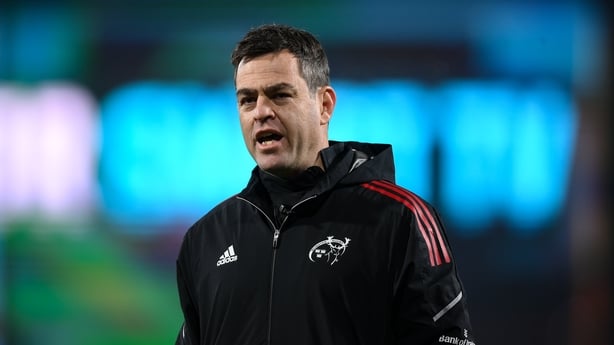 "We very seldom have got that kind of emotional response from Johann, when Munster play well or Munster play poorly," said Stringer.
"Be honest, show your colours and put it out there, give us something to show that you feel you are part of this place and what the supporters are craving.
"You talk about the 80% [wins last season] stat, he's thrown it around a lot.
"For me, rugby is more than just a stat, it plays on supporters' emotions, players' emotions and as a fan, for me, over the years.
"That stat stands for many other clubs around the world but for here, [there are] two reasons why it doesn't: because of the history that has gone on here, previous successes.
"And also because of Leinster' success up the road, because of your fiercest rivals winning silverware, Munster winning three of the last 16 games against Leinster.
"All of those emotional things, on and off the field.
"You need to be bitter about it. I'm just not getting any emotion from Johann, feeling that he wants to be here and I think he doesn't really want to be here, he changed his mind about his contract.
"For me, it's about letting someone put up their hand and say, 'I want to take control of this place, I want to show my emotion and what it means to me as a person to run this organisation' and I'm just not getting that from him."
Former Leinster and Ireland number 8 Jamie Heaslip also slammed Van Graan after the interview.
"The Munster fans deserve a little bit more of an answer than that, if I'm honest," he said.
"I don't think they are getting enough from it, they deserve more. I'd be a bit disappointed with that response.
"In terms of him snapping back at Murray, saying we only lost last week, we won the week before if you check.
"He's missing the big picture here, which is actually the style of rugby that he is forcing them to try to play, it seems, does not fit the squad of players that his has.
"He's missing the point completely. That's as good as him throwing the 80% stat at us last season.
"As an organisation, are they happy with an 80% season? Or do they want a trophy?
"If you ask the players, who have been here for the last 10 seasons, like Peter O'Mahony, they haven't had any trophies. I think they deserve more."
Speaking after 14-man Munster came back to secure a 18-13 win, Van Graan was again asked about his the disruption caused by his and senior coach Stephen Larkham's decisions to leave and what was it like behind the scenes?
"You could see it there tonight, it's all about heart, it's all about the club," he said.
"Nobody is above the club; everyone is hauling for Munster. There are always end dates to contracts. Once you are part of the Munster family you stick here till then."
Forwards coach Graham Rowntree did commit his future to the province, signing a new deal and on the possibility of Munster not waiting until the end of the season to change their head coach, Heaslip said: "You can flip that into an opportunity, right.
"You can flip that into bringing through some younger coaches that are in the background that aren't household names. Bring them through, what have you go to lose?
"The way they are playing, I don't think that's going to win them trophies at the top level."