As chaotic as it was, last weekend was probably the most heartwarming we've seen in professional rugby for some time.
There had been a fortnight of frustration and anxiety as Munster and Cardiff cobbled together numbers for their Heineken Champions Cup openers, and the Scarlets were left with no choice but to concede their round one match to Bristol, following the complications of their trips to South Africa.
But as the dust settled, and both Munster and Cardiff knew what bodies they were working with, the pressure valve was released, and excitement grew.
Cardiff had raided the semi-pro club scene to back up their squad for their meeting with champions Toulouse at the Arms Park.
They were on a hiding to nothing as the French giants showed no mercy with their own team selection, but the novelty of the occasion brought some life back into regional Welsh rugby, with a full-house watching the underdogs throw everything they had at the five-time champions.
The 32-point difference between the sides was irrelevant. It was a joy to watch.
The following day, Munster combined their Test match core with 12 debutants across the matchday squad, and their bonus-point win away to Wasps was hailed by Peter O'Mahony as one of the very best he'd been involved in.
While there were five debutants in the starting team and a further seven off the bench, there was a variety in how they had made it to Coventry last Sunday.
Patrick Campbell, John Forde and Jonathan Wren are products of the PBC nursery in Cork, while Mark Donnelly and man of the match Scott Buckley came through the city's other powerhouse CBC. James French made his long-awaited debut at tighthead, having come through Bandon Grammar, and the latest off West Cork's production line.
But Sunday's win was also a huge occasion for some of the smaller clubs around the province, and proof there is untapped potential across the six counties.
While he's been on the scene for a couple of years, John Hodnett was outstanding on his European debut, another of that West Cork posse, and someone who is a product of the club game, rather than schools.
Prior to Sunday, John Madigan had been the last Ennis RFC clubman to represent the province, featuring against the All Blacks in 1971. Remarkably, they went from drought to flood last week: Ethan Coughlan, Tony Butler and Conor Moloney all coming off the bench in Coventry.
📸 From supporter to team-mate 🙌🙌🙌

Brilliant pics from Academy scrum-half Ethan Coughlan, who made his Munster debut in the @ChampionsCup yesterday 👏👏👏#MunsterStartsHere#WASvMUN #SUAF 🔴 pic.twitter.com/JPAR4Pulfr

— Munster Rugby (@Munsterrugby) December 13, 2021
While Coughlan and Butler are both members of the Munster Academy, O'Connor is part of their National Talent Squad and has been playing All-Ireland League with Young Munster this season.
All three played U18s for Ennis as recently as last year.
"It was a pretty surreal experience for us," Ennis RFC President Dermot Hallahan tells RTÉ Sport this week.
"We always knew they were talented and dedicated but I'd certainly say had you asked us this 12 months ago, you'd have been dismissed as a fantasist."
Drawing from a healthy catchment area, Ennis have always had steady underage numbers and competitive adult teams in the junior leagues.
However, the facts have always remained; they are a rugby club in GAA country.
"We have Éire Óg on my own doorstep who won the county final (football) this year, Ballyea is only out the road who are perennial county finalists in hurling.
"You have these guys who might play here in the winter, but the challenge is when you're doing pre-season in July and August they aren't here.
"It's a fine balancing act."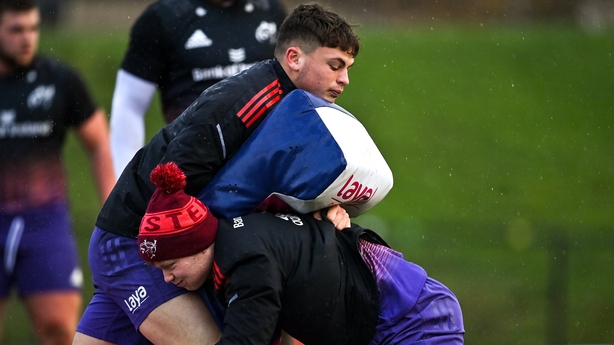 Trying to compete for attention with hurling and Gaelic football is a tough ask in a provincial town like Ennis, it has its benefits too.
While second row Moloney has always been "a bit of a monster", Hallahan says neither Coughlan nor Butler would have been blessed with size, but their multi-sport backgrounds balance the scales.
He says: "I was involved when they were around 13 or 14, and you couldn't have pictured how they would develop. What they did have is that they were sportsmen, they were all-rounders.
"Tony (Butler) won a Harty Cup medal with St Flannan's. Ethan (Coughlan) was playing Gaelic football as well. They were recognised as all-rounders, and when you have that kind of skillset, it's natural."
Tapping into the province's GAA reserves is something Ken McNamara knows a lot about.
In his role as a community rugby officer for Munster Rugby, McNamara works in primary and secondary schools in Limerick city which don't have an established rugby pedigree.
Some of those schools, such as Mungret College or Thomond Community College, are relatively new schools of the city suburbs, packed with teenagers who either play in local rugby clubs, or may be from GAA or soccer backgrounds.
Numbers are limited in what are called the "Emerging Schools", but the talent is there.
"A lot of them are playing in GAA shorts," McNamara jokes, but there's no joking about their potential.
"You will see some talent though. They just naturally can run, swerve and evade, and you might get growth spurts.
"We're widening the net. We're trying to make sure nothing slips through."
Sunday's result for Munster against Wasps also came as a source of pride for McNamara, who coached another of their debutants Daniel Okeke, who impressed at number eight.
"He came back one summer, and I said 'Jesus…'. Do you know when you don't see someone from March or April until the summer? I though he was a different man altogether."
Incredibly, the 19-year-old's appearance on Sunday made him the first Limerick forward to debut for the province in eight years, a run of 221 games since Alan Cotter and Ger Slattery made their own debuts in 2013.
Okeke, who grew up in the shadows of Thomond Park on the Old Cratloe Road, had been well-known on the Limerick rugby scene ever since he pulled off some highlight-reel tries as a schoolboy.
The winner of February's Munster Moment of the Month is Daniel Okeke's fantastic try for @ArdscoilRisLimk in the Clayton Hotels Munster Schools Senior Cup! #MunsterStartsHere pic.twitter.com/JDYHN1RDyI

— Munster Rugby (@Munsterrugby) March 14, 2019
And while he attended Ardscoil Rís - the same school that produced Paul O'Connell, Dave Kilcoyne and Craig Casey - he first came through the ranks of Thomond RFC, following in the footsteps of team-mate Keith Earls.
"That slipped under the radar," says McNamara.
"The fact that there were two from Thomond's underage set-up playing a Heineken Cup game. It's great to see that all clubs can produce. Ennis had three, which is great. Clubs like us can produce to go on and play with Munster."
While Limerick is a rugby city, Thomond have often felt the squeeze from other clubs in the region. Currently outside the All-Ireland League, they're competing with the comparable galacticos of Shannon on the north side of the city.
As luck would have it, Okeke's friends played their rugby in Thomond, so that's where he went.
"He wasn't outstanding when he was younger," added McNamara.
"He got a spurt when he was about 14. You would have expected him to be really dominant, but it wasn't until he turned around 14 or 15 that he really started to become explosive.
"He came back one summer, and I said 'Jesus…'. Do you know when you don't see someone from March or April until the summer? I though he was a different man altogether.
"He's always been a really good trainer. I started coaching him from about 15 and 16, and even if he was playing with the school he'd always try get back to Thomond if he was around for games. Natural talent can get you along, but Dan has a good attitude for training.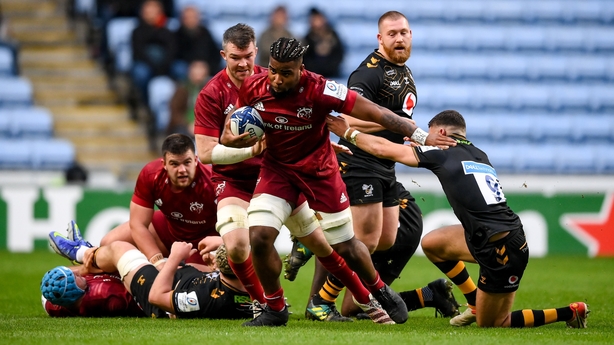 "That try he got with Ardscoil put him into a different stratosphere. When that happened, he was a handful. He's a good size, but what he has naturally is great footwork. He always had it.
"He's not a massive man, but in training his footwork always got him away from players, and his explosiveness over four or five yards."
Having only stepped up to year one of the academy this summer, the senior debut came earlier than expected for Okeke, but for second row Eoin O'Connor it had been on the horizon.
The 21-year-old is in year three of his apprenticeship, and is heading into the crucial months that will decide his future.
O'Connor is another who has come to Munster via club rather than school, progressing through the east Munster representative system, from Waterpark RFC in Waterford.
"The sense of pride when I saw the team named," said his former coach Tommy Bowe, who coincidentally is a cousin of the former Ireland international of the same name.
"I knew beforehand (that he would be playing), he told me to look out for the team announcement, even though he couldn't tell me' yes or no' that he'd be playing.
"The game against Wasps was a perfect storm and meant the young fellas who would have been bled into the team over a long period of time were put in and able to showcase their skills.
"That pathway has always been there, it always has. It was highlighted by the good luck at the weekend with those lads going in."
O'Connor grew up in a hurling family, his grandfather Philly Grimes winning an All-Ireland title with the Déise in 1959, but started playing rugby at an early age, where Bowe coached him until his mid-teens.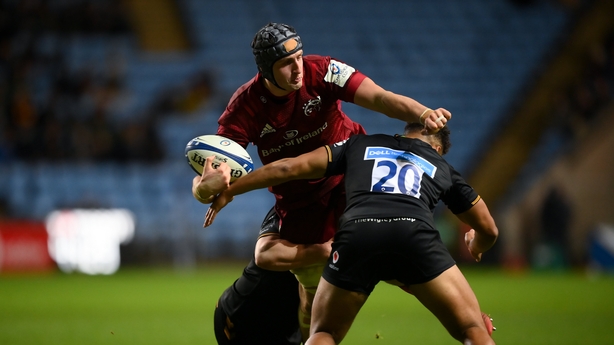 His path to a Munster debut came through the east Munster underage sides, nominated for trials at U16 level, before he and two of his teammates Harry Jephson and Ben Daly - both of whom have played AIL rugby with UCC and Navan respectively this season - progressed to Munster U18.
"Eoin was always tall, but was never a young fella that you'd have said would play for Munster or Ireland," says Bowe, honestly.
"I couldn't tell you that he jumped out at any stage, it was gradual.
"You'd always have him on the teamsheet, but there was never a dawning moment. For where he is today, he worked damn hard to get there.
"There's a phenomenal sense of pride there."
Part of the reason it wasn't expected that he would go on to play for Munster is because you rarely assume someone will go on to play for Munster.
In recent years though, Waterpark's influence on rugby in the province is growing, despite being overpowered by the Cork and Limerick heavyweight clubs and schools.
Jack O'Donoghue is their big export, a former Ireland U20 captain who has also skippered the province in recent seasons, while Thomas Ahern payed briefly for Waterpark in his teenage years, having moved from Dungarvan.
"For those kids to be watching a Heineken Cup game last week and to see those guys who gave up their own time to give kids some direction, if it's not inspiration, I don't know what is."
For a club outside of the Cork-Limerick rugby bubble, the visibility of having local men playing for the province can't be overstated.
"The young fellas are able to associate with the players, and they see that if one of their own has got there, they might be able to get there," Bowe adds.
"They're very good to Waterpark. If we want them to come down to us, in particular Jack. He would have come down before Covid giving out medals.
"In the blink of an eye they come down. It's little things like that, for them to appear at the club every now and then. For them to even stand on the sideline is great, they're accessible for the kids.
"They give back, and the kids know it's not a pipe dream. It's not 15 fellas on the telly that I can never be.
"They can associate with someone on the team. You can go into the clubhouse and see his picture on the wall, from different teams over the years."
Back in Ennis, the accessibility and visibility of local players in the local clubs is echoed by Dermot Hallahan.
While the nature of professional rugby means that the Ennis trio, Okeke and O'Connor have all had to leave their junior teams for larger clubs in Limerick, they do so with their home team's blessing. It's a rite of passage, and they generally remember their roots.
"Giving the example of Tony (Butler) and Conor Moloney, they were asked to go and do a session with our U13s only about six weeks ago," says Hallahan.
"For those kids to be watching a Heineken Cup game last week and to see those guys who gave up their own time to give kids some direction, if it's not inspiration, I don't know what is."
Listen to the RTÉ Rugby podcast on Apple Podcasts, Soundcloud, Spotify or wherever you get your podcasts.
Follow Munster v Castres (Saturday 8pm) and Leicester v Connacht (Sunday 1pm) via our live blogs on rte.ie/sport or on the RTÉ News App.
Listen to live radio coverage Munster v Castres on RTÉ Radio 1.