If you want to see how watertight your gameplan is, The Sportsground in Galway is as good a place as any to test it.
Ideally you'd do it between Halloween and Easter, when the clocks have gone back and you're more likely to get that rain blowing straight down the guts of the pitch, moving from post to post before it hits the ground.
Last Friday was one of those nights in Galway, as the Ospreys came to town.
Having run Ulster off the pitch in the second half of their interpro in October, the pressure was on to see if Connacht could do it again after a five-week lay-off.
On that night against Ulster, the game was played in relatively mild weather - even for late October - while the fast, flat track of the Aviva Stadium was always likely to suit their style of rugby.
Connacht's home form has been scattered in the last year, winning just three of eight on their own patch last season, before a disappointing loss against the Dragons earlier this campaign.
But on Friday night they showed their fast-paced style can thrive - and not just survive - in whatever conditions the Sportsground throws at them.
Seven tries, and each of them coming from the backline, summed up a performance of outstanding, running rugby, on a night more associated with traditional up-the-jumper tactics.
For Connacht loose-forward Eoghan Masterson, the performance showed their attacking philosophy.
"In fairness to Pete Wilkins (senior coach) he's been leading the attack and obviously we want to play a pragmatic game but if we can run from anywhere, we'll run from anywhere, and if not we'll kick then," he says.
"And I think you saw that on Friday night, the lads saw the opportunity to run and executed first time of asking, and managed to score.
"Mack's (Hansen) try straight from a kick-off, we had a couple of gos, Jack (Carty) put a kick up, really good kick-chase by Mack, got a good run of pressure there, Ospreys gave us the ball back and we went multi-phase down the pitch and scored after two minutes.
"I think that's a perfect example of what we're trying to do, have a go when it's on, when it slows down a little bit we'll try to pressure them with our kicking game and then if we get the ball back again we'll repeat that process.
"I thought there were aspects of the game definitely to work on, some of our handling obviously with the conditions let us down in the second half, we maybe coughed up the ball a little too easily, but I think you saw glimpses of what we're trying to build."
Ask the barman!@BernardJackman on the story of how Andy Friend recruited Mack Hansen who has shone since arriving at Connacht #AgainstTheHead #RTERugby pic.twitter.com/TlRjuT9Au9

— RTÉ Rugby (@RTErugby) November 29, 2021
As Masterson explains, the strategy isn't just to run the legs off the opposition, or to throw darts at a board and hope one hits.
Friday's performance showed off one key element of their "fast, relentless, adaptable" philosophy.
"One of the things the coaches say to us is to be adaptable and maybe that's a get-out-of-jail card for them. We want this rugby identity of being fast and relentless but you have to be adaptable," the Portlaoise native explains.
"You could be a bit naïve trying to run from our 22 for the whole first-half and running up our backside, you'd run into a bit of trouble.
"You see Jack (Carty) trying to put the ball in the air and it blew back over his head a few times. I think it's just being smart.
"You might have to run a little bit before getting to a certain mark before you put a low kick in on the ground. I think that adaptability is very important, especially in the Sportsground."
We've seen how the Connacht gameplan holds up to the elements, but this weekend will be a test of how it holds up to the opposition.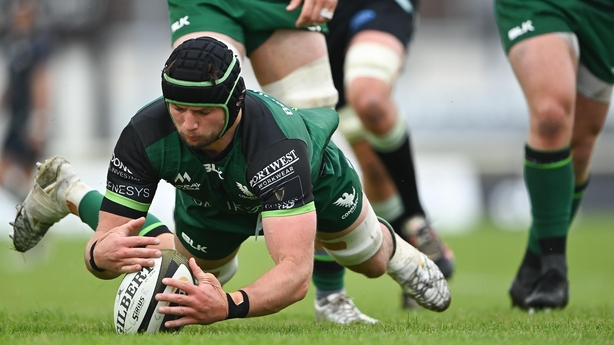 Masterson (above) and his team-mates will be taking on what Ulster head coach Dan McFarland described as "the ultimate test" of Leinster at the RDS, while Connacht will be without some of their big hitters like Bundee Aki and Tom Daly, who remain sidelined with knee injuries.
On top of that, they'll be catching the defending champions on the rare occasion where they're recovering from a disappointing defeat, having been second-best in their defeat to Ulster on Saturday.
"Yeah, I think from the outside looking in, as a neutral, it should be a cracking game," Masterson says.
"We looked at Leinster's statistics this year, number one for tries, number one for line breaks, number one for points scored and run metres so we're well aware of the challenge that's in front of us and we're trying ourselves to be an attacking team that leads the way for line breaks and for tries scored and is an exciting team to watch as well.
"So I suppose from a neutral point of view hopefully it will be a good game and we can apply stuff that we're working on and getting better at, and we can use to our advantage."
From a personal point of view, it allows Masterson to challenge himself against the very best around.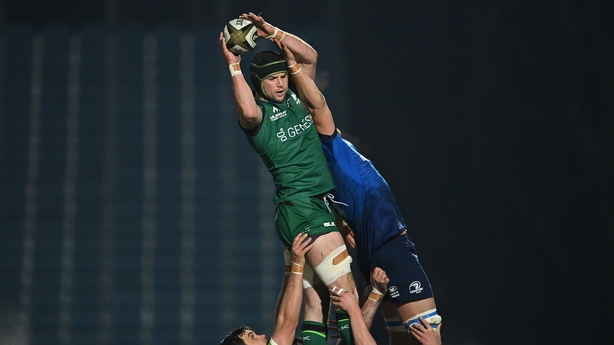 The Laois man played Under-20 rugby for Ireland as well as Scotland, having qualified through his Scottish-born father, and while his last international taste was in 2015 for Emerging Ireland, he still believes he can make a breakthrough.
"I'm 28 now but I still have Ireland ambitions.
"Obviously, I have massive respect for anyone who is playing in that Irish jersey and in that Irish back row. In the past maybe I focused on setting a goal for the season of getting an Ireland cap and if I didn't get it, then your season is a failure.
"I've kind of moved past that a bit, just controlling what I can control and try to be the best version of myself. If it happens that I'm called into an Irish camp, well then that's absolutely brilliant, but I suppose I don't let my seasons be dictated whether or not I'm in Irish camp or not.
"Leinster have unbelievable strength in depth across the back row, no matter who they play there they have serious players. You can name seven or eight guys who are absolutely top quality there so I've nothing but respect for what those guys are doing.
"I can't wait to hopefully get a run-around against them on Friday night. It's going to be a great game."