Nobody has ever looked happier to be on post-match media duty than Adam Byrne was on Saturday.
After ending his 21 month injury absence with a brace of tries in Leinster's 43-7 win against Zebre on Saturday, the wing grinned from ear to ear as he took his place in front of the online gaggle of journalists.
Such was his smile, had Leo Cullen asked him to clean out the toilets behind the Anglesea Stand, the 27-year-old probably would have whistled 'Don't Stop Me Now' as he grabbed his rubber gloves and bucket.
Byrne spent 13 minutes fielding questions about his wonderful afternoon, as well as the 21 months of hell that preceded it, but his first three words perfectly summed up his emotions.
"I feel great," he declared, as if it wasn't obvious by his grin.
His tries came either side of half time, Leinster's third and sixth of the day, with both laid on by Johnny Sexton.
For the first of those scores, the out-half zipped a skip pass out to the right wing, which Byrne had touched down before he had a chance to process the moment.
Ten minutes later, Byrne hugged the touchline nervously as Sexton's crossfield kick sailed slowly into his chest.
"I definitely owe him a couple of pints!" he laughed.
"For the second one, the kick, I was twitching.
"It felt like it was in the air for ages, and then I was trying to get it close for him for the kick, but I was just happy to dot it down."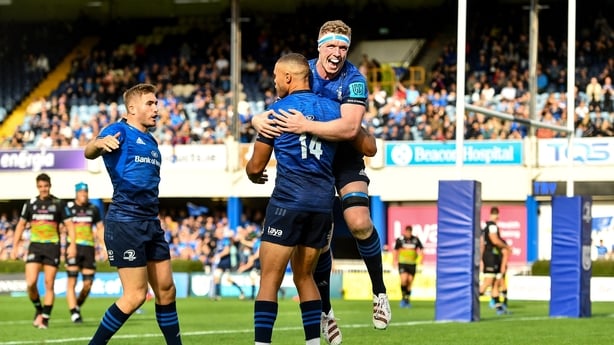 Even without those two scores, being out on the pitch again was special, Byrne says.
His last outing in a blue shirt came against Munster in December 2019, with a major hamstring injury sidelining him for more than a year, before an issue with his quad required surgery last February.
After such a long layoff, he was determined to enjoy his return, whether or not his name was on the scoresheet.
"It was a big moment for me personally, and my family, and I think the guys during the week made it special for me. It felt like a first cap again.
I couldn't even feel my legs there was that much adrenaline going through me
"I really took it in and enjoyed every moment of it, and I enjoyed the whole day, the whole build-up and the match as well.
"It was really nice personally to get a try coming back, but just to put on the boots, get out there for the warm-up, running out and seeing the Leinster supporters cheering your name and cheering you on.
"I couldn't even feel my legs there was that much adrenaline going through me.
"I loved it," he added.
With 10,400 in attendance at the RDS, it provided a daunting perspective on his absence that he never would have played in front of an empty stadium during the Covid-19 pandemic.
It meant his family and friends were able to share his day with him, a moment that was captured by the cameras after the full-time whistle.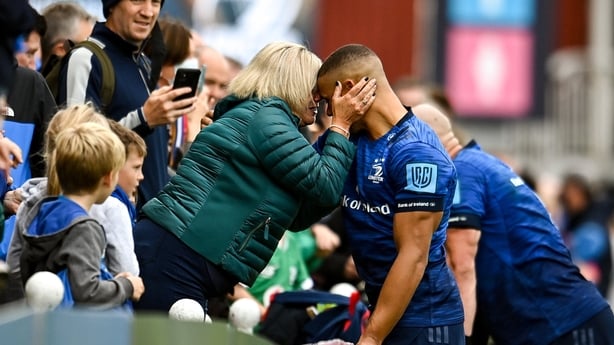 "Yeah they were a few of my childhood friends from Kill," he said.
"I saw in the WhatsApp group on Friday that they had bought a bunch of tickets to come to the game, so that was great.
"I found my family then on the far side as well. So yeah, I guess that moment was for them and I think they enjoyed it as much as I did, probably more. So that meant a lot to me."
On a number of occasions, Byrne pointed out the support of family and friends during his road back to rugby, which helped him put a positive spin on the bad days.
"But when I reflect on it now, I've taken stuff from it.
"At the time it was hard, I tried to just flip my mindset and take it as a challenge and opportunity to work on different things, and it's only when I reflect on it now I take a lot of things from it.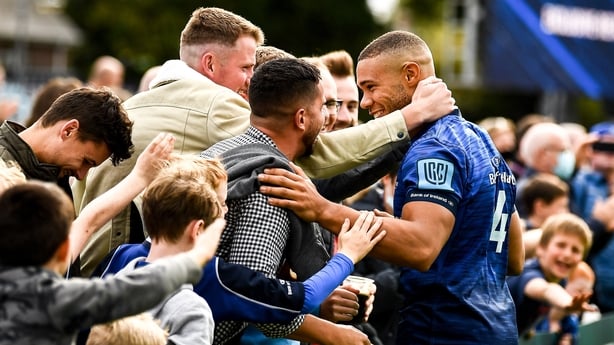 "My family and my close friends, how much they mean to me, and I probably took it a little bit for granted when you're playing every week. It's only when I look back now, having them there for me meant everything.
"I tried to keep a positive outlook throughout the whole thing. I gave myself a couple of days for each injury to feel s**t and then I moved on, try to flip it and take it as a challenge.
"I think whatever - not just in rugby - it'll definitely stand to me in life. Resilience, moving forward. My family and friends meant a huge amount to me during that time."
It's almost four years since the former Ireland 7s international made his Test debut, winning his sole cap in a 2017 win against Argentina at the Aviva Stadium.
And while time is certainly on his side to add further international appearances to his career, he says he's content to let the big picture take care of itself.
For now, he's just happy to play again.
"The short term is just pretty simple; I just want to get back playing, training well, and then any opportunity I get I just want to take it.
"It's only when it's taken away I realise how much it means to me. The short term is very much just get back playing, train well, get my confidence up, and with the long term I've gone away from setting specific goals.
"I know the standard I want to set for myself. Wherever that brings me I'll be happy with that.
"I just want to get back out there and show the best of myself."