Graham Rowntree calls it 'Test Match Tuesday'.
Far enough away from last weekend's game so that the pain has subsided, and far enough away from next weekend's game so the damage isn't lasting, the Munster forwards go at it "hammer and tongs", according to Dave Kilcoyne.
Live scrummaging, the only way to learn the craft.
"You're waking up Tuesday morning dreading the sessions, but it really gets the best out of us.
"It builds that contact and scrummaging fitness that you need at this level," he tells the media from Munster's High Performance Centre in Limerick.
Rowntree may have christened it 'Test Match Tuesday', but a version of it always existed.
It's how Kilcoyne went from a boy to a man in his early Munster days. Lessons are soon learned when you pack down opposite BJ Botha.
"We used have big battles over the years and I learned more off that than I did for any," he says, when asked about his current role in the team as one of the experienced front-rows.
"You could tell fellas all you want but until you're actually thrown into the lion's den, it's sink or swim.
"I remember scrummaging against him (BJ Botha) a few times and you're coming home with a battered neck from Cork and you're questioning yourself, but he scrummaged a particular way and I had to come to terms with that and learn how to cope with it. That was the best lesson I ever learned."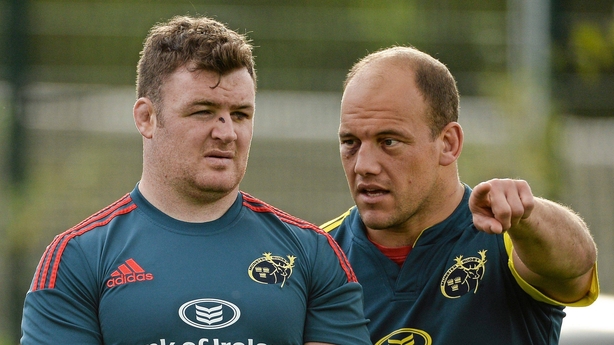 As Stephen Archer and John Ryan advance in years, Munster's two young tightheads Keynan Knox and Roman Salanoa will be looking at this campaign as an important one in their development, building the minutes and games and scrummaging nous that only comes with hands-on experience.
While Salanoa is currently injured, Knox was a second-half replacement for Ryan during the opening United Rugby Championship win against the Cell C Sharks last Saturday.
The South Africa-born 22-year-old moved to Ireland straight out of school to the Munster academy, before advancing to a senior deal in 2020.
Ten years his senior and the man who will pack down opposite him on a daily basis in UL, Kilcoyne knows the role he can play in Knox's development, and it doesn't involve pep-talks or a pat on the shoulder.
He said: "You try pass it on, when I broke in I remember it was Marcus Horan - who would have been my cousin - you had Wian du Preez, Darragh Hurley, Dave Ryan, everyone wants to be playing number one like.
"You try and help the squad, but the best help you can give him (Keynan Knox) is as many physical scrummaging sessions as you can.
"The sky is the limit for him, potential-wise. When you have a forwards coach like Graham Rowntree, getting that world class coaching at such a young age, he's probably been working with Keynan now for two or three years.
"To have that hands-on as a young tighthead, he's always doing extras with him. I see him, Keynan (below) is very diligent with his own training, he's a freak in the gym and it's always good for your tighthead to be that strong."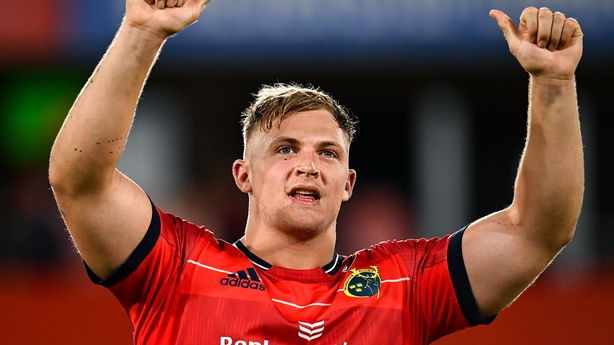 Despite all the talk about succession plans and mentoring, 'Killer' has no intention of slowing down.
A relatively late developer - he joined Munster's academy at 21, before making his senior debut just after his 23rd birthday - the Limerick man has crammed a lot of rugby into the last 10 years.
Should he feature in this Saturday's URC meeting with the DHL Stormers at Thomond Park (live on RTÉ2 and RTÉ Player), it'll be his 193rd appearance for the province. Should he avoid injury, there's every chance he'll become the 12th member of Munster's '200 club' this season.
Turning 33 this December, it wouldn't be disrespectful to suggest his career is winding down. But Kilcoyne smiles as he says he has ambitions far beyond Munster's '200 club'.
"If I get to hit that number, which I'm sure I will, I'll be delighted.
"But I've always said I want to play until I'm 40, that's been one of my goals, so I'll be looking at that 300 number!," he says confidently.
In terms of Test rugby, he's currently five caps short of his half-century for Ireland.
When fit, he's been a consistent presence in Andy Farrell's matchday 23 in recent seasons, although it remains to be seen what now happens given the musical chairs at the RDS.
We need your consent to load this YouTube contentWe use YouTube to manage extra content that can set cookies on your device and collect data about your activity. Please review their details and accept them to load the content.Manage Preferences
With Leinster pulling the old switcheroo on Andrew Porter and Cian Healy, the impact that has on Kilcoyne's place in the Ireland team will be interesting.
The Munster man was tight-lipped when asked for his thoughts on the swap, remarking only that a switch to tighthead won't be on the cards for him, before joking that he'd be better suited to openside flanker.
At least I think he was joking.
---
MUNSTER COACH LARKHAM PRAISES 'NATURAL LEADER' CASEY
---
One of the big questions facing Munster this season surrounds Kilcoyne and his front-row colleagues.
While the province's scrum has been a reliable source of ball in the last couple of years, many analysts pointed to the overall size, and depth of power available to Munster around the pitch.
Kilcoyne has always been a big ball carrier, but the departure of James Cronin does appear to have left them light of front row enforcers around the pitch.
It's not an assessment Kilcoyne agrees with.
"I think there's a very strong group there, you can always get batter as a player, get better as a squad," he said.
"We've an incredible forwards coach in Graham Rowntree who pushes us every day.
"He's done it all as a player and coach, club, international and Lions.
"And for the front rows to have hands-on work with him, young looseheads, young tightheads, he's been incredible for me. I find his energy and his knowledge of the game is incredible, he's been brilliant for us."