The Australian government has cancelled Novak Djokovic's visa for a second time, with immigration minister Alex Hawke saying he "carefully considered" all information before arriving at the decision.
The Serbian star's legal team have started the process of appealing the ruling, which comes just three days before the start of the Australian Open.
The hearing will be heard by the Federal Court on Sunday morning.
The world number one had been waiting since a judge overturned the original verdict on Monday to find out whether Hawke would use his powers to reimpose the penalty.
Just before 6pm (7am Irish time) on Friday, the immigration minister released a statement saying he had made the judgement to send Djokovic home "on health and good order grounds".
A court hearing in front of Judge Anthony Kelly, who overturned the original cancellation, was quickly convened, where Djokovic's legal team revealed they would seek the same outcome as the first hearing.
The reigning Australian Open champion will be detained on Saturday, following questioning by government officials in the morning.
Although the reasons for Hawke's decision have not yet been published, Djokovic's lawyer Nick Wood revealed the central tenet was not the legality of the exemption, his threat to public health or concerns over his conduct but the potential for "exciting anti-vax sentiment" on the basis of two statements he made in 2020, and the effect on public order.
Wood described those conclusions as seeming "patently irrational".
We need your consent to load this rte-player contentWe use rte-player to manage extra content that can set cookies on your device and collect data about your activity. Please review their details and accept them to load the content.Manage Preferences
A Sunday hearing means a decision will be made ahead of Djokovic's scheduled first-round match at the Australian Open on Monday.
Wood said: "We are where we are because of the time the minister has taken. We are moving as fast as we can."
Hawke will not push for Djokovic to be deported until proceedings come to an end or are transferred to a different court.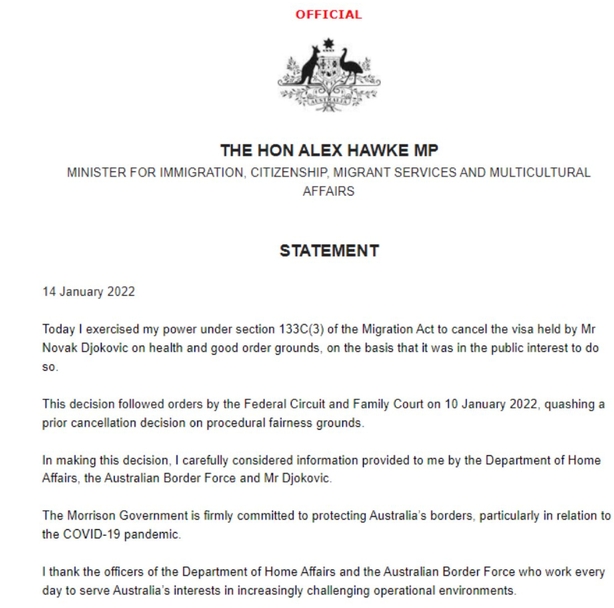 In a statement announcing his decision, Hawke said: "Today I exercised my power under section 133C(3) of the Migration Act to cancel the visa held by Mr Novak Djokovic on health and good order grounds, on the basis that it was in the public interest to do so.
"This decision followed orders by the Federal Circuit and Family Court on 10 January 2022, quashing a prior cancellation decision on procedural fairness grounds.
"In making this decision, I carefully considered information provided to me by the Department of Home Affairs, the Australian Border Force and Mr Djokovic.
"The Morrison Government is firmly committed to protecting Australia's borders, particularly in relation to the Covid-19 pandemic."
Djokovic arrived in Melbourne on 5 January having been granted an exemption through Tennis Australia from the country's strict entry rules regarding Covid-19 vaccination on the grounds that he had been recently infected with the virus.
But he was stopped by the Australian Border Force and questioned through the night before being informed that his visa had been cancelled. He was then taken to a detention hotel.
Djokovic appealed against the decision and five days later a judge ruled in his favour, seemingly freeing him up to play in the Australian Open.
The world number one has now also challenged the latest decision to deny him a visa but if he is not successful, his hopes of winning a 10th title at Melbourne Park and 21st grand slam title are at an end.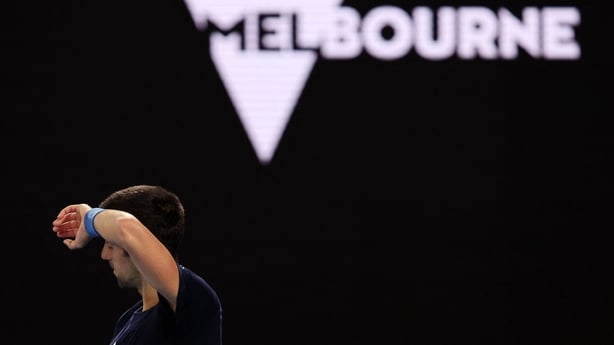 Djokovic headed straight to Melbourne Park after leaving the hotel on Monday and has practised every day since, including early on Friday morning, but his hopes of staying in the country have faded as the week has gone on following revelations about his conduct.
Documents indicate Djokovic tested positive in Serbia on 16 December but he was photographed at events on the following two days and issued a statement earlier this week admitting he took part in an interview with French newspaper L'Equipe at his tennis centre in Belgrade despite believing he had the virus.
He also admitted his declaration form falsely claimed he had not travelled in the 14 days prior to his trip to Australia, which he attributed to a mistake from his agent.
Following Djokovic's detention, two other people – Czech player Renata Voracova and an official – who had entered the country with the same exemption were also informed that it was not valid and both left Australia without challenging the ruling.
Djokovic's name remained in the draw for the tournament and it is likely to stay that way until it becomes clear whether he is leaving the country or not.
The 34-year-old avoided a return to his detention hotel on Friday, but that fate lies in store for him on Saturday after he is interviewed by immigration officials.
A directions hearing – where orders are made about what should happen next in a case – took place before Judge Kelly, who heard Djokovic's original case, took place later on Friday.
Lawyers acting for the Australian government have agreed that Djokovic will not face deportation until proceedings conclude.
On the matter of Djokovic's detention on Saturday, Nick Wood, acting on behalf of the player, said he feared that would create a further "media circus".
Additional reporting: Reuters