World number one Novak Djokovic has insisted that he is ready to compete in the Australian Open, after being released from Australian immigration detention.
Judge Anthony Kelly quashed his visa cancellation and ordered the Australian government to pay legal costs and release Djokovic from detention within half an hour.
But government counsel Christopher Tran notified the court that the Minister for Immigration, Alex Hawke – not the minister who made the original visa cancellation – will now consider whether to exercise a personal power of cancellation of Djokovic's visa.
After confirming that such a step, if taken, would bar 34-year-old Djokovic from the country for three years, Kelly warned the government lawyers that "the stakes have now risen, rather than receded."
A spokesperson for Minister Hawke said: "Following today's Federal Circuit and Family Court determination on a procedural ground, it remains within Immigration Minister Hawke's discretion to consider cancelling Mr Djokovic's visa under his personal power of cancellation within section 133C(3) of the Migration Act.
"The Minister is currently considering the matter and the process remains ongoing."
We need your consent to load this rte-player contentWe use rte-player to manage extra content that can set cookies on your device and collect data about your activity. Please review their details and accept them to load the content.Manage Preferences
The process could drag on for a number of days.
For the meantime, Djokovic is free to move about in Australia and quickly took to social media, posting a picture of himself standing on court at Rod Laver Arena.
Djokovic thanks his supporters for their backing, reiterating his determination to stay in the country and play at the Australian Open.
"I'm pleased and grateful that the Judge overturned my visa cancellation. Despite all that has happened, I want to stay and try to compete @AustralianOpen. I remain focused on that," Djokovic said on Twitter.
"I flew here to play at one of the most important events we have in front of the amazing fans.
"For now I cannot say more but THANK YOU all for standing with me through all this and encouraging me to stay strong."
I'm pleased and grateful that the Judge overturned my visa cancellation. Despite all that has happened,I want to stay and try to compete @AustralianOpen
I remain focused on that. I flew here to play at one of the most important events we have in front of the amazing fans. 👇 pic.twitter.com/iJVbMfQ037

— Novak Djokovic (@DjokerNole) January 10, 2022
At a press conference staged by the family, Djokovic's mother Dijana described his successful appeal as "the biggest win of his career - bigger than any of the grand slams he has won".
Djokovic's brother Djordje added: "Novak is free - a few moments ago he trained on a tennis court.
"He went to Australia to play tennis, to try to win another Australian Open and to win a record that he has been chasing for so many years.
"Novak is an athlete, he is the best tennis player of all time. Everything he supports in his life is to live up to his principles and ideals.
"He has been branded in different ways for many years but he has always supported freedom of choice, and that's all, nothing else."
Djokovic's father Srdjan added: "The game that has been played over the past five or six days has been incredibly difficult for him and his family.
"He was met at the airport and they took away all the rights he had as a human being.
"They attempted to persuade him to sign that he was revoking his visa so that he could be sent back to Serbia - he refused to sign that document because there was no reason for it.
"They gave him no right to communicate with his lawyers, his team, his friends. They even took away his phone.
"I think this is a huge win for Novak and for his family and the whole free world. We're all human beings and we have the right to say what we think and not to suffer consequences for expressing an opinion."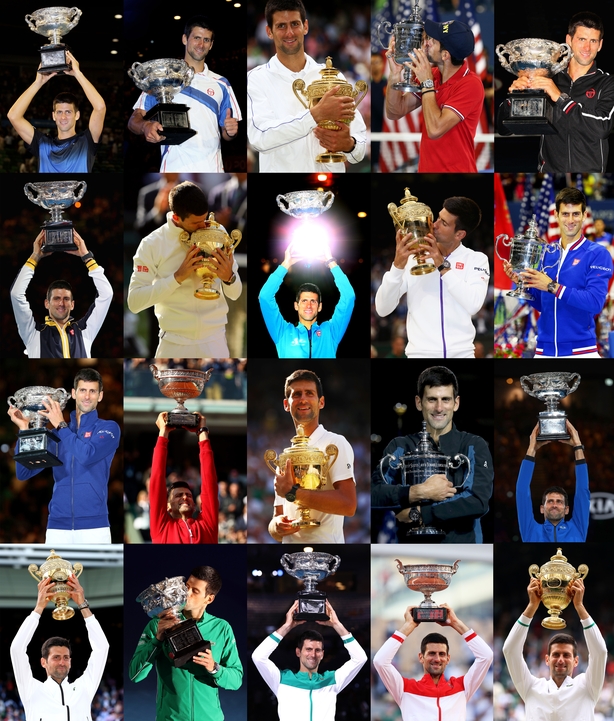 Djokovic's lawyer, Nicholas Wood, had argued the notice of intention to cancel his visa was defective because it was made on "a confusing blend of two grounds".
He also argued that Djokovic was treated at the airport as if access to lawyers "couldn't possibly" be of assistance in the matter and was not given a reasonable chance to respond to the notice.
Tran will argue Djokovic did respond to the notice.
At a press conference, Australia's Prime Minister Scott Morrison was asked by a reporter to respond to comments from Tennis Australia chief executive Craig Tiley stating he was given conflicting government advice on medical exemptions.
Morrison said: "Well, the matter is before the court so I can't comment on the matter before the court … but in relation to the government, our government, the federal government's advice to Tennis Australia, that was set out very clearly in November, as I read the extract from this very podium, it could not be more clear."
It was revealed in court documents submitted by Djokovic's lawyers that the player had been infected with Covid-19 in December 2021. The documents said the infection was the basis of Djokovic's medical exemption.
The documents also noted that Djokovic expressed "shock", "surprise, and "confusion" when he was notified of his visa cancellation "given that (as he understood it) he had done everything he was required to enter Australia".
But Australia's Home Affairs Department filed court documents in which it stated "there is no such thing as an assurance of entry by a non-citizen into Australia" and noted that the minister has the power to cancel Djokovic's visa a second time if the court rules in his favour.
"As the court raised with the parties at a previous mention, if this court were to make orders in the applicant's favour, it would then be for the respondent to administer the act in accordance with law. That may involve the delegate deciding whether to make another cancellation decision, but there are also other powers in the act, as the court would be aware."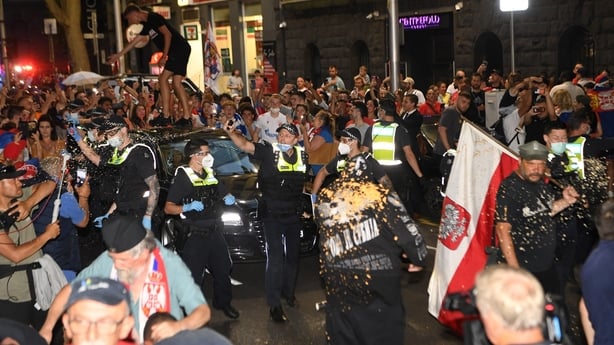 Police used pepper spray to disperse Djokovic supporters who surrounded a car believed to be transporting the player from his legal representative's office after the court battle, with extra officers deployed to the scene.