Rafael Nadal looks to be peaking at the right time after brushing aside Fabio Fognini to reach the quarter-finals of the Australian Open.
The second seed came into the tournament with serious concerns over a back problem but revealed after beating Britain's Cameron Norrie in the third round that it had finally started to improve.
Fognini came from two sets down to beat Nadal at the US Open in 2015 but, after failing to convert a lead in the second set, he swiftly succumbed to a 6-3 6-4 6-2 defeat.
Nadal, who is bidding to win a record 21st grand slam title, has not dropped a set at a slam since losing in the quarter-finals in Melbourne last year to Dominic Thiem.
He said: "The first set without a doubt has been my best level in the tournament. It's normal, too, because I was able to practise for two days in a row. That makes an important difference.
"But, at the same time, it's important to find positive feelings now. My physical condition needs to keep improving. But I think this match helps, too."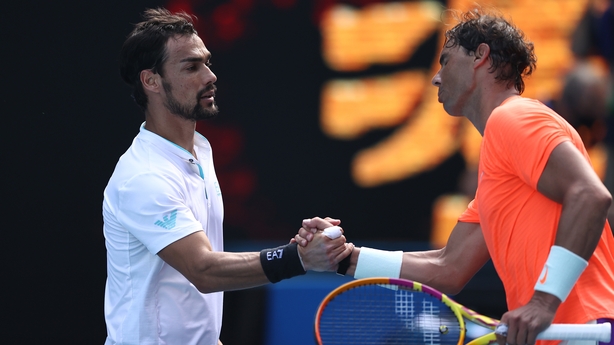 The crunch moments of the match came in the second set, where Fognini led 4-2 and had three chances to make it 5-3 only for Nadal to reel off four games in a row.
The Spaniard next faces fifth seed Stefanos Tsitsipas, who reached the last eight without taking to the court after opponent Matteo Berrettini withdrew because of the abdominal injury he suffered in his third-round win over Karen Khachanov.
Nadal has won six of his previous seven meetings with Tsitsipas, including brutally in Melbourne two years ago, and he is excited for the clash.
He said: "Things in sports change quick. Sometimes you feel that you are so-so, then you win a couple of matches and then you feel the best possible.
"I was able to win the four matches already here, so now I'm going to have a very tough opponent in front. I need to play my best. Let's see if I am able to do it.
"I'm excited about playing that quarter-finals match. If we compare how I was five days ago and how I am in today's situation, it's different, and my perspective and excitement is completely different, too."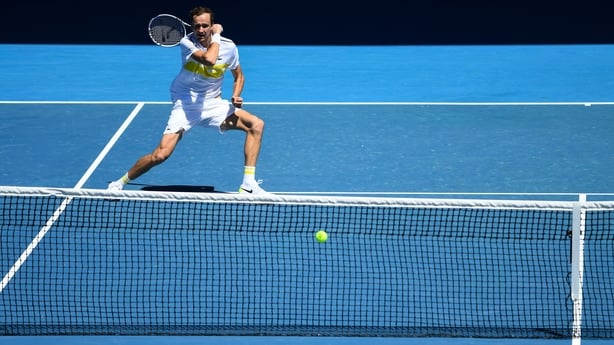 Daniil Medvedev is confident his double-quick win over world number 192 Mackenzie McDonald will prove a boon for his quest to claim a first grand slam title at the Australian Open in Melbourne this week.
The fourth-seeded Russian needed just one hour and 29 minutes to progress to the quarter finals with a 6-4 6-2 6-3 win, ending McDonald's remarkable run less than two years after a career-threatening hamstring injury.
McDonald simply had no answer to the power and precision of Medvedev, who has never previously reached the last eight in Melbourne but believes he has given himself the best possible opportunity.
Medvedev said in his on-court interview: "It was a great match - I was hitting the ball great, I was serving great and I finished in one-thirty which is important because in the late stages of a grand slam you want to make fast matches."
Medvedev's brief outing was all the more important as he was stretched to five sets by Filip Krajinovic in the previous round, when the Russian almost uncharacteristically blew a two-set lead.
Despite his often exhilarating shot choices, it was soon clear McDonald had little in his weaponry to trouble Medvedev, who double-broke for a 5-1 lead in the opening set before closing it out despite the gutsy American salvaging one break back.
Another double-break secured Medvedev the second set in less than an hour, and it was possibly the memory of Krajinovic's fightback that caused the Russian to show delight when a brilliant cross-court backhand broke McDonald in the seventh game of the third.
Another break wrapped up victory for Medvedev and a last eight meeting with either compatriot Andrey Rublev or compatriot Casper Ruud.