Denis Shapovalov has been fined $7,000 for his reckless actions in Great Britain's Davis Cup victory over Canada, the International Tennis Federation has announced.
The 17-year-old Canadian smashed a ball in anger during the third set of the deciding rubber against Kyle Edmund, hitting umpire Arnaud Gabas in the eye, and was immediately defaulted.
Shapovalov could have been fined up to a maximum of $12,000 on site by referee Brian Earley but the unintentional nature of the offence and his remorse will have been taken into account.
The ITF could take further action, imposing a larger fine or even a ban, but a spokesman for the governing body said no additional punishment is anticipated.
Gabas was taken to Ottawa General Hospital as a precaution but no damage to the cornea or retina was found. He will see his personal eye doctor in France on Tuesday for a further examination.
We need your consent to load this YouTube contentWe use YouTube to manage extra content that can set cookies on your device and collect data about your activity. Please review their details and accept them to load the content.Manage Preferences
WHEN SPORTS STARS AND OFFICIALS COLLIDE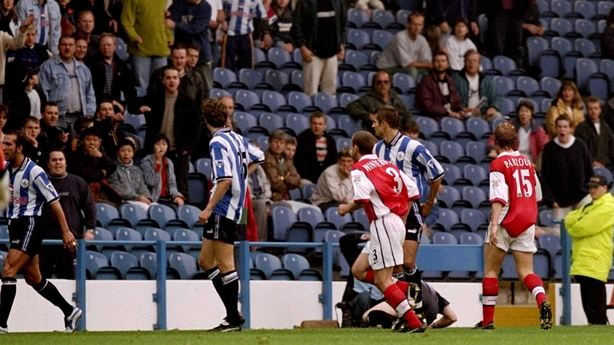 PAUL ALCOCK-PAOLO DI CANIO
Premier League referee Paul Alcock waded into an escalating situation when he stepped in to intervene as famously combustible Sheffield Wednesday star Di Canio became embroiled in a bust-up with Arsenal duo Martin Keown and Patrick Vieira in September 1998. The Italian pushed the official to the ground after being shown a red card and later accused him of going down too easily, in the process landing himself an 11-game ban and a £10,000 fine.
JOHN COYLE-MIKE TYSON
Referee John Coyle got more than he bargained for when he attempted to prevent challenger Lou Savarese from taking unnecessary punishment at the hands of former undisputed world heavyweight champion Tyson. Coyle was knocked to the canvas by Tyson as he tried to stop the fight in the first round at Hampden Park in June 2000.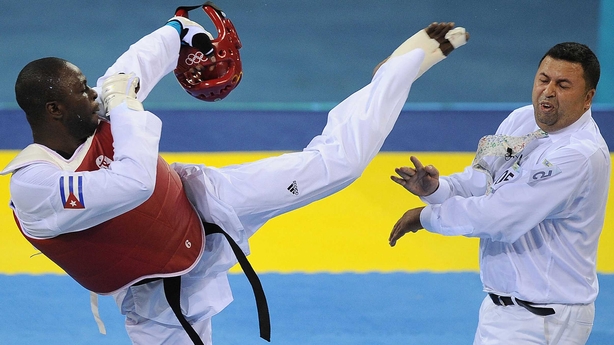 CHAKIR CHELBAT-ANGEL MATOS
Cuban taekwondo fighter Angel Matos was banned from the sport for life after kicking Swedish judge Chakir Chelbat in the head at the 2008 Olympic Games in Beijing. Matos was disqualified from the +80kg bronze medal bout and after a heated exchange on the mat, pushed the match referee and then kicked out at Chelbat before being dragged away.
MARIA BEATRICE BENVENUTI-BRUNO ANDRES DOGLIOLI
Argentinian rugby player Bruno Andres Doglioli was suspended by his club and earned himself a three-year ban when he inexplicably tackled referee Maria Beatrice Benvenuti, who was facing in the opposite direction, while playing for Vicenza against Valsugana in Italy in 2016. Benvenuti gave Doglioli a yellow card and completed the game, but was later treated in hospital for whiplash.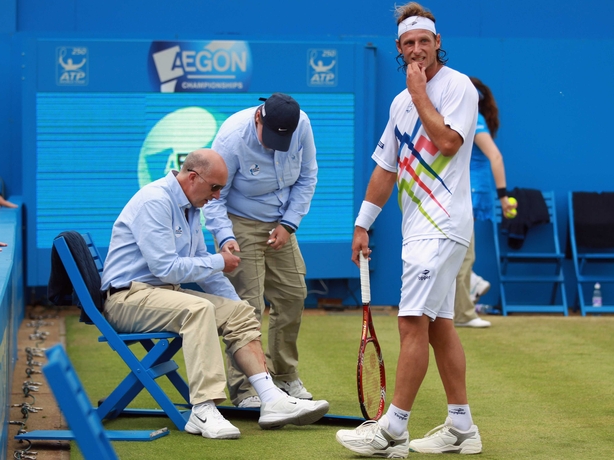 ANDREW McDOUGALL-DAVID NALBANDIAN
David Nalbandian's frustration got the better of him during the final of the 2012 Aegon Championships final at Queen's against Marin Cilic. The Argentinian kicked out at an advertising panel in front of line judge Andrew McDougall's seat, cutting the official's shin and landing himself a £6,400 fine and the loss of his £36,500 prize money.