Novak Djokovic made light work of his heavy schedule to reach the semi-finals of the French Open for the sixth year in a row.
Not even Rafael Nadal had done that but, while the Spaniard's trophy collection includes nine from Roland Garros, Djokovic is still searching for his first.
To change that, he will have to play five times in six days after the rain on Monday and Tuesday badly affected the top half of both the women's and men's draws.
But Djokovic should have plenty of energy left after easing past seventh seed Tomas Berdych 6-3 7-5 6-3.
The biggest danger of elimination for the world No.1 was self-inflicted.
After missing a break point early in the third set, Djokovic bounced his racket angrily on the ground and then looked round in horror as it flew towards the line judges. Fortunately for him, it landed harmlessly against the back fence.
David Nalbandian was famously disqualified during the final at Queen's Club in 2012 after kicking an advertising hoarding into a line judge's shin.
Djokovic was testy when discussing the subject, saying: "It's obvious what I tried to do. I threw a racket on the ground and it slipped and almost hit the line umpire. I was lucky there. That's all."
In the Rome Masters final last month, Djokovic did a similar thing and his racket bounced into the crowd.
The Serbian said: "I am aware that I have been lucky, and I apologised to people that have been in this particular situation with me and that could have been hurt by my racket.
"But it was never the intention. It was just an unfortunate bounce, but a fortunate ending of that scenario. That's all I can say."
Djokovic has not been at his best this tournament but from 3-3 in the first set against Berdych he found top gear.
The Czech, sporting adidas' zebra garb, might have found a pride of lions more forgiving than the world's top player as he reeled off seven straight games.
Berdych had lost 23 of his previous 25 matches against Djokovic, winning just two sets in the last 10, so the omens were not good.
He fought back to level the second set at 4-4 only to play a poor game and hand it to his opponent, who certainly did not need that kind of help.
Berdych broke in the opening game of the third set but Djokovic shrugged off his brush with disqualification to hit straight back.
"This is a circus, an absolute circus"
At 3-3, it was Berdych who was furious when Djokovic's protestations about the slipperiness of the court led to a brief rain delay.
"This is a circus, an absolute circus," Berdych protested to the tournament supervisor, with play on other courts continuing.
They were off for barely five minutes but Berdych failed to win a game on the resumption and Djokovic moved through to a 30th grand slam semi-final.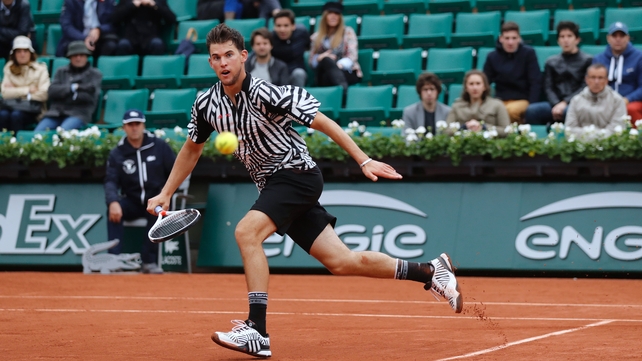 In the last four, Djokovic will play 13th seed Dominic Thiem, who cemented his status as tennis' coming man by beating David Goffin 4-6 7-6 (9/7) 6-4 6-1.
Only Djokovic has won more matches this year than 22-year-old Austrian Thiem (pictured).
Both Thiem and Goffin were playing in the quarter-finals at a slam for the first time, with the winner guaranteed a spot in the top 10 for the first time.
Twelfth seed Goffin recovered from 2-4 to win the first set and looked in control for much of the second.
He served for it and then had a set point in the tie-break but Thiem saved it after turning defence into attack quite brilliantly.
The Austrian had to come from behind again in the third set and, once he had taken that, Goffin's challenge rather evaporated as Thiem clinched victory after two hours and 51 minutes.