Andy Murray is ready to shoulder the pressure and carry Great Britain to a first Davis Cup title since 1936.
The world number two will take on Belgium's Ruben Bemelmans on Friday at Ghent's Flanders Expo after debutant Kyle Edmund has faced David Goffin.
Barring major upsets, the first day should end level at 1-1, leaving Murray the chance to clinch the tie with victories in the doubles with brother Jamie and then against Goffin in the reverse singles on Sunday.
Of the nine winning rubbers it has taken for Britain to reach the final, Murray has been involved in eight of them, and the Scot has made no secret of just how much he wants a title he surely never thought would be within his grasp.
Murray said: "I'm pumped. There's nerves there, obviously. That's really a positive thing. When I'm not nervous is normally when I worry a little bit. It's obviously a big opportunity for all of us.
"But I believe that we prepared as best we can. I trust everyone in the team from all of the staff to all of the players. Everyone's played a huge part in getting us here.
"I think everyone should be excited about the prospect of playing in a Davis Cup final. Hopefully we can play well and win at the end of the weekend.
"I'm happy to take as much pressure on my shoulders as is needed. I've been in that position a lot of times in my career. I think I will be able to deal with it okay."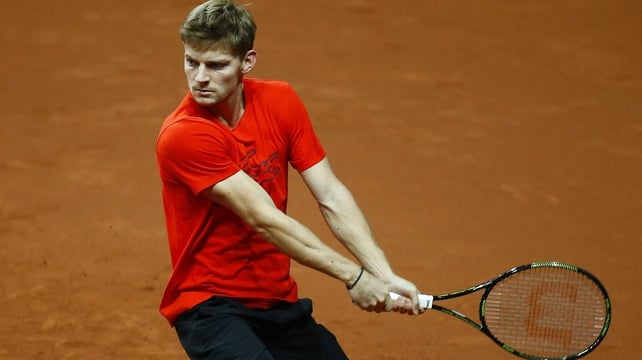 With singles players Edmund and James Ward both included in the team ahead of doubles specialist Dominic Inglot, Murray will have to play on all three days.
He admitted he found the quarter-final against France tough but that came straight after Wimbledon and, on paper anyway, the opposition was tougher.
Although this tie is away on clay, it is the final act of the season and Murray will undoubtedly give everything in an effort to lead the team to victory.
The 28-year-old has always loved playing in a team environment and was head cheerleader when Ward stunned American number one John Isner in the first round.
Murray has been a loyal supporter of his compatriots wherever they are playing around the world and sat in among the fans at the French Open to cheer on Edmund during his first-round win over Stephane Robert in May.
"I think maybe as a person it helps you," Murray said. "I think throughout the rest of the year you have to be quite selfish. But when you're playing as part of a team, your job is more than just about preparing for yourself.
"You want to try to help the team as much as you can, whether that's on the sidelines watching and supporting the matches, or if that's making sure when you're practising that you're not just concentrating on yourself."