Great Britain have put worries over security to one side as they prepare for the Davis Cup final - but Andy Murray understands the anxiety among some fans.
The British team had been due to fly to Brussels on Sunday before travelling on to Ghent, where the tie will be held starting on Friday at the 13,000-capacity Flanders Expo.
But the security situation in the Belgian capital, which was put on the highest level of terror alert at the weekend, meant they delayed their journey by a day and chartered a private jet to Flanders Airport.
With transport and schools shut in Brussels and some sporting events cancelled, there seemed a real danger the final - Britain's first since 1978 - would not go ahead.
But that now seems unlikely, leaving the more than 1,000 fans set to travel from Britain to decide whether they are prepared to make the journey.
Murray said: "I think we just listened to all of the right people. They have a fantastic security team here.
"Everyone, I think, is very comfortable in the team. It was obviously a bit concerning a few days ago.
"I think once we got here and got into the hotel, came to the venue and saw what it was like here, I think that made everyone a lot more comfortable.
"I think it's not for me to give people advice on security. But obviously it's a different situation in Brussels than it is here. I know a lot of fans were staying there and planning on traveling through there. Obviously listen to the right people, if you're doing that.
"But here in Ghent, everything seems fine. It's very quiet. I think it's a really nice city. I hope as many fans can travel over as possible to give us the best support.
"Obviously I understand if people make another decision because of what's been happening in Brussels."
Captain Leon Smith named a five-man squad last week, which he must reduce by one ahead of the draw on Thursday.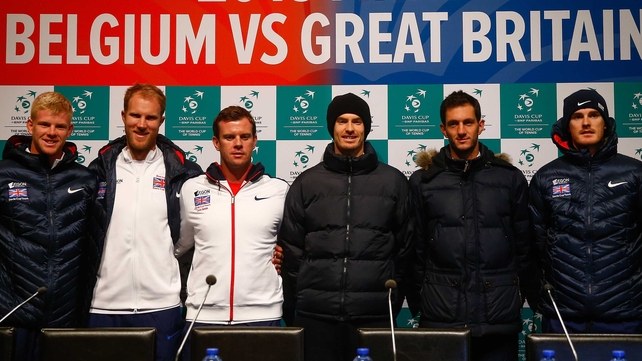 He had hoped to make an early decision on his second singles player between James Ward and Kyle Edmund but the change in their travel plans means he is still yet to make up his mind.
He said: "We wanted to get here and actually get a feel for the venue, feel for the courts. That's why I didn't speak to the guys directly about it just yet.
"I'm going to wait and see over the next day or two, then speak to them obviously in advance of that. The most important thing is that we're here now. Our main focus, as it should be, is now making sure all the players are ready to do their very, very best at the weekend."
Whether Smith hands a debut to 20-year-old Edmund or goes with the experience of Ward, Britain's hopes rest largely on the shoulders of Murray.
He is looking to become only the third player ever after John McEnroe and Mats Wilander to win all eight singles rubbers in a year and is also virtually certain to team up with brother Jamie for the doubles rubber.
Like with Murray's triumphs at the US Open and Wimbledon, should he help Britain to victory he would be ending a drought going back to 1936 and the days of Fred Perry.
Murray declared himself happy with the indoor clay court, although conditions have so far been very cold in the arena, which will not be the case on Friday.
The Scot said: "To win the biggest team competition in tennis, having beaten the other three Grand Slam nations, I think it would be a huge victory for everyone in the team
"It would be well deserved, as well. It's taken a lot of time and hard work from many of the players, many of the staff, coaches, physios, everyone. It's taken five years.
"I know when you win a slam or a big competition, it's years, obviously, in the works. But this is a bit different. The last five years it's been a progression from a pretty low place in world tennis to playing for the biggest team competition."
Murray, meanwhile, shrugged off accusations from former Davis Cup captain David Lloyd in an interview at the weekend that he does not do enough to promote tennis in Britain.
The world number two said: "It was a bit of a shame. But it's obviously not been the first time that's happened. It's a bit like background music: you know it's there but you're not really listening.
"We may not get the outcome that we want, but it won't be through lack of trying or lack of care from anyone in the team."