Ireland's Darragh Greene came within one place of a semi-final for the second time this week as the World Swimming Championships continued in Gwangju, South Korea.
Greene has already secured his Olympic qualification time this week after setting Irish records in both the 50m and 100m Breaststroke and finishing 10th in the world in the 50m event, was competing in the 200m Breaststroke this morning.
The Longford man clocked 2:10.61, his fastest ever morning swim and third fastest time in the event, however, as with the 100m event, his time left him just outside the semi-final places in 17th overall and as first reserve.
"It was a hard race this morning, I definitely felt it in the last 50m, but a lot to learn from it and I just need to move on straight away. It gives me a lot of confidence that I can perform on the World stage, so I'll definitely jump on from this, onwards and upwards really."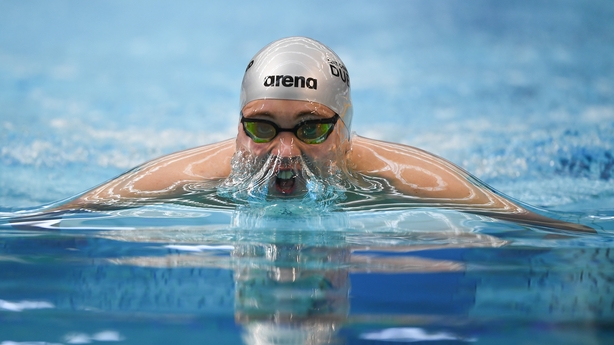 Greene will have one final race at World Championships on Sunday in the Medley relay.
In the 200m Backstroke, Conor Ferguson made his individual debut, after competing in yesterday's Mixed Medley Relay, touching in 2:02.37. The 19-year-old returns to the pool for the 50m Backstroke on Saturday.
Ireland's 4x200m Freestyle Relay takes centre stage at World Championships tomorrow where Jordan Sloan, Robbie Powell, Jack McMillan and Brendan Hyland will combine for the first time.
The quartet will be in the hunt for a top 12 finish which would secure a place for Ireland's first ever male relay at an Olympic Games.