Brendan Hyland smashed his Irish record in the 200m Butterfly semi-final at the INA World Championships in South Korea, posting a time of 1:56.55 which was just outside the Olympic qualifying mark.
Hyland had started the day with an Irish record of 1:57.21 in the heats. He then went on to finish sixth in the first semi and 11th overall. The qualifying time for Tokyo is 1:56.48.
Hyland said: "I'm disappointed obviously, it would have been unbelievable just to wrap it up, it's encouraging, it's a big swim, I mean it's the best swim of my life but it's .07 I could have done with, it's hard."
The Tallaght natives next opportunity to get the Olympic qualification time in the event will be at Swim Ireland's Olympic Trials in April 2020.
Hyland was due to return to action on Wednesday for the 200m Individual Medley but instead will focus on the 4 x 200m Freestyle Relay on Friday.
Ireland will be hoping to finish in the top 12 which would secure a place for Tokyo 2020.
Darragh Greene was unable to improve on his heat time in the 50m Breaststroke as he bowed out at the semi-finals stage.
Greene had produced a blistering display in the morning heats of the event and become the first Irishman to ever go below 27 seconds, finishing in a time of 26.94.
The NCD swimmer could not match that time in the semi-finals, but still produced a strong swim to finish fourth in his race, in a time of 27.14.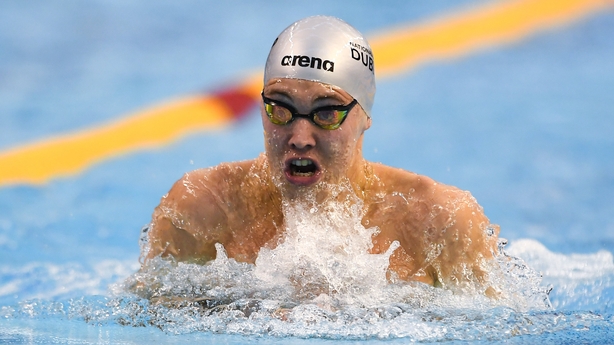 That time saw Greene finish as the 10th faster swimmer in the semi-finals, with the top eight going through to compete in the final.
Greene has already enjoyed a measure of success in Korea as he went under the Tokyo qualification time in the 100 metre breaststroke, but he missed out on a semi-final by seven hundredths of a second.
Speaking after the semi-final, he said: "Looking at where I came in, I was around 20th, so to move up the rankings, I'm happy. Two good swims today, I'm really looking forward to the 200m (Breaststroke) in the next few days. I'm looking forward to giving it a shot and seeing where I'm at, especially on this stage, it's a fast pool."