Swim Ireland's Oliver Dingley and Natasha McManus are on a mission to book their tickets to the Olympics this weekend at the FINA Diving World Cup in Rio.
Dingley, once of Team GB but now a fully-fledged Irish athlete, lives and trains at the National Aquatic Centre in Dublin and is aiming to become the first Irish diver in almost 70 years to compete at the Games.
A bronze medal winner for England at the 2014 Commonwealth Games in the three-metre event, Dingley made the switch to Ireland along with his coach in the same year, qualifying through his grandparents.
Over 250 Divers from 50 countries will compete at the Maria Lenk Aquatic Centre, an outdoor arena, which will be the venue for Diving, Water Polo and Synchronised Swimming at the 2016 Games.
88 Olympic spots are up for grabs across 4 synchro and 4 individual events.
The top 18 in each event will progress to the semi-finals and secure a place at this summer's Olympics. 
Dingley competes in the preliminary rounds on Sunday, with McManus diving on Monday.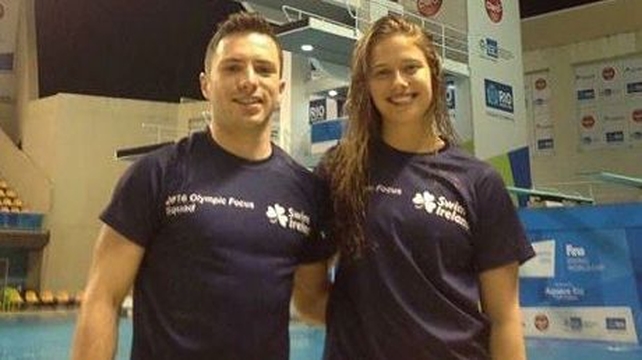 "I always look forward to events but I do get nervous," said Dingley. "It's the big one, we're at the very top of where we can be, I'm just going to go up there and enjoy it.
"When I enjoy my diving that's when I tend to be at my best. I'm feeling good about it, a few nerves but mostly confident.
"It's a really nice atmosphere with all of the other divers and there is a great Team Ireland vibe going on.
"The main challenge is diving outside. We're not lucky enough to have outside diving and nice weather in Ireland to be able to do that but we're getting used to the weather, we've dived in all sorts of conditions, sun, rain, wind, night time, we've covered all the possibilities of what we might be diving in."
MacManus turns 18 while in Brazil and will compete at her first senior major international meet. 
"It's definitely a big step up from junior to senior, but being alongside some of the best divers in the world pushes you further than I have been pushed before," she said.
"I'm looking forward to my event on Monday, training is going well, so I just want to keep my head and focus on myself rather than anyone else."